WELCOME TO THE
I3 REASONS WHY
WIKI
THE
CHARACTERS
See more characters
THE
SHOW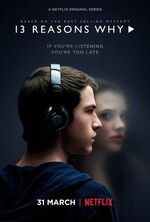 13 Reasons Why is a Netflix original series created by Brian Yorkey, a Tony Award winner for the Broadway musical Next to Normal. Season 1 consists of thirteen episodes released on March 31, 2017. Season 2 consists of thirteen episodes and was released on May 18, 2018. Season 3 consists of thirteen episodes and was released on August 23, 2019. It stars Dylan Minnette as Clay Jensen and Katherine Langford as Hannah Baker.
Read more...
THE
BOOK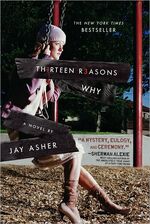 Thirteen Reasons Why is a contemporary Young Adult novel written by Jay Asher. Released in 2007, it revolves around the suicide of Hannah Baker and the seven cassette tapes that she left behind for the people who led her to kill herself. The story is told from the perspective of one of her classmates, Clay Jensen, as he listens to the tapes and learns the reasons why Hannah decided to take her life.
Read more...
FEATURED
VIDEOS
FROM THE
COMMUNITY
User Blogs

Meivinka
•
this is the trial note to this my wiki fandom.. i hope can enjoye this site aplikatips.com
HEY 13RW FAM! Are you excited about Season 4, the final season of 13 Reasons Why which drops on June 5th? Here is a short recap of Season 3 before you get started on Season 4! This is our final goodb…
Cece1624
•
I give out information on anything you may need. I.e; novels, movies, tv shows, adivce on relationships/friendships.
If you ever have a question or concern, feel free to message me and I'll get back t…
See more >