"
I'm trying to set things right, I'm trying to be better but this fucking world won't let me... Nobody believes I can change.
"
— to Jessica and Alex before Alex pushes him, in "Let the Dead Bury the Dead"
Bryce Walker (d. November 2, 2018) is the main antagonist of Netflix's "13 Reasons Why".
He is Nora and Barry Walker's son, Harrison Chatham's grandson, Chlöe Rice's ex-boyfriend, Hannah Baker, Jessica Davis, and Chlöe's rapist, and the twelfth subject of Hannah's tapes. He is portrayed by Justin Prentice.
Bryce was a senior at Liberty High School. He was the co-captain of the Liberty High's football and baseball team. He is Hannah Baker's twelfth reason for killing herself as he raped her one night at a party at his home in his hot tub.
He serves as the main antagonist of the first season, one of the two main antagonists (alongside Montgomery de la Cruz) of the second season, the posthumous overarching antagonist of the third season, and a posthumous antagonist of the fourth season.
In the third season, he shows himself to start to transition into a better person before he dies. The Evergreen County PD confirmed that it was a homicide. It was revealed in "Let the Dead Bury the Dead" that he had both his legs broken and right arm dislocated by Zach Dempsey out of anger because Bryce crippled Zach, and then pushed into a river by Alex Standall after being helped up by him because, Alex realized that even though Bryce attempted to reform himself, he threatened Zach and he had already managed to hurt everyone he loves.
In the fourth season, Bryce, despite being dead is far from gone. Hallucinations of Bryce still haunt Jessica, Clay and Alex throughout the season. Each time tormenting them in ways he hurt them when alive or by reminding them about covering up his murder.
In the show's finale as they are burying the Tapes, for true closure, Jessica sees a final vision of Bryce and finally confronts him. She tells him she has finally moved on, and that he had never won. She says they all grew to genuinely love and care about each other in the end. She says Bryce did that too. He smiles and walks away, seemingly finding closure.
Early Life
An 9 or 10-years-old Bryce broke up a fight between Justin and another kid. Bryce called the other boy a "dick" and went on to help Justin up. Later, at lunch, Bryce went and sat with Justin, who had been sitting by himself at an empty table. Having seen that Justin didn't have a lunch bag, Bryce offered Justin his sandwich. Justin accepted but only after Bryce stole some Twinkies from another kid so that they could trade.[1] Growing up, Bryce's parents weren't around much, which gave Bryce a lot of freedom but would also make him feel lonely. He would often misbehave as a kid[2].
Throughout the Series
Bryce's Crime (Reason #12)

Bryce is Hannah's twelfth reason for why she killed herself and of all the people on her list, his actions are the most serious.
After a horrible day following losing $700 of her parents' deposit money and being rebuffed by Clay, a depressed Hannah goes for a long walk and eventually ends up in Bryce's neighborhood and is drawn to the sounds of a party at his house. Bryce sees her come in and greets her. Hannah joins the party and eventually joins Jessica, Justin, Zach, and his girlfriend in Bryce's hot-tub. After a few minutes, Hannah relaxes in and the four others eventually leave to hang out elsewhere. Bryce then silently enters the tub and turns it off. He and Hannah make some small talk and he then approaches her and begins touching her inappropriately. Hannah attempts to get out but Bryce grabs her and holds her, pulls her underwear off, and proceeds to sexually assault her. Hannah simply freezes and does not move as Bryce brutally rapes her, nor does she call for help. Hannah later reveals on her tapes that this incident completely broke her soul and it was following this that she fully decides to commit suicide. But before making her decision, she decided to see Mr. Porter, the guidance counselor.
Personality
Bryce is shown to be a cruel, arrogant, spoiled, manipulative, violent, and selfish person and is a very dangerous individual. Coming from a prominent background, being a star and a popular athlete at Liberty High, Bryce appears to view himself as being superior to everyone and as such believes that he can do whatever he wants to, never once taking into consideration other's feelings. Bryce is a cruel bully as well as he helped to humiliate Hannah numerous times and also Tyler on one occasion. That being said he never physically harmed Tyler, even going as far as to stand up for him when Monty shoved him against the lockers. He is violent towards others though, as shown when he threw Justin out of Jessica's room and also brutally beating up Clay after he accused him of raping Hannah.
Of all the people on Hannah's list, Bryce's actions are the most serious as he is proven to be a dangerous, sexual predator who brutally raped both Jessica and Hannah and possibly others and shows absolutely no remorse whatsoever for his actions and does not even appear to view his assaults as being rapes, once making clear to Clay that, if his actions are rapes "then every girl at this school wants to be raped". He also sexually harassed Hannah once as well by grabbing her ass. He shows no remorse over her death either and claims that she wanted him sexually and that she practically "begged me to fuck her", which was completely false. He is shown to be somewhat of a coward as he appears fearful of what will potentially happen to him after Justin reveals to him of the existence of Hannah's tapes. He is also somewhat easy to manipulate as Clay was able to successfully coerce him into confessing to raping Hannah.
Despite all of this, he is to a certain degree, a good friend, as it has been proven that he and his family have helped Justin numerous times, as well as his mother, and even lets Justin stay at his house for long periods. However, it is shown that Bryce believes, because of this, he can control Justin, notably seen when he made Justin let him into the room where Jessica was sleeping after telling Justin that what Bryce owns Justin does too, which in his opinion should be reciprocated, which also dangerously implies that he thinks Jessica is Justin's ownership. Justin is so scared to allow this, that he comes back into the room and tries to get him off of her, however, Bryce forcibly and brutally shoves him out of the room and gets back to Jessica whom he then proceeds to rape (he has non-consensual sex with her while she is passed out) while Justin is downstairs visibly scared, fearful and upset because he knows what is going on.
In the third season though, we begin to see a change in Bryce before his death. He realizes the opportunity that he's been given to try and change his life with the minimal punishment that he received. and after witnessing his parents' divorce, he begins to realize how much pain he has caused in his victims, so he decides to try and make up for it in several ways, such as helping Justin combat his drug addiction and pay off his debt to Seth, trying to give Tony his car back after taking it from him in an attempt to make amends with him after his father sold out Tony's family to the ICE, apologizing to Jessica for assaulting her, and helping Tyler out after hearing of his rape by Monty, which ironically appalled him. He also became more sensitive to his emotions and to the emotions of others around him, opening up to Mr. Porter about his tragic upbringing and the feeling that his parents don't love him as well as his remorse for what he did and his fear that he will never change and he even forms a consensual sexual relationship with Ani. Bryce was sympathetic to Chloe after hearing of her abortion and showed he genuinely loved his mother as well defending her from his father and grandfather, having a playful paint fight with her and breaking down out hon guilt and remorse into her arms as they bonded during yoga. But, despite this, he still does some horrific things such as vandalizing his father's house and a house that he mistook for his father's, threatening the child with violence when he catches Bryce vandalizing his home and selling drugs to Alex and other people on the side. He also still treated Zach and Clay badly, the former for Chloe (his ex-girlfriend) leaving him for Zach (resulting in him breaking his knee), and the latter for bonding with Ani (resulting in his multiple taunts). In a tape he left before his death, Bryce expressed genuine remorse for his actions despite knowing that what he did may have been unforgivable to the point of no one wanting to even hear him out. Bryce stated that he dreamed of maybe becoming the type of person that protected people from what he did (which he technically did by protecting Tyler from Monty and, due to Charlie witnessing his threatening of Monty, being the one indirectly responsible for Monty going to prison).
Physical Appearance
Bryce has short brown hair and slightly rosy cheeks. He is light-skinned and has light blue eyes. He has a boyish look to him and is often seen wearing either a white shirt, a blue jumper, or a blue flannel shirt. Due to his background as an athlete, he seems to have a strong build.
Relationships
Hannah was raped by Bryce. It is implied that Bryce had a crush on her, but the feeling certainly wasn't mutual. Bryce raping Hannah was the turning point where Hannah decided to make the tapes and consider killing herself. He was the twelfth reason why she committed suicide.
Chlöe was Bryce's ex-girlfriend. They started dating between the first and second season. At some point, Bryce raped her while she was unconcious. Chlöe broke up with him after she got pregnant and got an abortion.
Ani was Bryce's friend and lover. They lived in the same mansion because Ani's mom worked for the family. They soon started to form a friendship which eventually resulted in a sexual relationship. Bryce said that he really likes Ani and wants to change for her.
Ani and Bryce lived in the same mansion, as Bryce had to move in with his grandfather after his parents divorce and Ani moved in because her Mom became the caretaker of Bryce's grandfather. They soon developed a friendship, besides people such as Nora Walker and Jessica Davis warning Ani to stay away from him. One day, they started making out which led to them having sex. They continued to have a sexual relationship which they hid from everyone else. Bryce soon fell in love with her and claimed she was changing him for the better. Ani didn't seem to return those feelings. At some point Bryce becomes assertive, asking about her and Clay's relationship and shaking her while repeatedly saying he needs her. Ani runs away from him. At the homecoming game, Bryce kisses her, but Ani stops the kiss and leaves.
After Bryce's death, Ani is seen mourning Bryce only once(at his funeral) but she's actively trying to find out who murdered him. Ani continuously defends Bryce against Clay as she's convinced Bryce was changing and deserved a second chance. After Clay gets arrested, Ani tells Jessica that the worst thing she's ever done is sleeping with Bryce, but it's possible she only says it to make Jessica tell the truth. When she finds out Alex and Jessica are responsible for his murder, she frames Monty as the murderer and when Deputy Standall hesitates, she insists that both Bryce and Monty hurt people when they were alive, and they should end the cycle of suffering by letting 'the dead bury the dead'.
Justin was Bryce's former best friend. They became friends in third grade, and Bryce soon started to look after Justin because of his bad home life. Their friendship fell apart after Bryce raped Jessica. In the third season, Bryce still appeared to care about Justin.
Zach was Bryce's former best friend. They considered each other brothers, but grew apart during the second season. In the third season, Bryce broke Zach's knee for "stealing" Chlöe and Zach beat Bryce up for ruining his future.
Monty was Bryce's former friend. Monty tried to help Bryce by threatening everyone who could get Bryce in trouble, although Bryce didn't appreciate this. Shortly before Bryce's death, their friendship ends as Bryce was disgusted by Monty raping Tyler. Monty was later killed in jail and framed for Bryce's murder.
Jessica was Bryce's former friend. Bryce raped her during a party at her house, leaving Jessica traumatized. In the third season, Bryce attempts to apologize to her for his actions.
Clay and Bryce were archenemies. They started off as acquaintances, but soon became enemies as Clay found out about Bryce's actions and he tried to take him down. After Bryce's murder, Clay becomes a suspect and starts getting hallucinations of Bryce.
Alex was Bryce's former friend and murderer. Alex started hanging out with Bryce's friend group, but soon developed a hatred for Bryce. In the third season, Alex turned to Bryce for steroids and they hung out for a while. Alex murdered Bryce after realizing that he had hurt all his friends.
Nora is Bryce's mother. Bryce used to have a bit of a distant relationship with his mother, as she and his father weren't home much. When the rumors about Bryce being a rapist came out, she got suspicious and slapped him after he admitted to it. Thier relationship was strained after this, but recovered in the third season.
Barry is Bryce's father. They had a good relationship during the second season as Barry would continuously defend his son. In the third season, Barry divorced his wife and abandoned Bryce. After Bryce's death, he showed up drunk at his funeral.
Marcus was Bryce's former friend. Marcus would often hang around Bryce. After getting blackmailed, Marcus called Bryce a rapist when speaking at a school event which ended their friendship.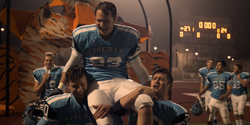 Bryce and Scott appear to be friends throughout the second season. They are often seen together, and it appears that Scott believes Bryce's lies about the night Jessica claims she was raped. However, as the evidence builds up and points more and more to the fact that Bryce is a liar and a rapist, Scott is shown to heavily disapprove of Bryce's actions. He still defends Bryce, however, when Clay attacks him, by pulling Clay away.[12] He states multiple times that he is not a rapist (to Clay and Montgomery), and even tells Montgomery that they (the jocks) have protected Bryce for too long, showing he is unwilling to condone Bryce's actions. He even tells some of the people on the tapes where Montgomery sometimes sleeps––thinking that he has the Polaroids––so that Bryce's actions will be put to justice. At the end of the trial, he is shown sitting on the side of Hannah's parents, rather than that of the school. Scott and Bryce never share any scenes after this, leaving it unknown how Bryce feels about Scott's actions.[1]
Appearances
Quotes
Trivia
Bryce and Barry have earned multiple awards, which are displayed in their home.[32]
His address is revealed to be 3025 Drakewood Drive, Evergreen County, CA 94181.[46]
The name of his Instagram is 'brycemoney23'.
Bryce is the only person on the tapes who never received or heard them, due to Clay passing him over in order to coerce him into confessing to raping Hannah and to give them to Mr. Porter. Bryce is also the last person on Hannah's list to learn of the existence of the tapes. In "The World Closing In", Bryce finally hears the tapes.
Out of all the 13 people's mistakes and crimes on the tape, Bryce's is considered to be the most serious, as the tapes show his complicity in two rapes. Tyler even points this out to the others when suggesting to use Bryce as a scapegoat.
Bryce's family is very affluent, as shown by his large house with a big pool and pool house in the backyard, where Justin stayed in.[32]
Bryce seems to wear prescription glasses, indicating that he may be nearsighted or farsighted. Although the glasses were first seen in court during trial, Bryce mentioned that he hadn't worn them in a while. Later, he's seen wearing them in class.
In actuality, Bryce truly is the reason for Hannah Baker's suicide. Despite everyone on the tapes were just as guilty of causing Hannah Baker's suicide, Bryce is responsible for most of the reasons as it was his actions that made everyone betray Hannah:

Bryce is the original source of Hannah's slut-shaming because he sent out an up-skirt photo of Hannah, taken by Justin on their date to everyone around the school. This is how the 'Hannah the Slut' label began.
Bryce started the hot or not list that Alex contributed to and sexually assaulted Hannah after she was labeled the best ass.
Bryce deduced who the two women in the photo sent around the school were and told Montgomery who began harassing Courtney and Hannah.
Bryce initiated a bet with Marcus to see if Marcus could get Hannah to have sex with him.
Bryce made fun of Zach after he was rejected by Hannah making him feel insulted (debatable).
Bryce raped Jessica the night of her party which Hannah, hidden away in a closet, was forced to witness.
Bryce raped Hannah.

Tony actually references this in Season 3 by pointing out that even though Hannah's tapes are dedicated to other people, they are still all Bryce's tapes.

In his own tape, Bryce confessed to raping Jessica, Hannah, and seven or eight other girls. He refused to name the others to protect their privacy but stated that if they came forward, they should be believed. This effectively makes Bryce a serial rapist.
Bryce played pitcher on the baseball team and receiver on the football team.
See Also
Gallery
See also: Category:Images of Bryce Walker
Playlist
References