Charles "Charlie" Hayden Brixton St. George is a recurring character in the third season and a main character in the fourth season of 13 Reasons Why. He's portrayed by Tyler Barnhardt.
Charlie is a sophomore in Liberty High school, the new Quarterback of Liberty Tigers and the boyfriend of Alex Standall.
In the third season, Charlie is first seen playing football and hanging out with the other players of Liberty Tigers, including Monty, Zach and Justin. After finding out about Tyler's rape, he ends up being a part of Clay's crew and also helps frame Monty for Bryce's murder.
In the fourth season, Charlie becomes enthralled in the cover-up surrounding Bryce Walker's death, and eventually — after growing closer with Alex Standall — realizes that he is bisexual; he and Alex start dating shortly after and are eventually crowned Prom Kings.
Early Life
Edit
Charlie had a shirtless picture of Eli Manning as his wallpaper in eighth grade, which made his dad suspicious about his sexuality. Charlie's mother passed away from cancer when he was thirteen years old.
Throughout the Series
Edit
Personality
Edit
Charlie has a meek, warm personality. You can tell he wants to retain loyalties to his athlete buddies, but also has the benefit of being fresh-faced. He is open-minded, willing to betray those loyalties for the greater good, and appears to be very amiable and easy to get along with (e.g. he does not harbor the biases of the more veteran jocks towards the rest of the student body).
Physical Appearance
Edit
He is clean-cut. Preppy. A slightly more put-together and nicer version of Clay.
Relationships
Edit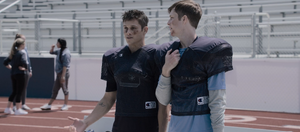 Monty was Charlie's friend before Charlie turned his back on him. Charlie is often seen with Monty throughout the season. He is shown agreeing with Monty when he calls Jessica out for not supporting Powder Puff. He also witnesses Monty confess after Bryce accuses him of having raped Tyler, but says nothing to anyone, even after hearing from Bryce everything Monty did to the other tape subjects. He even tells the police Monty was at his house the night of Bryce's murder, though this is a lie. However, he is shown to doubt Monty at times, such as when Zach tells him not to take his beliefs from Monty, and later, when Monty claims in front of others that he was at Charlie's, he hesitates before agreeing and later asks Monty if he talked to Bryce after the game, despite Monty telling him he did not. He even asks Jessica not to judge him by his friends (i.e. Monty). Eventually, after Tyler stands at a school assembly and admits he was raped, Charlie realizes what kind of person Monty really is, and offers to go to the police along with Tyler to tell them what Monty did. Later, when Monty is arrested, the police tell him he is suspected of murder, implying Charlie told them Monty wasn't really at his house that night. Later, he helps the group frame Monty for Bryce's murder by planting Bryce's apology tape in Monty's football locker.
Jessica is Charlie's friend and co-worker. He asks her not to judge him by his friends. At first, she seems to disregard this, but later realizes he isn't like them. Charlie later cooperates with Jessica to cover up her role in Bryce's death by framing Monty, and later they are among the group listening to Bryce's tape.
In the fourth season, when they're both seen together in the boys locker room, Jessica is seen giving a speech about how the jocks have mistreated her (not Charlie and Justin). When the other jocks don't seem to listen and keep mocking her, Charlie defends Jess and says "lets show some respect here." Jessica then later asks Charlie to go to the Valentines dance with him. Charlie at first seems confused as if what was she talking about, but then later agrees to go to the dance with her. When Charlie and Alex win prom royalty Jess seems to be very proud of both of them and gives Charlie a kiss on the cheek.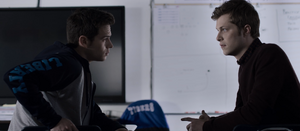 Justin is Charlie's friend. Charlie looks up to some of the older jocks, including Justin. He helps Justin get Zach off the football field after Bryce breaks his knee. Justin also told Zach that he didn't think Charlie was a bad kid. Later, after Justin admits he is a sexual assault survivor, Charlie checks upon him to see if he is ok, and tells him he thinks he is awesome. Later, Justin and Charlie both accompany Tyler to the police station for support when he tells the police what happened to him. In the end, Justin convinces Charlie to participate in framing Monty for Bryce's murder. He also tells Charlie that he is a drug addict when he asks.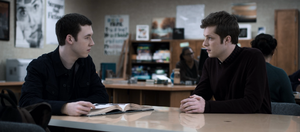 Tyler is Charlie's friend. Charlie was at first horrified when Monty admitted to having sexually assaulted Tyler but did nothing. After Tyler admitted at an assembly that he was a survivor, however, Charlie approached him and told him he knew what had happened, offering to go to the police. When Tyler asked why he would do this, claiming Charlie didn't like him, Charlie asked how he could not like Tyler, as they didn't know each other. When Tyler said Charlie had probably heard things about him, Charlie stated Tyler had probably heard unfavorable things about him too. Charlie accompanied Tyler to the police station for emotional support and presumably told the police his side of the story, including that Monty was not at his house the night of Bryce's murder. The next day, after Monty is arrested, Charlie checks on Tyler to see if he is being harassed due to this. Later, Charlie and Tyler both participate in framing Monty for Bryce's murder.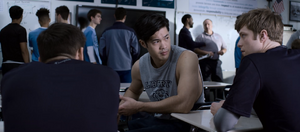 Zach is Charlie's friend. Charlie looks up to some of the older jocks, including Zach. He apparently listens when Zach tells him not to get his life advice from Monty. Zach also seemed worried about Charlie's friendship with Monty, as when Justin mentioned that Charlie was not a bad kid, Zach simply responded "Wait till Monty's done with him." During a flashback to the Homecoming Game, Charlie helps Justin carry Zach off the field after his knee is broken, showing respect for his team captain. In the end, Charlie and Zach are both apart of the group that frames Monty for Bryce's murder.
Luke is Charlie's friend. They are both on the football team. In Nobody's Clean, Charlie is seen sitting next to Luke, and looking worried, when steroids are found in Luke's bag. In Let the Dead Bury the Dead, Luke is the one who informs Charlie of Monty's death.
Alex is Charlie's boyfriend.
Appearances
Edit
Season 3
Edit
Season 4
Edit
Charlie's unnamed father is portrayed by Andrew McCarthy in the episode "Prom".
Charlie's unnamed father is president of the Booster club.
Charlie's parents are WASPs.
Charlie plays Quarterback and is co-captain of the football team.
Charlie's mother died at home after being in the hospital.
Charlie had Eli Manning as his wallpaper in eighth grade which made his dad suspicious about his sexuality.
Charlie admitted that he was scared of Jessica Davis.
It's mentioned by Jessica that she's two years older than him, making Charlie a sophomore.
References
Edit
Community content is available under
CC-BY-SA
unless otherwise noted.