'13 Reasons Why' Lore: Clay Jensen?
Play Sound
"
It has to get better. The way we treat each other and look out for each other. It has to get better somehow.
"
— to Mr. Porter on the bullying of kids in the school, in "Tape 7, Side A"

Clayton "Clay" Jason Jensen is a fictional character and the protagonist of Netflix's 13 Reasons Why. He is portrayed by Dylan Minnette.
Clay was a student at Liberty High School and a close friend of Hannah Baker; who was also his crush. He is the son of Lainie and Matt Jensen, Justin Foley's adoptive brother, the ex-boyfriend of Skye Miller, and Ani Achola, and the subject of the A side of the sixth tape on Hannah's tapes.
The first season follows Clay during his time with Hannah while she was alive; in flashbacks and his time after her death, listening to Hannah's tapes, trying to piece together Hannah's story to find out what led her to suicide. At the end of his tape, Hannah explains that Clay's name didn't belong on the list, but that she felt he needed to know the reasons behind her ultimate decision.
In the second season, Clay tries to cope with Hannah's death and hallucinations of her throughout his grieving process. His main goal is to get justice for Hannah as the trial commences. He receives Polaroids that aid him in finding out the baseball varsity team's secret place that is connected to Hannah and many other girls at Liberty High.
In the third season, Clay is the main suspect in the death of his classmate and enemy, Bryce Walker. Although he has a deep hatred for Bryce, he—along with new girl Ani Achola—plays detective in trying to figure out who killed Bryce. While the police have their eyes on him, the two uncover secrets of their friends and ultimately discover Bryce's killer.
In the fourth season, Clay is the main narrator, narrating the events to Dr. Ellman, his therapist, whom he sees again to help cope with his mentality. He has to confront faces of his past as traumatic events lead him to spiral out of control. At the end of the season, he graduates and gets accepted into Brown University, where he goes to study.
Early Life
On Clay's first shift at The Crestmont, he tells Hannah that he has lived in the town of Crestmont for his entire life when she asks him how he feels about the town. Clay was previously rumored to be gay by other classmates at Liberty High School, but these rumors appear to have died down before the events of the series. Due to Clay's introverted character, he is known to not attend parties. At Hannah's house party, Kat bet against him attending the party and tells Hannah that the last time she saw Clay at a party was at her birthday party in the 4th grade.
Clay may also have a history of depression or anxiety as his parents offer him Duloxetine—an antidepressant used to treat people who suffer from depression or general anxiety disorder—in "Tape 1, Side B", which he has taken before for either or both anxiety or depression, which suggests Clay may have been in a bad state previously, potentially down to previous rumors of him being gay.
Throughout the Series
Clay's Mistake (Reason #11)

Clay is the subject of Tape 6, Side A, however Hannah makes it clear that he is not one of the reasons for why she killed herself. He was the only one she was actually fond of, and while everyone else was on her hit list, she just wanted him to be on the tape because he was/is a part of her story.
Clay spends the night with Tony, listening to his tape. On the night of Jessica's party, Clay and Hannah walk upstairs because of the large crowd. Hannah asks Clay if he wants to go to Jessica's room, and he says yes. The two start talking and making jokes about Jessica's rock collection. Clay then leans over and kisses Hannah. Hannah seems shocked but she kisses him back. Then the two were about to have sex before Hannah starts remembering all the guys that did her wrong, and suddenly she can't escape from thinking everyone is against her. She has a mental breakdown and then tells him to stop, which he does before asking what's wrong. She yells at him to go away, which he does. On the tape, Hannah says a part of her was begging him to stay while she was yelling at him to leave. Clay is the only person on the tapes who did nothing wrong but he was included as a part of her story. In the beginning of the first episode, Justin tells him he isn't as innocent as she says he is. Justin seemed to be talking about the fact that on the tapes, Hannah says Clay shouldn't be on the tapes, because in her eyes, he just should've stayed. Though it is possible that Justin is simply angry that Clay is not guilty of doing horrible things like he and the others on Hannah's list are and potentially cannot be punished or arrested for any part in Hannah's death.
In spite of Hannah telling him that he is not a part of her list, Clay is devastated by the fact that he left Hannah when she desperately needed him, claiming he did it because he was scared, not because Hannah told him to go and claims that this was the beginning of the chain of unfortunate events that followed such as Jessica's rape and Jeff's death as a result of Sheri and claims that he is responsible for Hannah's death and breaks down over the fact that he never told Hannah that he loved her. He later declares himself to be "Number 11" when confronting Mr. Porter.
Personality
"
Clay, Helmet, your name does not belong on this list. But you need to be here if I'm going to tell my story. If I'm going to explain why I did what I did. Because you aren't every other guy. You're different. You're good and kind and decent. And I didn't deserve to be with someone like you.
"
— Hannah describing Clay on her tape about him.[src]
Clay is shown to be a somewhat socially awkward person, however, he is an overall very caring, intelligent and honest person who is a good friend to those around him and a decent person. He was shown to have had a crush on Hannah Baker though was never able to tell her directly that he loved her. While he treated Hannah well and had a good friendship with her, he himself mistreated her on a few occasions such as hurting her feelings after seeing the photograph that Justin took of her that was spread around the school and coldly telling her off after she tried talking to him about Jeff's death. Clay's eventual coldness towards her was apparently so great that during her meeting with Mr. Porter, Hannah claimed that she thought Clay hated her.
In spite of this, Clay is shown to be devastated by Hannah's death and when he is given her tapes, he is shown to be horrified upon learning of the reasons why she killed herself. He becomes disgusted at the actions of the people on her list, and develops a strong hatred for some of them, notably Justin, Tyler and Bryce. He slowly begins to become more and more "unstable", hallucinating things such as punching Zach or Hannah's dead body covered in blood in the middle of the basketball court. Clay's hallucinations also show events that haven't actually happened, such as in Tape 1, Side A, in which Clay hallucinates the kiss between Hannah and Justin turn into something more based on the rumor that Hannah is a "Slut" and in Tape 3, Side A, in which Clay hallucinates a scenario in which he dances with Hannah at the Winter Formal but is stopped once Hannah's wrist begin to bleed which is a symbol of her suicide. This is likely due to survivor's guilt a symptom of PTSD (Post-Traumatic Stress Disorder), as a result of listening to the tapes and learning the truth.
Throughout listening to the tapes, Clay becomes notably colder and also becomes angered at any sign of disrespect towards Hannah, notably seen when he gets angered at his old friend Skye for calling Hannah a coward. Clay even becomes a bully towards Tyler, Courtney and Zach to get revenge, after learning of their actions that led to Hannah's suicide:
He deliberately took a picture of Tyler Down naked and spread it around the school because Tyler took a photo of Hannah and Courtney Crimsen kissing and spread it around school.[8]
He brought Courtney to Hannah's grave in an attempt to hurt her because she lied to Montgomery de la Cruz about sexual things Hannah did and had done to her, which hurt Hannah and added to the "Hannah the Slut" rumors.[9]
He keyed Zach's car with the words "Why me?", the same words Hannah asked Zach on the tapes after he stole compliments out of her bag that were the only thing making her happy at a lonely time in her life.[10]
He does, however, appreciate those who actually feel remorse for their actions towards Hannah, notably Alex and Tony and later Jessica and Sheri when she takes responsibly for her actions. However he is strongly disgusted that a majority of the people on Hannah's list choose to hide Bryce's crimes and Jessica's rape, and even becomes aggressive towards his best friend Tony. At one point (after he and Zach catch Hannah in a brief lie on the tapes) he briefly even considers abandoning the tapes and going about things normally however he completely snaps in front of new foreign exchange students and shows his disgust at the people who treated Hannah like shit and the school itself for trying to remove responsibly from itself and vows that no matter what, the truth about Hannah's death and all those responsible will come out. Even though the others on Hannah's last attempt to sabotage him and try and intimidate him into keeping quiet, Clay refuses to give up showing his determination of avenging Hannah's death.
After listening to his tape, Clay is shown to be even more devastated even though Hannah firmly states that his name does not belong on her list and claims that he in fact left Hannah the night of Jessica's party (in which they almost had sex) because he was scared and as a result claims this was the beginning of the events that led to Hannah's death such as Jessica being raped and Hannah witnessing it and Sheri knocking down the stop sign that ultimately led to Jeff's death and declares that he killed Hannah and even contemplates suicide for a moment by jumping off a cliff. His guilt is exemplified later when he declares himself to be "Number 11" after confronting Mr. Porter. He is shown to be saddened that he cost a girl her life because he was afraid to love her and his hallucination depicting what he wanted to say to Hannah that night further shows how badly he wants to correct his mistake.
Clay is shown to be strongly determined to get justice for Hannah's death and Jessica's rape as he personally coerces Bryce to confess to the deed after he provokes Bryce into assaulting him in an attempt to get him punished for his actions and openly says that he wants him to pay for what he did. He tells Tony that it is better to pursue what Hannah and Jessica need, which is justice against Bryce rather than following her wishes of sending the tapes to all those on her list, showing his care for both of them. He has developed an even kinder side as he reaches out to Skye again in an attempt to not repeat the mistake of not being there for someone who needs help and friendship like Hannah was.
Physical Appearance
Clay is skinny, with short dark brown hair and blue-grey eyes. In the first season, he has a scar on his temple from a biking accident early on in the series while listening to the tapes, which is how the audience can tell past from present, and he is rather anemic. He is often shown wearing jeans and a hoodie, and he wears button-up shirts with pants to parties and a suit to the dance. Clay carries his grey backpack around with him a lot.
Relationships
Hannah was Clay's best friend and romantic interest.
The following describes Hannah and Clays relationship and interactions before Hannah died

Clay met Hannah outside of The Crestmont, Hannah came out of the Crestmont in her work uniform and saw Clay arriving for his first day at work at The Crestmont and told him she loved his helmet and found it adorable. Clay asked if she meant adorable as in "helpless baby animal". She asked if he was afraid of helmet hair, he told her that he didn't get helmet hair, his hair just did the same thing no matter what happened to it. She brushed her fingers though his hair and told him his hair needed to be taken care of. He asked "And sacrifice my masculinity?", she jokingly told him that the ship had sailed on his masculinity. They started to walk into the Crestmont and he told her that he wanted to keep his brains in his head, she jokingly replied "Instead of say, some other regions, like most boys?". They laughed and she led him inside, she called him Helmet and told him he had bathrooms to clean. Clay corrected her but she told him that she was not cleaning bathrooms. She invited him to a party at her house the next night, and told him not to bring the helmet. She walked away and he checked his hair in his reflection in the door, he followed her and asked her where she lived.[11]

Later that night Clay arrived on bike to Hannah's house, Kat and Hannah came down the stairs to meet him and Hannah told Kat that she had won the bet and was owed $5. Kat told him they placed bets on whether or not Clay would come to the party because the last party she saw him at was in fourth grade. Kat then led both Hannah and Clay into the kitchen so she could get them drinks. Clay noticed that there were a lot of people at Kat's going away party, Kat told him she threw the party so Hannah could meet people. Hannah noted that she met Clay, Kat told her that Clay didn't count as she met him at work. Clay told Kat that it should count and Kat asked what drink he wanted, Clay chose a Sprite and Kat dismissed his drink choice and replaced it with beer. Kat started to walk away to get the beer and Clay commented sarcastically that he liked beer. Tyler Down interrupted and called Kat back for a group photo, which they all posed for. Kat left and Hannah jokingly told him to stop having fun, as she noticed that he wasn't. Clay sarcastically protested that he was having fun, Hannah undid the buttons on his shirt and told him that he was too buttoned up. Clay immediately did back up the buttons and they both laughed.[11]

Bryce Walker came over and introduced himself to Hannah. Kat noticed them and told Bryce he was wanted for the keg as a way to get rid of him. Kat told Hannah to stay away from him and likened him to Darth Vader. Hannah told Kat that he didn't seem that bad, Kat told her she was trying to be kind about it and Clay confirmed her statement. Hannah looked at the drinks and told Kat that she also wanted a beer, she started walk away to get it and Kat called her Princess Leia, she turned back and told both Kat and Clay that they were both nerds, she left and Kat told Clay to ask Hannah out. Clay told Kat that he was nervous but around her he could be different and new, Kat told Clay that from her limited observation Hannah had terrible taste in guys, Clay asked her not to say anything to him but Kat told him she would only say something if it came up. Later on, Clay, Hannah and Kat watched Justin and Zach play-fight in the rain, Kat told Hannah that she wanted her and Zach to date and that Justin was her boyfriend. Clay commented on the fact that she wanted Hannah and Zach to date, Kat told Clay and Hannah that while Zach was kind of dumb he was the sweet kind of dumb.[11]

The next day, Hannah was in the audience at a practice game to watch Justin, Clay was walking in the audience and finding a seat so he could watch. She spotted him and called him over join her. He joined her and she asked if he got lost on the way to the library, he told her that Coach Patrick had assigned him to watch the game for History homework. Hannah told him that his nervousness made her nervous, Clay offered her a tootsie roll, and she asked how he was able to eat them, Clay told her that they were good and sweet and proceeded to take a bite of it in front of her; Hannah rolled her eyes. Clay told her that she didn't seem like a sports person, she told him that she wanted to have had a complete high school experience. Clay noticed Justin nod his head at Hannah and asked Hannah if Justin was "the complete high school experience", Hannah told him not to be jealous and that he would make it someday. She asked him if his Dad was also "thin and nervous", Clay thought about it for a moment and realized Hannah's assumption was true. After school was done, she caught up with Clay and asked if he could email her the french notes because she didn't understand their french teacher. Justin arrived and asked Hannah if she needed a ride home, she told him she didn't because she had the bus as her travel option, she said goodbye to both Justin and Clay got on the bus.[11]

Later on, Hannah and Justin met up at Eisenhower Park and they kissed, he took a photo of her without her knowledge or consent and Bryce took his phone and sent it around. In class, students got notifications on their phones and everyone checked them to see an up-skirt photo of Hannah and they turned to look at her. Hannah and Clay looked at each other and Clay got a notification, he checked his phone and saw the photo, he looked back at her and she became upset as she realized that it must be a photo of her and assumed it was something bad. Hannah was not shown the photo by anyone while in class. Later on, she sat with Clay at lunch and they talked, Clay implied that he believed that she and Justin had sex in the park and she became upset as he hadn't asked what happened he had just assumed from the photo he saw and the rumor that they had sex had gone around.[11]

After Jessica, Alex and Hannah's group broke up, Hannah found out that Jessica and Alex were together, during a break from work Hannah and Clay sat on a bench eating their food. Clay brought a packet of skittles and a drink, Hannah told him that skittles would kill him, Clay in turn, told her that she bought a salad from McDonalds, "the people who make the Big Mac". Hannah asked him if he was fat shaming her salad, Clay told her that she was the one who called his lunch a murderer. She then asked him if she could ask him a "super-needy-when-did-i-become-this-kind-of-girl" question. Clay froze and became nervous, Hannah told him to relax and that she was not going to ask him about her period. She then asked him if she could ever be as prettier as Jessica, Clay hesitated on his answer and Hannah assumed his answer was already negative. Clay told her that Jessica is pretty but that Hannah was special, Hannah once again took this the wrong way and assumed he meant that she was "retarded". Clay told her that he didn't say that and that they weren't supposed to use that word. She told him that she saw him try to be kind and failed, she started to walk away and he asked her how the conversation went so bad so quickly. She told him that it was how he was wired while socializing and that she kept thinking he was a different type of male and realized that there was no such thing.[12]

At the end of a school day, Clay saw Hannah leave and caught up with her. She asked him if he had noticed anything weird about Alex, he told her that his hair was weird but it was nothing new. Hannah told Clay that Alex's hair looked awesome, Clay clarified that it looked distinctive. Hannah then added that Alex was an amazing dresser and that Clay could take notes from him, Clay told her sarcastically that he was glad they got around to his failings. Hannah asked him if he was working that night and he reminded her that they were both working at 6pm, Clay then told her that there was a penumbral lunar eclipse happening that night and invited Hannah to join him in watching it, Hannah accepted the invitation and left.

Just before work ended, Hannah and Clay were cleaning up and Hannah told Clay that Alex was still inside, Clay wondered if he was okay considering that the credits had ended. Alex came out and said goodnight to them, Hannah asked if Jessica was with him and he told she wasn't, Clay asked him if he was okay and Alex unenthusiastically affirmed. Alex left and Hannah and Clay looked at each other wondering what was going on. Clay's phone beeped and he told Hannah that they had 10 minutes until the eclipse happened.

Later on, Clay and Hannah sat on the edge of the roof of The Crestmont and waited for the eclipse to happen. Hannah asked what she was supposed to be see, Clay pointed to the moon and told her that a shadow was growing slowly over the moon and told her to look closer. Hannah stared for a few seconds and noted that she saw it. She told him that it was kind of scary, Clay looked at her and asked "is it?" they looked at each other for a second and Hannah broke the stare and looked back at the moon. Hannah became cold and moved further next to Clay, to Clay's surprise, Clay became slightly nervous and started to rub his hands.

The next day they saw each other in school and Hannah had new nickname for him, she greeted him by calling him "Astronomy Boy" instead of Helmet. Clay told her that it was better than being called Helmet, Hannah told him that both nicknames worked together. Later on, jocks were making fun of Hannah and sexualizing her, Hannah turned around and the jocks left but she spotted Clay laughing at the jocks and she gave him a hurt disappointed look. He became confused and stopped laughing. Later in class, a list was going around, Hannah read it and realized that it was a list that had her labelled as having the best ass and Jessica Davis, with the worst ass. Later, Clay spotted her having lunch. Hannah told him that high school was bullshit, Clay told her that he did not disagree but asked for specifics, she told him that she just wished there was a fast forward button in life to fast forward through the bad parts and get to the good parts. Clay asked what the good parts were and Hannah told him she planned on going to New York for college. Clay asked why she chose New York, Hannah told him that she could be someone new there, "Whoever I want to be". Clay told her that who she is now is okay. Hannah questioned being okay, and sarcastically thanked him for the high praise. Clay rephrased her status to "awesome" and added that she made the hot or not list. Hannah became hurt again, Clay expressed that he thought it was a good thing and Hannah gave him the concept of girls having made the list and how he would feel if he was labelled on the list as worst biceps. Clay told Hannah that girl wouldn't make a list like that, Hannah then told him that that was precisely her point. Clay then compared his biceps to Alex's, Hannah then told Clay that he had once again missed her point.[13]

On the way home from work, Hannah and Clay talked about zombies, it ended with them about to kiss but Clay ended up hugging her instead out of nervousness.[8] As the Winter Formal was coming up, Clay walked up to a table where Courtney was in charge of giving people tickets to the Winter Formal. Hannah joined him and greeted him with "Helmet", Clay asked her if she was going, she told Clay that she wasn't as she was not in a romantic winter formal type of place. Courtney encouraged her to go and then asked Clay if he thought that she should. Clay was hesitant to answer but told her that she should go, Clay told her that she should go and then excused himself for "class and stuff". Hannah came with Courtney and Courtney's friends to the Winter Formal, Clay came on his own with Jeff by his side. Hannah saw Clay and told him he looked adorable, Clay commented on her use of the word "adorable", and asked her to dance with him. They danced and had fun, but the fun ended when Montgomery de la Cruz showed up and told her all the sexual things about her that Courtney had told him to get him off her back. Clay overheard this and Hannah became worried about his opinion, she left Clay and went to angrily confront Courtney about her lie.[9]

At work Hannah greeted him calling him Picasso as she saw him drawing. She asked him if he had a date that, he denied and she asked about Dollar Valentine. He that he wasn't doing it, he asked if she was and she told him that was doing it, he asked if she got any good matches and she denied it, and added that she got Bryce Walker. Clay became surprised and told her that she either made an error in the "Who I'm looking for" section or the algorithm is messed up. Hannah commented that it was probably both and added that she was always looking for the wrong person. She then told him that she did get a call from Marcus Cole, Clay asked if she was going to go out with him, she told Clay that Marcus wasn't her first choice and stared at him, he stared back and as Hannah was about to carry on, Jeff walked in with his girlfriend to get a ticket for a movie to watch. Jeff asked him how the Dollar Valentine thing worked out for him and it became awkward for him as he had just told Hannah he wasn't doing it. Hannah became confused and Jeff told him that he had said he was doing it. Clay turned around and gestured to Jeff to leave. Hannah asked him if he was or wasn't doing it and Clay told her that he meant he didn't get any good choices and that Jeff was always making him do stuff, like going to dances, Hannah became distant but stated that she should just call Marcus considering she isn't doing anything. Clay expressed that she should call him, ignoring that she was searching for him to offer himself as a date. Hannah left her work station and called Marcus in front of Clay and told him she accepted his date offer. Clay told it looked easy and Hannah told him that it can be referencing him not asking her. She then left to go and finish working. Clay then took out his Dollar Valentine list and ripped it in half.[14]

In Communications class students had compliment bags. Hannah received cute bunny messages, and Sheri Holland asked Hannah if she knew who was sending them. She looked over at Clay who was already looking at them and Clay quickly turned back. She told Sheri that she didn't know who but it seemed that she suspected Clay was giving them to her.[10] Hannah got into writing poetry because of Ryan Shaver, however later Ryan and Hannah's friendship turned sour because Ryan published one of her poems (without naming the author) in the school magazine—Lost and Found—without her consent. When students decided to make fun of it, she realized what he had done, she confronted Ryan and became mad at him. Later she went to work and saw Clay reading her poem in the magazine, she asked if everyone was reading the magazine and he told her he was addicted to the magazine. He read a line out loud and she told him it sounded like shit. He told her that it sounded real. He read another part of the poem and Hannah told him that she wondered who wrote it, Clay agreed and told her that it seemed like a really dark person had written the poem. He stated that he liked their poem but he wouldn't want to hang out with them. Hannah became distant and excused herself to get back to work.[15]

Revealed by Clay in a flashback during his testimony in the third season:


During the last days of school, just before summer, Clay and Hannah were working at The Crestmont, she was building a candy tower and told him that he didn't get to knock it down if he didn't help build it. Clay told her that he needed to finish reading a chapter of a book he was reading. Hannah asked him if he actually had homework to do considering school would be done in two days and told him that all they did in her classes was watch

'Stand and Deliver'

. Clay told her that he wanted to get the summer reading done before he went over to his grandparents for the summer. Hannah became confused and Clay told her that his parents told him it was good for a

"growing boy to spend time in the country"

. Hannah told him that they don't live in a thriving metropolis, Clay told her that if she spent ten minutes with his grandparents, she would disagree.

Hannah asked what she was supposed to do during the summer if they weren't going to hang out. Clay was surprised to know that she would miss him, Hannah told him that he was the only friend she had left. Clay told her that he wasn't her only friend and Hannah asked if he would write to her—old school—Clay asked if he could write them on a computer and print it out. Hannah told him that he couldn't, nor could he send her postcards either. She wanted

"handwritten missives, filled with your deepest, darkest secrets"

. Clay asked her if she would write him back and she began to write an example letter from her head:

"Dear Helmet, someone smeared feces on the bathroom wall, and I got to clean it up.

But there was an expired box of Milk Duds that I got to take home for free"

. Clay asked if that would honestly be the type of letters she would write to him. She then told him that he would have to write her and he would find out. She finished building the candy tower and she immediately used her hand to knock it down, and they both laughed. After he told the story, Clay revealed, with regret, that he never wrote to her.

[16]

Hannah came back to work after the summer holiday and Clay immediately noticed Hannah cut her hair, Hannah asked what he was staring at but he didn't comment on it, they started cleaning gum off of chairs and Clay told her he had saved her a "particularly gnarly piece with some hair on it", Hannah jokingly responded that she thought she was the flowers and chocolates kind of girl. He asked her if she was going to Jessica's party and she asked him when he started going to parties again, Clay told her that Jeff had told him to come and assured him it would be a highlight of his high school career. Hannah then wondered why people didn't just swallow their gum instead of leaving it on chairs for them to clean. Clay commented that he never swallowed his gum, he then told her that Jessica's party could also be the highlight of her high school career, encouraging her to go. Hannah told him that she wouldn't be partying or slacking off as part of her fresh start, and Clay commented that he had decided to do the exact opposite as part of his fresh start. Hannah jokingly asked if he was going to start riding his bike "sans helmet" and Clay told her he was, Hannah then asked if he was going to turn in a project late and Clay told her that he might. Hannah gave him a surprised look and he backtracked and said that he actually would not but he might "half-ass" a project. Hannah jokingly told him to be careful. Clay then reiterated that she should come to the party, Hannah told him not to be an enabler, and told him that she made a deal with herself. Clay told her that he would watch out for her, "One beer, max. Home by midnight, even if I have to pedal you home on my bike". However, Hannah once again declined.[17]

Episodes 9 — 11 are not in order of events, the start of episode 11 happened before 9 and 10 (Clay and Hannah have no interaction in episode 10). The end of episode 11 laps over into the end of episode 9 beginning another story about Jessica's rape from Hannah's perspective after Clay left her. Some interactions are mixed because of the way Hannah Baker told the story on the tapes. Episode names are bolded along with numbers and descriptions are in order of episodes.

Tape 5, Side A — Episode 9

Hannah was sat on a couch and Clay asked if she was

"more of a beer person or more of a beer person"

as he only had beer to give her. Hannah jokingly took her time to decide and answered that she wanted beer, Clay then gave her beer and said

"Tonight it is being served lukewarm, in questionably clean cups, and devoid of any flavor"

. They then joked about aspects of the party and Hannah complimented Clay's outfit. Jessica and Justin interrupted them and sat on the couch to get involved in a game. Jess asked Clay and Hannah if they were going to play, Clay declined and Jess asked if they just wanted to watch, and Clay made things slightly awkward by saying that they were going to watch from an anthropological point of view.

Later on they talked about their parents, Clay stated that his parents seemed bored and that the only thing they had in common was Clay himself. Hannah told him that parents always think their children don't pick up on things. They both joked that they wouldn't get older. Jessica and Justin interrupted them once more by making out with each other against Clay's back. Clay became uncomfortable and Hannah told Clay to go with her to get a refill on drinks.

[17]

Tape 6, Side A — Episode 11

Clay hoped that Hannah would come to party and Jeff noticed and asked if Hannah was coming. Clay brushed him off and Jeff left, Alex came over to Clay and talked to him. Clay heard people chant Hannah's name, and turned and noticed that Hannah had come to the party after she said that she wouldn't. He told Alex he had to leave and Jeff bumped into him outside and talked him into going back inside and talking to Hannah. Clay went back inside and looked for Hannah, he walked up to her made conversation. He then went to leave to get drinks for himself and Hannah, Hannah joined him. While they sorted out drinks they talked about superpowers and Hannah asked if he could use a superpower in the situation they were in what he would want it to do. Clay told her that he make everyone else disappear. She then asked him what they would do next. Clay became nervous and stuttered on his answer. However, he was interrupted by a student who had come over and opened a beer and accidentally sprayed Hannah and Clay.

Clay stated that they should go outside and Hannah followed him, he held his hand out so she wouldn't get lost around the careless partygoers Hannah held his hands but got cut off from Clay but more students. She followed Clay outside and Hannah asked about his friendship with Jeff. Hannah realized that the only time she and Clay properly hung out was because of Jeff but Clay told her that it was strictly coincidental. Hannah looked over at Jeff and asked Clay why Jeff was watching them if it was strictly coincidental. Clay told her that Jeff took an interest in his social life. Hannah figured out that Clay tutored Jeff in academics and Clay finished her sentence and told her that Jeff tutored Clay in

girls

, he saw her reaction and retracted that Jeff tutored him in

"Girl, singular"

. A student interrupted them and asked them to play beer pong, however Jeff came along and got rid of the student for Clay. Clay decided that he and Hannah should go back inside.

[18]

Clay and Hannah went upstairs, as they got to the top of the stairs, Hannah told Clay that she might quit working at The Crestmont because her parents need her to work at their store. She expressed that she liked working at The Crestmont and Clay agreed, Hannah then specified that she meant that she liked working with

him

. Hannah moved closer and Clay hovered over whether or not he should kiss her. He became nervous and told her that if she worked at her parents store she wouldn't smell like burned popcorn. A bedroom door opened and a couple came out laughing and slightly drunk, they walked past Clay and Hannah and Clay looked back at the room. Hannah asked Clay if they should talk in there and Clay agreed. They went into the room and Clay became surprised at Jessica's bedroom.Hannah told Clay that Jessica has a rock collection from when Jessica was little. Clay asked how she knew and Hannah told him that she and Jessica were friends at the beginning of the last year. Clay was surprised to find out that they were friends considering how popular Jessica was, they started to play with Jessica's rocks and Hannah realized the connection between Clay's name and clay while looking at a rock. Clay said that he had heard all the jokes on his name. Hannah asked if he had heard all the jokes in the universe on his name and Clay affirmed, Hannah stated that she like Clay's name and Clay stated that he liked her name.

They looked at each other for a few seconds and Clay leaned in and kissed her. They carried on kissing. Clay asked if they could go further and she confirmed he could. They layed back onto Jessica's bed, took off their clothes and continued kissing but the moment turned sour as Hannah started to have flashbacks of all the things that guys had done to her, and each guy had somehow morphed into Clay in her head, she became scared and uncomfortable and asked him to leave the room. He was hesitant to until she shouted at him to leave the room, so he left. She then began crying because she had told him to leave but actually wanted him to stay, however her almost PTSD-like flashbacks made her push him away.

In the present, while Clay listened to his tape, Hannah stated on them that his name did not deserve to be on the list but he needed to hear her story and that it was not his fault that things turned bad, it was her fault and it was caused by all of the things that had happened to her before the party.[18]

After an incident after both Hannah and Clay left the party killed Jeff, Hannah saw Clay again at The Crestmont, Clay became more distant towards Hannah, Hannah noticed it and told him she could smell burned popcorn, Clay told her it was the new girl and Hannah was surprised that they had already found her replacement. Clay said that no one could replace her in a slightly bitter tone. Hannah also noticed his tone and she stated that she heard about the funeral for Jeff and Clay told her that he thought he would see her there. Hannah told him that her parents needed her to work, Clay excused himself and told her that he had toilets to plunge. Hannah jokingly asked him why he couldn't get the new girl to do it and Clay told her that he lied to her about there being a new girl. They walked away and Clay called her back and told her that he was supposed to ask her to hand back in her uniform. Hannah was surprised that they wanted it back and Clay agreed that it was weird. They both walked away.[19]

The day after Hannah was raped at Bryce Walker's party by Bryce—unknown to Clay at the time—they saw each other in school and Clay walked up to her and told her that society's priorities are out of whack. Hannah agreed and was about to tell him something but she stuttered and brushed it off and told him she would see him in their next class. Just before school ended Hannah went to get help from Mr. Porter and tried to tell him about her rape. Hannah had already started recording the tapes. While speaking to him she was recording her final tape, Mr. Porter's help or lack of, would decide whether or not she would commit suicide or carry on living. After school, Hannah left, she went home and made copies of the tapes, she packed the copies into a shoebox. She walked into The Crestmont, Clay had his back turned and she gave in her uniform, this time she didn't say anything to him and walked back out, he saw her walk out and then looked at the uniform she left. She went over to Tony's house and left the original tapes with him. She then went to the post office and sent the copies to Justin Foley's house, her first subject. She then went to her parents store and took a pack of razors without her parents knowledge, and went back home and killed herself.[1]

The following is an interaction between Clay and Hannah before she died, this is new information revealed in Season 2 during court. It has been added here because Hannah is not a hallucination in this scene, and does not fit in "Hallucination Hannah"


During Clay's testimony he revealed that he and Hannah talked about writing to each other during the summer, however he never wrote to her. On the stand, he stated that during the summer, he forgot about it. However, he also didn't believe that he was that important to her and she would forget about it too. Sonya asked him if he and Hannah had ever spent the night together. He asked if she meant if they had ever had sex. Sonya backtracked and reiterated, she asked him if he and Hannah had ever spent a night together, into the next morning.

Clay became confused but affirmed that he and Hannah had spent a night together before her death. Sonya then asked him if he and Hannah ever did drugs together. Matt Jensen

(Clay's father)

and Olivia Baker

(Hannah's mother)

became shocked at the question. Clay swallowed hard when he realized what night specifically Sonya was referring to. Clay affirmed that they had done drugs and revealed information about the night that he, Hannah, Sheri Holland, Jeff Atkins, Alex Standall and Leah

(Jeff's girlfriend)

did drugs together in Jeff's basement before summer.

He revealed that while they were coming down from their high in Monet's, Hannah expressed that she felt like everything was black and thought people wouldn't care if she killed herself while looking at Clay. Sonya asked what he said to her and Clay told her that he didn't know what to say. Sonya asked

"You heard Hannah say this, and you did nothing?"

, Clay told her that he didn't think she meant in a way of wanting to actually kill herself.

Clay made the excuse that they were all still recovering, Sonya pointed out to the jury that they were recovering from drugs and asked Clay how it explained why he did nothing. Sonya used this as a way of shifting the blame from the school being at fault, as Clay heard her express suicidal thoughts and didn't say anything to her or tell anyone what she said.
Hallucination Hannah
Hallucination Hannah was Clay's hallucination of his version of Hannah. During the second season, it helped him and guided him throughout his grieving process after Hannah's suicide. The hallucination was a coping mechanism for Clay's survivor's guilt. In the first season, Clay also hallucinated Hannah however it didn't happen as much, and it was not a focal point.

Clay arrived home and his Mom told him that the trial was going ahead because the Bakers had pulled out of the settlement at the last minute and chose to fight for Hannah. Clay became angry that nothing was going to happen to Bryce unless there was a victim to come forward. Clay told his mother that he had not thought about Hannah in months and was going to carry on like that. However he went up to his bedroom and hallucinated her outside of his window. Later, after school, Clay went to meet Skye and they attempted to have sex, but he hallucinated Hannah in place of Skye and it ruined their moment. Clay told Skye that he couldn't have sex with her and left. Clay went home and hallucinated Hannah again, for the first time the hallucination talked, it asked him what he was going to do about the first Polaroid he received. Clay asked "So, you talk now?" and the hallucination replied "Apparently".[20]

The same night, Clay layed down on his bed clutching a pillow and questioned his hallucination. He tried to figure out with the hallucination why he was hallucinating Hannah but he had no answer and neither did his hallucination. Clay went to sleep and woke up the next day because he heard his mother wake him up for school and immediately saw his hallucination sat on the end of his bed. Clay talked to his mother about court and his mother told him that while she was aware that he said he stopped thinking and caring about Hannah she was worried that it wasn't true. Clay told her he had to get ready for school and shut her out. The hallucination asked about him not caring about Hannah anymore and Clay told the hallucination that he did everything he could and nothing he did mattered. The hallucination asked him if he did everything he could why he was hallucinating Hannah, he had no answer. Clay received a text from Skye who was waiting for him outside, Clay started to get ready to leave and picked up the Polaroid and wondered what to do, the hallucination walked over and read out the caption and asked what it meant. Clay had no answer and the hallucination asked him who gave it to him and why on the day Hannah's trial started. Clay asked the hallucination if it thought they were connected and the hallucination questioned him why he thought they weren't. Skye beeped and Clay excused himself and got ready for school. Just before he got on her motorbike he looked up at his hallucination and then they left.

Clay walked into a classroom that had been trashed, Tyler was sat alone at a desk with his camera. With encouragement and guidance from his hallucination, Clay asked Tyler about Polaroids and asked if he knew the people in the Polaroid he had received. Tyler told him that the people in the Polaroid were Tommy Schuster and Erica Charles. They were seniors when he and Tyler were freshman. Later on Clay had lunch with Skye and Skye brought up Hannah, he then started to hallucinate Hannah, Skye revealed to Clay that Tyler told her that he was at court. Clay told her that he was not going back to court, the hallucination told him that he kept saying he wouldn't go back like it was true, Clay told the hallucination that he was not going back in an irritated tone of voice. Skye told him that she was just messing with him, unknown to her, he was talking to his hallucination. Skye became playful with Clay and his hallucination told him that it liked Skye, she made him try new things which seemed good for him. He seemed less afraid when he was with her. Clay appeared distant to Skye because he was listening to his hallucination talk about him and Skye. Clay assured Skye that he was present and here for her.

Later on, Clay's body failed to respond to being sexually stimulated and it made Skye think that he didn't love her. She got dressed and told him to tell her that he loved her and that he was over Hannah. He began to hallucinate Hannah, he told Skye he loved her and then she asked him to tell her that he was over Hannah. His hallucination told him that it was okay to tell Skye that he was over Hannah. However, Clay couldn't bring himself to say it and told her that he couldn't say he was over Hannah yet. Skye threw things at Clay and then ran out. Clay followed her and halted at the steps of his house, he ran back inside the house to put clothes on, his hallucination asked him if running after her was the best idea. As Clay got dressed he told the hallucination that it was not a good idea but a terrible idea would be staying and talking it out with his hallucination. The hallucination asked him if being chased was what Skye even wanted.

Clay became mad and reminded the hallucination of what Hannah said on the tapes after he left her at Jessica's party:

"Part of me was saying don't go"

. The hallucination told him that Skye was not Hannah, Clay replied with

"No, no one is"

. Later on, Clay reached Skye's house and saw her be taken away in an ambulance, as the ambulance drove away, Clay hallucinated Hannah, who told him

"You really have a thing for complicated girls"

. Out of anger, he screamed at his hallucination.

[21]

Clay arrived at the hospital and asked for Skye, however he was turned away because he was not family, as he was about to leave, he hallucinated Hannah in a hallway. Clay left a message for Skye in Monet's and hallucinated Hannah after he finished the message. The hallucination told him that it was sorry about Skye. Clay told the hallucination that it wasn't, the hallucination assured him it was sorry. Clay became frustrated because he was hearing new things he didn't know about Hannah in court that made him mad at her. Clay pointed out all the things he did to try to take Bryce down but failed and decided that he had given up. The hallucination told him not to sit back and not do anything about Bryce just because the first time didn't seem to achieve anything. The hallucination told him not to do nothing because he was pissed off, and pushed him to try and go further into taking down Bryce.

Later on, Clay enlisted Tony to help him look for Justin Foley so he could testify against Bryce. They visited a homeless shelter and Clay hallucinated Hannah in place of a homeless girl, the hallucination asked for help. Clay caught Tony's attention for help and suddenly the hallucination disappeared and the homeless girl appeared instead. Later on Clay and Tony found Justin and brought him back to Clay's house.

[22]

The next day he complained to his hallucination that Justin smelt disgusting, the hallucination told him that it was Justin's clothes that made him smell bad and instructed Clay to wash them. Later, after Marcus lied in his testimony about Hannah leading him on to ask for Bryce's number, Clay was unsure of what to believe. Clay was sat in the library and Marcus talked to Bryce about court, Chlöe interrupted them and sat on Bryce. Chlöe began kissing Bryce and it caught Clays attention. Clay hallucinated Hannah in Chlöe's position, his hallucination kissed Bryce while staring at Clay, seemingly rubbing it in Clay's face.

Clay began thinking that maybe Hannah and Bryce were more than friends before he destroyed her and hated the idea. Towards the end of the night, Clay debated with his hallucination whether or not to give Alex Standall the audio of the tapes, due to Alex's suicide attempt at the end of the first season, Alex was left with memory loss and has no memory of listening to the tapes.

[23]

The next morning, Clay hallucinated Hannah, who asked him if he was going to ask Justin about the Polaroid. Clay told his hallucination that he didn't trust Justin, and the hallucination asked him how he couldn't trust

"that little sleeping angel"

. Justin woke up and was annoyed at Clay staring at him. Clay asked him to keep himself together until Clay found someone to look after him. Justin told him he didn't need a babysitter and complained that he was hungry and cold, the hallucination told Clay that Justin had chills because of a fever, and instructed Clay to get Justin a blanket. Later on, on school grounds, Clay saw a chalk machine on the field and thought he saw one in the second Polaroid he was given. In a room, also on school grounds, he hallucinated Hannah, his hallucination asked what the point of finding the chalk machine in the image was. Clay told the hallucination that it would prove that it was taken on school grounds and it would be huge for Hannah's case. He used a magnifying loupe to search for a chalk machine in the second Polaroid to confirm that there was one in the image; he found the machine. Both the hallucination and Clay looked down at the first Polaroid and saw the writing on the back that read: "HANNAH WASN'T THE ONLY ONE", he told the hallucination that he had to find the room. Clay walked into another room, his hallucination immediately told him that the floors don't much and he added that there was also no couch, like in the photo. Clay stressed that there had to be an athletics room somewhere, his hallucination told him that Just might be able to help. The mention of Justin's name annoyed Clay as he had recently found, via Ryan Shaver's testimony, that Hannah continued to be friends with Justin and wrote poetry about him after he hurt her by letting Bryce send an up-skirt photo of her around school. Clay told his hallucination that he didn't understand why people love people who aren't good for them. His hallucination told him that people don't chose who they fall for, he became annoyed and walked out of the room.

[24]

After Zach Dempsey testified about his secret romantic and sexual relationship with Hannah, Clay read the news about it online as he wasn't in court for it. He became mad and after school, he confronted Zach about it. He told Zach that it made everything worse for Hannah, Zach told him that he didn't mean to make things worse but he didn't lie about him and Hannah having losing their virginities to each other. Clay became mad and told Zach that he didn't deserve Hannah. Zach agreed and drove away, after Zach was gone, he hallucinated Hannah, who asked him if he had something he wanted to say, as he was mad at Zach for their relationship. Late at night, Clay hallucinated Hannah and asked why Hannah didn't talk to Zach at Jessica's party if they had been in a relationship. The hallucination told him that Zach was drunk by the time Hannah showed up. Clay asked why the relationship wasn't talked about on Zach's tape, the hallucination told him that maybe they were keeping it private for just him and Hannah. Clay became annoyed and said "Or maybe you were protecting yourself". The hallucination told him that maybe Hannah was protecting herself, and maybe it hurt that it meant something to Hannah and it didn't to Zach. Clay then asked, if he had been in town that summer instead of Zach, if they would have been in a relationship. The hallucination of Hannah was hesitant to answer but was interrupted by Justin coming into the room.[25]

During Alex's birthday party, Clay hallucinated Hannah, who asked him what he was thinking about, which gave him a flashback to the night they all did drugs when Hannah asked him what he was thinking about while on drugs. Later that night, Clay hallucinated Hannah and debated with his hallucination on anonymously publishing the tapes online. Although his hallucination tried to talk him out of it, he defied the hallucination's demand to not publish them and published them.[16]


The next day, as Clay entered school with Justin and Tony, students who had heard the tapes, stared at Justin and gave him dirty looks after they found out about his role in Jessica's rape and Hannah's bullying. Clay hallucinated Hannah walking beside him. The hallucination asked if he had actually thought the effects of publishing the tapes online through, and asked him what would happen to Justin or Jessica. And anyone else who would be affected by the tapes being heard by everyone; Clay didn't answer. Later at night, Clay argued with his mother, she knew that he released the audio files as they were watermarked to come from her computer. He also argued back at her being mad after he found out that she told Sonya about there being a possible relationship between Hannah and Zach, helping build the school's case that they were not to blame. Matt sent Clay to his room.

Clay stormed off to his room and immediately hallucinated Hannah, the hallucination called out his name. Clay looked up and stopped the hallucination from speaking further and became enraged instead. He told the hallucination

"No. You don't talk, you don't get to say anything. This is your fucking fault, Hannah! This mess started with you! I put out the tapes, and that was stupid, but you made them! You fucked up people's lives!"

the hallucination tried to apologize but Clay refused to believe it

"Are you?! Are you sorry?! 'Cause that doesn't do a fucking bit of good because you are gone! You killed yourself and you didn't fucking care!"

the hallucination expressed that Hannah did care but Clay still refused

"No, or you would have never done it!"

the hallucination expressed that Hannah was hurting and didn't think about who she would hurt. However Clay—while red in the face, tearful and enraged at Hannah—told his hallucination

"You did an evil thing."

, he hallucinated Hannah starting to cry and Clay told his hallucination to get the fuck out.

[26]

Justin left the Jensen's household after Clay, Matt and Lainie argued and went to stay with his Mom, he later fled his Mom's house and tried to leave town but Clay texted him that he needed him, Justin gave Clay his location and Clay brought Justin back home.[27]


After Clay brought Justin back, Clay went into his own bedroom and hallucinated Hannah, the hallucination commented

"He's back"

, Clay affirmed and the hallucination told him

"Eventually you have to stop running, I guess."

. Clay apologized to his hallucination for the other night. The hallucination told him that he didn't say anything it didn't deserve. Clay sat down next to his hallucination and stated that he was angry all the time since Hannah died and he couldn't tell anyone. His hallucination told him that he should tell someone, preferably someone who is actually alive. Clay stated that he tried to forget Hannah, but when he would try he would think of sitting on the roof of The Crestmont, or building towers of candy boxes.

The hallucination continued with his and Hannah's times of talking about zombies, or talking about Star Trek, Clay corrected it to Star Wars, but sometimes Star Trek. Or walking Hannah home from work and having lunch together. Clay then talked about missing kissing her, and how he would give anything to kiss her again. He slowly leaned in to kiss his hallucination but he was stopped, his hallucination reminded him that it couldn't be kissed and Hannah is dead. Clay asked

"Then why are you here?"

, to which his hallucination had no answer for.

After Sheri found

The Clubhouse

, Clay and Justin went exploring inside of it and were given the full box of Polaroids by Zach Dempsey, who revealed himself to be the one who had been giving Clay the Polaroids and admitted to being a coward for dong it anonymously. At Clay's house, Sheri, Justin and Clay looked through the Polaroids. Clay picked one up and he had a shocked reaction to the image, turned it over and put it back down on the table. A few minutes later, he picked back up the Polaroid and turned it over.

He held it up to his face and it was revealed to be a Polaroid of Hannah inside The Clubhouse. Clay had been previously unaware that Hannah had visited The Clubhouse. Clay hallucinated Hannah sitting across from him, behind his view of the Polaroid, in the same position and smiling as Hannah was in the Polaroid. He removed the Polaroid and saw his hallucination sitting across from him; he became more shocked.

[28]

The next day, Clay sat in Monet's and confronted his hallucination of Hannah about the Polaroid. The hallucination asked Clay what he wanted to know, and whether or not he would even believe whatever he was told. Clay asked how Hannah ended up in The Clubhouse and asked whose varsity jacket Hannah was wearing. The hallucination brought up Justin, but Clay told his hallucination that Justin said he didn't know about The Clubhouse's existence. The hallucination asked Clay if he believed Justin. Clay wasn't sure and the hallucination asked him what he wanted to hear, bringing up scenarios that could have been rumors in school due to Hannah's slut reputation. Clay stated that he just wanted to know the truth. The hallucination told him that it told him truth but he didn't believe it, "You say you love me, but you're always willing to believe the worst of me". The hallucination got up and walked away.

During Bryce's testimony, Bryce lied about being in a sexual relationship with Hannah, and as Clay had heard so many new different stories, true and false, painting Hannah in different lights, he started to believe that maybe Bryce and Hannah were in a relationship. After Bryce finished telling his lie, Clay hallucinated Hannah whisper in his ear that Hannah loved Bryce and wanted to be with him forever. After Bryce's testimony, Tony became mad that Bryce lied about his relationship to Hannah, Clay looked over at Bryce and his friends and once again questioned whether or not Bryce did lie.

Justin and Tony then reassured him that Bryce did lie. Alex then told the group that they couldn't tell Jessica about his testimony. Clay hallucinated Hannah standing in front of Bryce and his friends across the room, and realized that they actually needed to tell Jessica about his testimony. Jessica was the only one who could show Chlöe the Polaroid of Bryce raping her, and maybe Chlöe would testify against Bryce.

Late at night, Clay layed in bed with his clothes on clenching his fist and hallucinated Hannah, he once again asked himself if Bryce's lie was actually the truth. The hallucination asked him how he could possibly believe Bryce. Clay stated that Zach's testimony was true, the hallucination told him that Zach is a good person and deep down he and Clay were a lot like each other. Clay became annoyed at the comparison and told the hallucination that Zach was just like the rest of them (Montgomery, Scott and Bryce). The hallucination asked what he though about Justin, Clay noted that Justin let Bryce rape Jessica.

The hallucination told Clay that Justin would give his life to do that moment over and stop Bryce, and Clay told the hallucination that Justin should. The hallucination pointed out that Justin was now his friend, Clay told the hallucination that Justin was not his friend. The hallucination told Clay that Hannah was his friend. Clay asked the hallucination to tell him that Bryce was lying about everything he said. When the hallucination stayed quiet, Clay reiterated. The hallucination told Clay that Bryce told lies, but Clay had asked the hallucination to tell him that it was all lies. The hallucination refused to and instead told him to not to think about it, to think about Hannah instead, and touching her, but Clay refused to and asked the hallucination to stop.

Clay asked the hallucination to tell him what was true, the hallucination began to recite the start of Bryce's tape. Clay turned his back and went into the fetal position and covered his ears, trying to block off hearing the hallucination talk. He begged the hallucination to stop talking but the hallucination refused to stop. Clay shouted at the hallucination to leave him alone, and was interrupted by Justin coming into the room. Justin had heard Clay shout and saw him in the fetal position with his hands on his ears and asked what was wrong.

After Chlöe agreed to testify for the Bakers she started to testify against Bryce, but she switched her testimony in favor of Bryce out of fear. After, Clay sat in an empty courtroom and hallucinated Hannah, who continued to recite Bryce's tape, Clay once again begged it to stop. The hallucination continued and Clay expressed that he tried to take down Bryce. He stopped hallucinating Hannah when Tyler came into the courtroom, Tyler asked Clay if he wanted to feel real power and took him to a makeshift shooting range. They used glass bottles and cans as target to shoot at, Tyler told Clay his aim would be more accurate if he imagined the target to be someone he despised.

Clay hallucinated Hannah whisper

"Bryce, Walker"

in his ear. Clay pressed the trigger and shot at a target with perfect accuracy. Clay and Tyler the heard the cops siren, Tyler urged Clay to put his gun away and run but Clay was listening to his hallucination. The hallucination continued to recite the tape and emphasized that Hannah had no

power

, Clay looked down at his gun and thought that the hallucination wanted Clay to use the gun with Bryce.

Clay came out of his hallucination and then ran. He walked to Bryce's house while he listened to his hallucination recite the tape. Justin found Clay and tried to talk him out of killing Bryce. The hallucination continued to recite the tape and describe Hannah's rape in brutal detail, which was too much for Clay to handle. Clay then pointed the gun at his head, which scared Justin.

[29]

After Clay helped Justin get dressed for court, he sat on the steps outside his house and hallucinated Hannah. The hallucination told him that he was good at taking care of Justin, and told him that he was just a sweet, injured boy. Clay added that girls were suckers for that, the hallucination told him that girls were also suckers for the

"Angry, vengeful, hero types"

Clay contemplated the night before and told his hallucination that he was ready to kill Bryce, because he thought it was what Hannah wanted. He then asked the hallucination if it was what Hannah wanted. The hallucination stated that she wanted him to forgive her, but it might be the one thing that Clay could not do.

As Clay awaited the jury's decision on whether or not the court would blame the school for Hannah's suicide, Clay went to The Crestmont and watched a horror film. He hallucinated Hannah walk in while he watched the film. The hallucination noted that Clay was watching a zombie movie although he hated zombie movies. Clay told the hallucination that he couldn't sit and wait for the jury to come to a decision, and he had poorly themed movies to choose from. The hallucination told him that zombies just want to be loved. Clay stated that zombies just want to eat brains. Clay took a moment and told the hallucination that he could not forgive Hannah. Clay went back to court and the jury decided that the school was not to blame for Hannah's suicide, to their disappointment.

[30]

A day before Hannah's funeral, Clay walked across Crestmont and ended up looking through the doors of The Crestmont, he had a flashback of his first day at work with Hannah at The Crestmont; the first time he met her. Hannah called him a nerd for a Star Wars reference. He left and carried on walking. He began to hallucinate Hannah who told him that Hannah was right, he was the most courageous nerd she knew. The hallucination walked with him and Clay stated that he was asked to speak at Hannah's funeral, the hallucination asked him if he was going to make a speech. Clay stated that he didn't know what to say or if he could trust himself to not be angry. The hallucination told him to be angry if he needed to. Clay stopped and looked at a store and added that he wasn't sure if he could say what he really needed to say. The hallucination told him that he could. The store is revealed to be Baker's Drug Store.


Clay then stopped by

Hot Ink

and decided to get the rest of his semi colon tattoo done with his hallucination sitting in place of where Skye was sat when he got the first half of his tattoo done. Afterwards, Clay and his hallucination sat on a bench and Clay stated that the thing he was most afraid of is forgetting about Hannah. The hallucination told him not to forget Hannah if he is so afraid of forgetting her. But Clay added that the thing he was second most afraid of was that he would never be able to let Hannah go.

The hallucination asked him if he remembered the Winter Formal dance, Clay affirmed and asked why. The hallucination told him that there was no reason, and that it just wanted him to think about it; Clay began to cry and they stayed sat on the bench into the night. The next day, in the middle of his speech, Clay hallucinated Hannah walking into the church.

He looked his hallucination in the eyes and stated

"I ask her every day why she did what she did, and I get no answers. She took them with her when she went. Leaving me, all of us, angry, empty and confused. And I know that hurt won't ever go away. But there will come a day when I don't feel it every minute. And the anger won't be so hot. And the other feelings will fade and I'll be left with only love.

A good friend once said to me: "I can love you and still let you go", so Hannah, I love you, and I let you go. I miss you and I hope that wherever you go next, you feel peace, you feel safe, in a way that you never did here. Wherever you go next, I hope you know that I love you."

. The hallucination got up, and as it walked out, the door opened, a bright light appeared, and the hallucination left and finally disappeared for good. As Clay had finally been able to let Hannah go.

[31]
Tony is Clay's best friend, they have a close friendship that builds slowly through the first season and is solidified during the second.
Skye is Clay's friend and ex-girlfriend.
Bryce was Clay's archenemy, they started off as acquaintances, but Clay found out that Bryce raped Jessica, his friend, and then Hannah, his friend and crush, and he began to despise him.
Hallucination Bryce
Justin is Clay's friend, they started out as enemies, got closer as friends and now they have a brotherly relationship.
Clay is Jessica's friend. They started out as acquaintances, Jessica grew to like Clay as he was the only one who tried to tell her that Bryce raped her. Through the second season they become good friends.
Alex is Clay's friend.
Tyler is Clay's friend, they didn't always like each other but they now have a stable relationship and are very good friends.
Montgomery was Clay's enemy. Monty and Clay became enemies due to Clays hatred for Bryce Walker, and constantly tried to keep Bryce clear from being hurt by Clay.
Hallucination Monty
In the fourth season, Monty returns as a hallucination to further show Clay's mental health deterioration.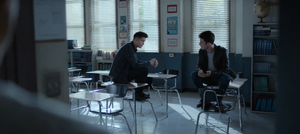 The first time Monty appears to Clay is when Clay has a nightmare about Justin waking him up in the middle of the night telling him they have to leave and Monty is still alive. The two arrive at a jail and speak to a withered Monty, who openly blames them for his arrest and promptly attacks Clay. At Future Fair Clay first consciously hallucinates Monty when he thinks he sees Monty at a table when it was revealed to be a guy wearing Monty's jersey to memorialize him. Monty reappears shortly later to confirm to Clay, that Estela is his sister.
When the football team plays a prank on Clay at the Valentine's Day dance, they stage a fake murder scene in the showers, complete with a large pool of fake blood and bloody knife. They then place a dummy on the football field wearing prisoner clothes and covered in blood. Clay then hallucinates the dummy as Monty bleeding out in front of him and pleading to help him. Monty begs to Clay that he doesn't want to die as Clay calls out for help and attempts to stop the bleeding, but it is not enough and Monty bleeds to death in front of him. Clay is distraught by the death and apologizes for failing to save Monty.
During the Shooter drill on Thursday, Clay's anxiety increases as he sees Monty again. Clay askes Monty about his death, to which Monty explains an older prisoner found out he was a child rapist and stabbed him repeatedly.
Courtney is Clay's friend. Their relationship wobbled throughout the first season, but they become friends throughout the second season.
Lainie is Clay's mother.
Matt is Clay's father.
Clay was Jeff's good friend and tutor.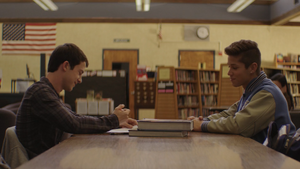 Jeff and Clay were good friends, with Clay being Jeff's tutor. Where Clay would mentor Jeff on his studies, Jeff would mentor Clay on his approach to girls, particularly Hannah. Jeff took an active interest in Clay's progress in his relationship with Hannah, he encouraged Clay to dance with her at the Winter Formal and to spend time with her at Jessica's party. Jeff's death had a profound effect on Clay, who was the first passerby to find his body at the scene of the car accident. He was initially angry as he believed Jeff was drunk-driving, but still mourned his loss. When he believed that Jeff was not drunk, he told Jeff's parents the true story of what happened that night to give them some closure, but also possibly to get the weight off of his chest.
Sheri is Clay's friend.
Kat is Clay's oldest friend. She moved away after attending a going-away party at Hannah's house that he attended. She is only seen in the first season, twice.
Clay and Kat have a distant friendship, before Kat moved away, he attended her going away party with Hannah, Kat mentioned that the last party she saw Clay at was her birthday when she was in 4th grade (Year 5, 9-10 years old). Kat seemed to be back on track with Clay and it seemed like no time had passed. They both pointed out that a lot of time had passed and then Kat offered Hannah and Clay drinks.
Appearances
Season 3
Quotes
Trivia
His favorite kind of music are obscure indie bands.
He has depression and anxiety.[47]
Tyler is the only person who Clay publicly humiliates after learning he did the same to Courtney and Hannah.
Clay loved Hannah and still does.
Clay and Hannah were extremely close, to the point of nearly having sex at one point.
Similarly to Hannah, Clay also nearly had sex with Sheri while they were in his room working on an assignment together.
In Season 1, Clay has a scar on his forehead from an accident in "Tape 1, Side A", this was done so that fans could easily distinguish between Clay in the present day and Clay during the flashbacks that happen frequently in the show. In the second season, which takes place five months after the first, his forehead was healed.
Clay did drugs for the first time with Hannah, Sheri, Alex, Jeff and Leah[48] He did drugs once again at the Find Your Drink Party in the final season.[49]
Clay sang for the first time in the final season, he sang "Tiny Dancer" by Elton John.[50]
He was the first person to find Jeff in the car accident that killed him.
Clay is the only person on Hannah's tapes who is not considered to be one of the reasons why Hannah killed herself. He is a tape subject because he is part of Hannah's story and she thinks that he needed to hear it.
His favorite superhero is Iron Man.[51]
According to an Instagram Story, posted on the 13 Reasons Why Instagram account, Clays' email is 'claydohjensen@gmail.com'.[1] However, in the series finale, the email he gave to Heidi is 'percyakr2161@gmail.com'.[52]
His favorite color is blue.[53]
Clay has a Planet Earth keyring attached to his bag.[23]
He dislikes Zombie movies.[30]
Clay and Hannah have secretly made fun of people who went to the movies by themselves.[30]
His favorite food is pizza.[54]
His official Instagram account is 'clayjensen0713'.
In Season 3, Clay mentions to Justin Foley that he writes "Fan Fiction" which may joke towards the online fandom that creates Fan Fiction especially with the characters in 13 Reasons Why.[43]
His favorite reading materials are fantasy and sci-fi. Clay is revealed to like the indie comic book series Alien Killer Robots, which is about an endless war between humans and robots.

The main character is named Percy. This may be a jab at the fact that Clay's actor, Dylan Minnette, looks similar to actor Logan Lerman, who played a YA character with the same name, Percy Jackson.

Clay shows many symptoms of schizophrenia although it is never confirmed during the run of the show. His visual and auditory hallucinations have led to him making rash decisions such as almost shooting Bryce and confronting a supposed school shooter. Additionally, his nightmares, anxiety, depression, and dissociation are symptoms of the disease.
Clay astrology sign is Libra♎ or Scorpio♏ due to the fact that his birthday is in October.
Gallery
See also: Category:Images of Clay Jensen