Jurassic World: Dominion Dominates Fandom Wikis - The Loop
Play Sound

Estela de la Cruz is a recurring character in the fourth season of 13 Reasons Why. She's portrayed by Inde Navarrette. [1]
She is the younger sister of Montgomery de la Cruz and the daughter of Mr. de la Cruz.
Early Life
Not much is known about her early life. She appeared to live with both her mother and father along with her older brother before his death. Her father was physically abusive towards her brother and he appeared to have been an alcoholic.
Throughout the Series
At Future Fair, Liberty students gather to check out the club and institution representatives. Newcomer, Estela, approaches Jessica at the H.O stand and expresses her admiration for her work in H.O. She then asks if she can join. Jessica admits to knowing her, since she is Monty's sister, but she doesn't mind and accepts her, as it's a safe space for everyone.
Later, the football team attempt to force Estela to wear a "De la Cruz" jersey to honor her brother Montgomery De La Cruz Despite her reluctantly accepting the jersey, the team further pressures her into wearing it now. Charlie sees this and confronts them, but they don't back down. Clay then arrives and confronts them further. After Diego Torres claims Monty's innocent in Bryce's death and Luke Holliday accuses Clay of being a criminal, Clay starts a fistfight with the two. It ends up with Diego apprehending Clay but getting detention as SROs think he started it.[2]
Personality
Estela is young but perceptive, still learning the ways of the high-school world, friendly but guarded. Starting high school while grieving a recent loss, she's going through a time of transition and self-exploration. Sensing that there are secrets at her new school that may unlock mysteries around her recent loss, she takes an interest in a group of students who may know more than they're letting on.
Physical Appearance
Estela is of average height and has long, dark brown hair with brown eyes. She typically wears jeans or jean-like pants with t-shirts and short jackets. She also wears several rings.
Relationships
Winston and Estela first met in the library when he interrupted her and Jess's conversation in the library. They become friends later on. They again meet at the House Party and in the H.O. room.
Throughout the fourth season, the two have a slightly positive yet complicated relationship, largely due to Diego wanting to honor Monty more than Estela. When they first appear in the cafeteria during Future Fair, Diego and Luke attempt to persuade Estela into wearing a jersey with Monty's name and football number on it. Estela reluctantly accepts it stating she will wear it at home, to which the two get slightly aggravated and attempt to pressure her into wearing it now.
Nothing much is known between the relationship between Estela and her brother, but it is known that she knew who he really was. She knows that he had hurt people in the past, so she joined H.O. to talk about it with others. She also wants to get justice for her brother, as she continuously talks with Diego and Winston to find the truth about Bryce Walker's murder. It's also known that she has loved her brother, as she had said to Tyler during a a school lockdown in the bathroom stalls.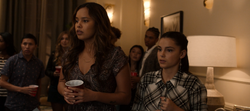 Estela and Jessica become friends after Estela approaches Jessica and asks her to be a part of H.O.. The two seem to get along, even if they mainly interact during club meetings. After the graduation ceremony, Jessica announces she will "pass the torch" to Estela after handing her a megaphone and says she wants her to be the new head of H.O. after Jessica leaves.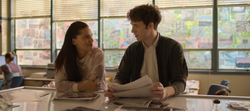 Tyler and Estela never interacted until the school shooting drill. Estela was hiding in a bathroom and suddenly heard someone breathing heavily, on the verge of crying, and opened one of the toilet doors to see Tyler panicking. They started talking to comfort each other and Tyler opens his heart to her, explaining that he is so scared because he used to be like the school shooter. Estela understands him and says that she is sorry for what her brother did to him. After the drill, the two are seen standing together and watching Clay as he fights the police in anger and shock. Sometime after, Tyler asks her to go to prom with him, to which she excitedly agrees. At prom, they are often seen dancing together, happily. After the date, they officially become a couple as Tyler refers to her as his "boo".
Appearances
Quotes
"
Most people think that I'm here to defend who my brother is...was, or...what he did. But that's not me. I'm not him.
"
— Estela[src]
Trivia
| | |
| --- | --- |
| | Note: This section is a stub. You can help 13 Reasons Why Wiki by expanding it. |
Gallery
See also: Category:Images of Estela de la Cruz
"Thursday"
"Prom"
See Also
References