"
Go. Go get her. It's a dance, right? So, maybe dance with her?
"
— to Clay in Clay's daydream at the Winter Formal, in "Tape 5, Side A"
Jeffrey "Jeff" Atkins (d. September 9, 2017)[1] was a recurring character in 13 Reasons Why. He is portrayed by Brandon Larracuente.
Jeff was a student at Liberty High School. He was Liberty High's star baseball player. Since he was not academically gifted, he traded girl advice for Clay Jensen's peer tutoring services. He was also a close friend of Jensen. However, Jeff later died in the same accident that happened when Sheri Holland and Hannah Baker ran into a stop sign.
Jeff died prior to 13 Reasons Why and appeared only in flashbacks throughout the series.
Throughout the Series
Personality
Jeff may be an athlete and a baseball player but he was very much a nice guy who was incredibly good-hearted and noble. He was more of a leader and a person who wasn't afraid to voice an opinion. Even though he was a jock and friends with some of the people who were, in a way, mocking and ridiculing to Clay, he took a different route. Jeff is arguably one of the only decent high schoolers at Liberty High. Instead of bullying, he takes a vested interest in Clay's happiness and well-being.
Physical Appearance
Jeff has medium toned brown hair and blue-green eyes. He has his left ear pierced and is typically seen in simplistic but fashionable modern style of jeans and regular long sleeved shirts (the shirts usually have some form of school prep on them) paired with sneakers. Being an athlete he's often seen in his varsity jacket.
Relationships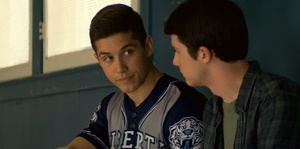 Clay was Jeff's good friend and tutor.
Clay helped Jeff with school. They would usually sit together in the library. Jeff helped Clay with girls, in particular Hannah. Jeff would encourage Clay to dance with Hannah at the Winter Formal, and to talk with Hannah at a party. He even invited both Clay and Hannah to his house so Clay could make a move on her. Clay was the first one to find Jeff after the car crash. He was angry at Jeff, because he thought Jeff was drunk-driving while he told Clay he was sober, but was also mourning because of the loss of his friend.
Appearances
Jeff appears in every episode as flashbacks only. He once appears in Clay's imagination in the first season. Jeff Atkins and Hannah Baker are the only people who appear in the Series, either as flashbacks or a hallucination, but aren't alive.
Quotes
Trivia
Throughout the show's history, Jeff is the first known character to be labeled as deceased on the show. The next was Hannah Baker, then Bryce Walker, then Montgomery de la Cruz, then Harrison Chatham, followed by Amber Foley, and then Justin Foley.
Despite being one of the only decent athletes, it is unknown if Jeff was aware of the existence of the Clubhouse. He has been shown participating in drugs and alcohol but not to the extent of other athletes such as Bryce Walker or Justin Foley.
Jeff is not named in the book, but the eleventh tape describes the accident and the funeral of a senior student that died in it.
Jeff is one of the only deceased characters to appear through Flashbacks and mentionings only. The others being Hannah Baker and George Dempsey.
Gallery
References
See also