"
Look, here's the thing. There should be more of us here. And lately, I have been thinking about why they're not here. I have a history of causing trouble with my speeches. Principal Bolan actually had to approve my speech just so I wouldn't make trouble. But that was a month ago. And my life has changed since then. But don't worry, I'm not causing any trouble today. Because I just want you to hear me. Some of you circulated a petition this year, demanding I be removed from office. Saying that I was a one-issue president, and I had made my point, and I should just shut up. Well, no girls signed that petition. So, news, boys, our point is far from made. And we're not shutting up. But you are right about one thing: I am a one-issue president. I'm a one-issue person. I spent the last couple of years angry. Hurt. Scared. But I'm not gonna do that anymore. I'm gonna focus on my one issue. Which is love. Oh, what? Does talking about love make you embarrassed? Is it girly? What? Because it's the thing. It's the only thing. It's easy to hate. It's easy to fear. It's goddamn hard to love. But it's not optional. It's essential. It's life or death. I challenge you. Love each other. Do it. Do it better. Now and every day. I love you all. Oh, and fuck the patriarchy.
"
— Jessica during her speech about sexual assault in the assembly[src]
Jessica Davis is one of the main characters of Netflix's "13 Reasons Why". She is the daughter of Greg and Noelle Davis, the older sister of Elijah and Cooper Davis, the ex-girlfriend of Alex Standall and Justin Foley, the ex-lover of Diego Torres, an accessory to Bryce Walker's murder, a member of F.M.L. and H.O., and the former best friend of the late Hannah Baker. She is a former student, cheerleader and the former Student Body President at Liberty High School. She is portrayed by Alisha Boe.
In the first season, she was shown to have been paired up to be friends with Hannah by the school counselor. She becomes good friends with Hannah and then Alex, unfortunately, their friendship ends over a misunderstanding. A few months later, Hannah commits suicide, before her death she recorded thirteen reasons why she killed herself. Jessica receives the tapes, being the second reason. On the tapes, Hannah also revealed that Justin's friend raped a girl while she was unconscious, it is revealed to Jessica that the girl is her and Justin's friend is Bryce Walker. Justin constantly tells her that Hannah lied and they were the ones who had sex. After growing closer to Bryce, Justin becomes mad and reveals that Hannah told the truth, she cuts ties with Bryce and breaks up with Justin. Although she was unaware of it, her behavior midway through the season suggests she slowly started to remember her rape and possibly always knew that it happened (but not who did it) but put it in the back of her mind.
In the second season, Jessica returns to Liberty High after a few months only to find that Bryce has twisted the story behind her rape. Hannah's trial commences and she is the third to testify. Due to this, she receives a series of threatening notes and pictures designed to keep her from testifying. When she does take the stand, she calls out the bullying culture at Liberty, but she is unable to admit the truth about Bryce. Later, she becomes ready and files a rape report against Bryce, with the support of her parents all of her friends
In the third season, Jessica is the student body president, she co-founded H.O. with Casey Ford for sexual assault survivors in the school. Throughout the season, she learns to become comfortable with being in her body by trying out masturbation for the first time and then having sex with both Justin and Alex. After Bryce's murder, she becomes one of the main suspects as he is her rapist and she was seen by Ani confronting him in his house. Bryce recorded and handed her over a tape, admitting to raping her, Hannah, Chlöe Rice, and other girls, which she uses a part of his speech on the tape in her own speech during an assembly for sexual assault survivors. At the end of the season, she reveals her (and Alex's) involvement with Bryce's murder to Ani and with the help of her friends it gets covered up.
In the fourth season, Jessica lets Ani move in with her and continues her activism against misogyny and rape culture. Her mental health starts spiraling as she starts seeing hallucinations of Bryce and Monty out of guilt of the events of the previous season. She strikes up a casual relationship with Diego, the captain of the football team who's determined to prove Monty's innocence, to keep him from the truth but unintentionally ends up catching feelings for him. After fighting the authorities about the presence of SROs taking responsibility for causing the riot, Jessica truly becomes a leader of the school. She gets back together with Justin shortly before he's diagnosed with HIV and tragically passes away. After Justin's death, Jessica tests negative for HIV and considers moving on with Diego. At her graduation, Jessica gives a speech about high school experience, love and patriarchy. She gets into the University of Berkely.
Early Life
Jessica was born in 2001, revealed by Ani Achola in "Nobody's Clean" (Ani is shown unlocking Alex's phone with her birthday, only the year is shown). Jessica is known to move every two years because her dad is in the air force. At her previous school, she had a friend named Amy. She confided in Amy about her weird sexual fantasies about Avenger's characters--including Scarlett Johansson. Before she left, Jessica told Amy not to tell anyone about the dreams, but Amy ended up posting about it anyways. Because of this rumors about her dreams ended up at her new school and people twisted it, making Jessica "that girl."[2]
Throughout the Series
Jessica's Mistake (Reason #2)
Jessica is Hannah's second reason of why she committed suicide.
Hannah, Jessica, and Alex regularly met at Monet's after school. Jessica and Alex started to drift away from Hannah, with Hannah finding out they were dating and stating she was fine with it. After Jessica refused to have sex with Alex, they broke up. Jessica, however, didn't know why he chose to end it. However, after a list was spread around the school with a section listing Jessica as having had the worst ass in the school and Hannah branded as having had the best ass. She discovered that Alex was the one who added the section, Jessica thought that the reason why Alex chose to end their relationship was that he cheated on her with Hannah or Hannah had sex with Alex while they were dating. Jessica angrily accused Hannah of this at Monet's and refused to listen to Hannah's claim that Alex made the list on his own (which was true as he made it deliberately to spite Jessica for her refusal to have sex with him). She called Hannah a slut and slapped her on the face after Hannah said "Fuck you". Jessica's words and actions in that moment were what marked the end of their once strong friendship as she started to believe in the rumors of 'Hannah the Slut', which were never true. Jessica completely broke Hannah's heart. Jessica never took Hannah back as a friend after this although she once drunkenly apologized for slapping her. In the second season, it is shown as a flashback that she also abandoned her a second time when Hannah tried to tell her about Jessica being raped at her party as Hannah realized that Jessica didn't remember..
Personality
Jessica is shown to be a fierce, kind, and caring person who is a good friend and loving, supportive girlfriend, however she is also somewhat arrogant, selfish, and cruel at times. She was a good friend to Hannah when they first started at Liberty High however after Alex broke up with her, she wrongfully accused Hannah of being responsible for the breakup and arrogantly refused to listen to her about Alex making the list on his own, she slapped her and called her a slut which coldly ended their friendship and completely broke Hannah's heart. However, the real reason they broke up was that Jessica refused to have sex with Alex and so he decided to humiliate her on a hot or not list, Hannah was labeled as 'best ass' and Jessica was labeled as 'worst ass'.
Jessica makes herself known to be aggressive for the first time when she slaps Hannah and calls her a slut, she shows her aggression once again after learning that Justin didn't stop Bryce from raping her, by slapping him. Even though she drunkenly apologized to Hannah once about slapping her, she still did not take Hannah back as a friend and abandoned her, she is shown to be verbally aggressive to Hannah once again when she tells Hannah to not be a bitch, as she thinks she is jealous of her and Justin when Hannah is actually trying to just tell her that she was raped by Bryce (back when she isn't aware and Hannah is alive).
She initially does not appear to show much remorse for what she did to Hannah and does not believe what Hannah says on the tapes to be true, calling her a liar and chooses to believe Justin that she was not raped. She even tells Clay that Hannah is the one who ended their friendship and stopped coming to Monet's, completely ignoring that she is the one who ended it, showing that she is a hypocrite. She is also shown to be in agreement with keeping the tapes a secret and also with the plans to keep Clay from revealing the tapes. However, although she denies Hannah's revelations, Jessica is shown to be mentally and emotionally damaged as a result of being raped by Bryce and even though she denies that it happened she starts to have flashbacks of the rape, so to help with her pain jumps into alcohol.
However, after learning from Justin that Bryce did indeed rape her and that he allowed it, she is shown to be angered, shocked and betrayed and tells Justin that she hates him and ends their relationship. She then turns her back on all those on Hannah's list who tried to convince her that Hannah was lying and shows appreciation to Clay for being the only one who tried to tell her the truth.
After learning of her rape, Jessica is shown to be remorseful for what she did to Hannah and admits during her deposition that she slapped her, however, she still denies the existence of the tapes in order to ensure that no one else finds out about her rape, though she tells Clay not to destroy them either and possibly wants to somehow get revenge against Bryce, even though she isn't yet sure about what that is or how to get it. Even after Justin offers to kill Bryce for what he did, Jessica refuses to take him back and claims that she never wants to see Justin again.
Jessica is now a very emotionally damaged person and completely traumatized, however, she does reveal to her father about what happened to her.
In the second season, Jessica struggles to cope with her rape. After she returns to school, she finds out that people think she is a slut, as Bryce has lied to the student body, convincing them that he and Jessica hooked up one night, and she called it rape because she felt bad about cheating on Justin. She lashes out at Chlöe when she tries to be nice to Jessica but makes it clear she believes Bryce. She finds solace in her friendships with Alex, and Nina Jones, who she later finds out is another rape survivor. Despite this, it appears she is not ready to move on, as she shares a kiss with Alex but becomes frightened when things start to get more intimate, and later has a panic attack while shopping with Nina, also later finding out that Nina, despite being through the worst part of the aftermath of her rape, is still not completely over it, as she was unwilling to talk about what bothered her with her boyfriend and later cheated on him. She is still mad at Justin for what he did and goes against him and Clay when they want to give the polaroids found at the Clubhouse to the police. Later, after Clay, Alex, Justin, Courtney, Ryan, and Zach support her, she agrees to go to the police, along with Justin and tells them the truth. She is very disappointed when Bryce is found guilty, but only given three months probation. She officially gets back together with Alex and attends the Spring Fling with him, but later hooks up with Justin in the locker room, showing that she has forgiven him for his actions.
Physical Appearance
Jessica is a beautiful biracial girl with long curly brown hair, a dark complexion and brown eyes. She is shown to have a very casual but stylish attire.
Relationships
Alex is Jessica's ex-boyfriend and best friend. They have a deep bond that is solidified throughout the series. They dated twice and have been friends in between.
Justin was Jessica's boyfriend. They had an on-again, off-again relationship throughout the series, but reunited shortly before Justin's death.
Justin and Jessica first interacted at the

Winter Formal

, where Justin walked up to her, apologized for Bryce's behaviour and told her she looked amazing. Jessica was flattered by the compliment and they danced the rest of night together. Jessica got drunk and Hannah took her away from Justin, which seemingly frustrated him. Jessica told Hannah she really liked Justin and that he's nice, and Hannah warned her that he's not.

[22]

Justin and Jessica started dating on July 9th, 2017; they hit off in Summer school.

At Jessica's back-to-school party, Justin showed up with roses as it was their two-month anniversary. Jessica told Justin he's "such a girl" and they took selfies together. Hannah questioned Jessica on why she's dating Justin after what he did, but Jessica defended his actions by saying Bryce was the one sending the photo. Justin and Jessica were all over each other at the party and drank a lot. At some point they went upstairs to Jessica's bedroom, with the intention of having sex. Jessica passed out on her bed, Justin asked her if she didn't want to mess around a bit but left upon realizing she was too drunk. Bryce came upstairs and asked Justin if he could take a look. Justin told him that she's his girlfriend, but Bryce called her his hook-up and told him "What's mine is yours, right?". Justin let him in the room, but entered the room seconds later to try and stop Bryce. Bryce pushed and locked him out of the room, Justin started crying and later went downstairs. Bryce raped Jessica, Jessica shortly woke up and asked where Justin was, and passed out again.

Justin didn't show up at school; Jessica asked Marcus and Zach if they knew where he is as he didn't answer his phone and she needed to talk to him. Jessica was Justin's cheer escort at an assembly, but Justin didn't show up there either. This was much to Jessica's frustration and she tried to call Justin, asking how he could do that to her. Later that day, Jessica confronted Justin at Bryce's poolhouse. She started pushing him, calling him an asshole and believed he told Mr. Porter something about her. Jessica accused him of not telling her something, and Justin asked her "What would I not be telling you?". They started talking about how Clay has the tapes and is going to mess everything up, and Justin said they'll make sure he doesn't. Jessica questioned Justin on why he'd be at the poolhouse if Hannah was lying on the tapes, but Justin didn't answer.[23]

Jessica went to Bryce's house looking for Justin; Justin opened the door crying and Jessica kissed him and pulled him into a hug. They went shopping for Halloween costumes for a contest at school. Justin tried to scare Jessica with a mask, which made her laugh. Jessica asked Justin in a serious tone if she should be scared; Justin told her "never" and pulled her in for a hug and kiss, before getting interrupted by Coach Patrick.

[23]

Justin and Jessica dressed up as Sid Vicious and Nancy Spungen for the school's Halloween costume contest. Justin thought his outfit looked "gay", but Jessica told him he looked hot and they got confirmation from Clay that he could recognize who they were dressed up as. They won the contest and received $200.

[24]

At Justin's house, they discussed what Clay was doing and going to do while listening to the tapes. Jessica was scared that Clay would tell people about the ninth tape and believe him, but Justin reassured her that he'd make sure that doesn't happen and Clay won't hurt her.

Jessica went to visit Justin at his house to talk, and Justin told her to be quiet as his Mom was going through a break-up. Jessica was worried about everything that was going on regarding the tapes and Justin got frustrated with her for worrying about Alex. Jessica tried to initiate sex and take off Justin's pants, but Justin didn't want to and pushed her off. This angered Jessica and she left, taking a bottle of vodka with her.[25]

During a basketball game, Jessica and Bryce were flirtatious with each other, which Justin witnessed. Jessica had left the game early with Bryce and Justin confronted her about it while they were driving. Jessica thought he was being hypocritical because he barely answers his texts and hangs out with Bryce but gets mad when she does the same.[26]

Justin and Jessica had sex on the couch, but Justin stopped because he didn't want to. This led Jessica to believe that he isn't attracted to her anymore, but Justin told her that this isn't true and she's beautiful. Jessica questioned what was happening to them, Justin told her that everything would be fine. She wanted to get high, and Justin mentioned that she doesn't smoke, but Jessica said she does now.[27]

At school, Jessica brought vodka and Justin asked her since when she drinks that. Clay confronted Jessica about tape nine, and Jessica told him she had hooked up with Justin and they passed out. Justin told Clay to stay away from his girlfriend, while Jessica tried to get him to leave with her. Jessica talked with Courtney if maybe Hannah was telling the truth about her rape, but Courtney told her that Hannah was jealous because she's dating her ex. Clay confronted Justin about the rape, and said that he needs to be the one to tell Jessica because she won't believe it from anyone else. Justin told him that Jessica just needs everything to be done with, he's protecting her and he cares more about her than about anybody else.

Justin entered Jessica's room through her window, and told her they probably needed to talk. Jessica started crying in his arms. They laid in her bed and talked about how it was the first time at her place since the party and he doesn't come over much because her Dad hates him. Justin had to leave, but Jessica wanted him to stay for more cuddles because he always keeps her warm. Jessica called him the best boyfriend ever as they recalled him winning a bear for her she had named "Little Justin". Justin denied being the best boyfriend ever, but Jessica told him that he is because he takes care of her. Before leaving, Justin noticed a bottle of vodka laying under her bed.

At school, Jessica told Justin she had a surprise and he had to come with her. Jessica took Justin to the auditorium to have sex. They were making out until Justin wanted to leave because the drama class students could enter any minute, but Jessica came up with the idea to turn off the light so they wouldn't get caught. She started throwing things at the light bulb to break it, which caused an argument between the two. Justin thought Jessica was immature and Jessica thought Justin was being a "pussy". Justin ended up leaving and Jessica went to hang out with Bryce.

[28]

Later that day, Jessica called Justin and Justin apologized for how he acted. When realizing Jessica was with Bryce, Justin and Alex drove to Bryce's and Justin told her to leave the place. They were playing poker, the situation between Justin and Jessica was tense. Jessica started sitting on Bryce's lap and threw cards at Justin, which made Justin get up and drag Jessica outside while saying he doesn't ever want her to be at Bryce's house again.

Jessica started yelling at Justin to not touch her like that and to tell her why he cares if she hangs out with Bryce. Justin yelled that Bryce had raped her in front of everyone. Jessica was in shock, said that she hates him and slapped him in the face.

[29]

Justin snuck through her window to talk to her while Jessica wasn't in her room. Jessica found him and said that she was going to scream or call the police. He claimed that he was trying to protect her, and he thought that it was better if she didn't know and they'd be together forever. Justin tried to explain his actions by saying he was scared and by listing the things Bryce had done for him. Jessica questioned if he was making excuses, but Justin told her that he just wants her to understand. Jessica pointed out that she wants him to understand what it's like to be raped, but hopes he never will.[30]

Justin tried to talk to Jessica again at a parking lot. He told her that he wanted to commit suicide but couldn't because he can't stop thinking about her; Jessica told him to try harder. She said that she never wants to see him again in her life, leaving Justin in tears.

[31]
After Jessica's testimony, Clay and Jessica talked in her room about how she wasn't able to testify against Bryce. Clay wondered if Justin could testify and Jessica told Clay that Justin might be dead. When Clay asked if she heard from Justin since he ran away, she glanced over at a postcard in her room. When Jessica wasn't looking, Clay read the postcard; the graphic on the front said "Greetings from Oakland" and the message on the back said "Nancy, I'll always love you, Sid." Clay knew the card was sent by Justin because he and Jessica had dressed up as Sid and Nancy for a Halloween contest at school.

Thanks to the postcard, Clay and Tony found Justin in Oakland. Justin immediately ran away when he saw Clay, Clay ran after and tackled him. A man came out of a building and yelled that he was going to call the police, and they both ran away. Clay informed him that Jessica wants him back, but Justin didn't believe it and stated that Jessica hates him. Clay managed to convince Justin that she doesn't hate him and wants him back, and took Justin back to Evergreen.

A flashback showed Hannah trying to talk to Jessica about the party while at school. Jessica thought she was trying to ruin her relationship with Justin as she believed Hannah had also ruined her relationship with Alex. Justin sat next to Jessica and gave her a kiss on the cheek. He started talking about Jeff's accident, Hannah got up and was about to leave. Justin mentioned that he and Jessica had a good night and they kissed. Hannah was appalled as Justin acted like nothing had happened the night before, and Jessica told her to let her and Justin be happy and not be a "bitch".

When Clay found out about Justin's heroin addiction, he wanted to detox him. This angered Justin and made him want to leave. Clay asked Justin what had happened to him and if Jessica would want to see him like this, to which Justin replied "no" and didn't leave.

Clay told Jessica that he brought Justin back and Justin wants to help by testifying when he's not sick anymore. Jessica questioned what Clay meant by "sick", but he didn't tell her about the heroin. Clay asked if she wants to see him, but she said she doesn't and also doesn't want him to tell her story.

When Jessica was hanging out with Alex, they kissed and she freaked out. Jessica revealed that Justin is back and she doesn't want him to help her. When asked what she's going to do, Jessica said she never wants to see Justin again in her life. Alex later told Zach he believes that Jessica still isn't over Justin.[32]

Tony told Justin that not everyone is happy to have him back and Justin mentioned that the only thing that matters is that Jessica wants him back. Tony started indicating that this isn't true and Jessica doesn't want him back.

Mr. Porter asked Jessica if the reason she quit cheerleading was because Justin had returned to town. Jessica told him that she didn't care that he's back. Mr. Porter wanted to know where he was staying and stated that he also needs help. When she left, Jessica told Mr. Porter that Justin never met his Dad and lives with his Mom and a drug dealer.

Justin confronted Clay about not telling him that Jessica doesn't want him to be here. Clay said that Jessica does want him here, she just doesn't realize it yet and will change her mind. Justin wanted to leave, but Clay told him about the postcard. He asked Justin why she would keep the postcard. Justin mentioned that he really did love her, and Clay convinced him to stay.[33]

Justin left Clay's house at night and showed up at the school cafeteria the next day. Justin walked up to Jessica, who stood up. He told her that he had missed her and wanted to go somewhere else to talk, but Jessica refused. He told her that she's the only reason he came back and that if she wants to he'll stay for good and if she doesn't, he'll go forever. Jessica pointed out that he had said that before, and Justin said he tried to go away and forget her, but can't stop thinking about her. Jessica told him she thinks about him too, and wished he was dead. Justin apologizes and says that he didn't mean to hurt her more. When leaving and seeing Bryce, he collapses. Jessica screams out his name while Clay and Tony rush to his side. With tears in her eyes she watches Clay and Tony help Justin get up and leave, and she walks away.

At group therapy, Jessica told the other women about her rape and what Justin did. She declared hating that she still worries about him even though he's the reason she's going through all of this.

Jessica drove to the Jensen residence and watched Justin having a good time with Clay's parents through the window, which made her smile.[34]

When Justin was officially back at school, they saw each other in the hallway. Jessica walked away, which seemingly upset Justin as he goes to a drug dealer. A flashback showed Justin calling Jessica the morning after the party. He lies to her that he's at home and left early because his Mom had called. He asked her if she was okay because they were both out of it last night. He lied that they had sex and must've passed out after.

Justin nearly died after shooting up heroin, but Alex saved him from choking on his own puke. Alex asked Justin "You are still in love with Jessica, aren't you?", to which Justin replied that it doesn't matter. Alex pointed out that you can see that it clearly does matter to Justin.

Jessica visited Olivia Baker and they talked about Andrew Baker. Olivia mentioned that Jessica must think she's an idiot for wanting to protect him when he doesn't deserve it, but Jessica told her that she gets it. She recognized loving someone even though they badly hurt you, referring to Justin.

Jessica's Dad drove Jessica to school and noticed Clay and Justin arriving. He questioned what Justin was doing here and that Jessica had told him he was gone. He stepped out of the car and demanded that Justin explains himself. Jessica stopped him and asked who he thinks he's hurting by doing this. She told him that Justin didn't do "it" and to please get back into the car. Greg told Justin to be very careful of himself and left. Jessica and Justin stared at each other until Justin walked away.

Jessica asked Nina about her boyfriend and criticized her for starting out with another guy because she assumed her boyfriend wouldn't understand her. When Jessica pointed out that maybe Nina hasn't dealt with what happened to her, Nina said that Jessica should deal with looking at Justin like she's still in love.

Clay and Justin showed Jessica the Polaroids of Chlöe and wanted her to convince Chlöe to testify against Bryce. Jessica didn't want to because she didn't wish her the same experience in court as she had herself. They also showed her Nina's Polaroid and mentioned that Jessica wasn't alone. This made Jessica frustrated at Clay and Justin as being raped isn't "some sort of club" and the evidence doesn't belong to them.

Justin and Jessica talked at Monet's about Chlöe. Jessica defended Chlöe, saying that she wasn't ready because her whole world could come crashing down. Justin asked her if her world hasn't come crashing down. He told her that he wishes he could fix this and would do anything to take everything she's been through and put in on him. Jessica mentioned that he can't, Justin confirmed this but told her that she could let him testify. Jessica approved this.[35]

In court, Justin described what happened on the night Jessica was raped. He mentioned being afraid of losing his best friend, his girlfriend and his entire life and that he'll regret this forever. Jessica didn't attend the testimony. At home, she read a blog about the trial and took offense when they called Justin a drug addict and went on about things that weren't the point. Her Mom told her that she knows she had high expectations of Justin, but he's a troubled kid. Jessica responded by saying they're all troubled kids.

With the support of Clay, Alex, Zach, Ryan and Courtney, Jessica and Justin go the Sheriff's Department to fill a report. Afterwards, Jessica's Dad started talking to Justin and Jessica told him to be nice. He told Justin that he never liked him and could never forgive him, but thanks him for his courage. Jessica and Justin smiled at each other.

When everyone was standing outside the Courthouse after the jury decided that the school won the case against the Baker's, Justin got arrested for being an accessory to sexual assault. Jessica ran after him, but Justin told her it's okay. Jessica cried in Olivia's arms, asking what they're going to do. Olivia told her they're going to keep fighting.

Jessica and Clay waited for Justin when Lainie was trying to get him released, but he wasn't let go until the next day during Hannah's wake. At the wake, Justin and Jessica didn't greet each other but exchanged looks.

Jessica attended to the Spring Fling dance with Alex, who she was now dating and Justin went with Clay and Tony. They awkwardly greeted each other and Justin was trying to move his eyes from Jessica. He told Alex and Jessica they looked good. At the dance floor, Justin noticed Jessica and Alex kissing which visibly upset him. He later left the room; Jessica worriedly watched him while dancing with Alex. Jessica went looking for him, and found him in the locker rooms. She asked what he's doing alone in the dark, Justin responded that he's not alone anymore. They talked about the wrestling team and Jessica mentioned being a shitty cheerleader. Justin agreed on this and Jessica took offense, but laughed when Justin pointed out that she said it herself. Justin told her that she looks beautiful, but said sorry a few seconds later.

Jessica asked if he apologized for calling her beautiful, which Justin confirmed. They sat together and discussed Justin getting adopted by the Jensens. When Justin said he doesn't understand why anyone wants to adopt him, Jessica said she does. They talked about how they would never want to commit suicide after everything that happened when Hannah did. They kissed and Jessica started sitting on his lap while taking off her dress. It is implied that they have sex. Justin came back to the dance floor, and got asked if he's seen Jessica. Justin lied and denied seeing her, so Clay told him to find Jessica, lock the doors and stay inside. When Clay was trying to stop Tyler from entering the dance, Justin and Jessica ran outside, seeing Tyler with a gun. Tyler pointed the gun at them and Clay yelled to go inside, which they did. When Tyler was gone, they ran to Clay and asked if he's okay and what they're going to do.
After the Spring Fling dance, Clay, Justin and Jessica met up at Monet's to discuss what happened at the dance after Tony drove away Tyler. Once Clay had left, Justin smiled at Jessica and said that it was good to see her. Jessica got annoyed at him and told him that their hook-up was a one-time thing and will never happen again. Justin apologized and looked at her with sad eyes. Jessica told him that she didn't need his apology, to stop giving her puppy dog eyes and that it never worked on her. Justin apologized again, which frustrated Jessica even more and made her tell him that if he apologized again, she would cut him. Alex joined them and asked why she would be cutting him and Jessica awkwardly laughed and told him "because he's evil". They kissed and Jessica complimented him, which made Justin wend his head and look disappointed.

During a meeting with the group to discuss how they were going to help Tyler, Jessica asked for how long they would have to keep it up. Justin responded that they would until Tyler gets better, but Jessica pointed out that he would never get better. Justin told her that people do get better, referring to himself, which made Jessica slightly smile.[36]

Jessica revealed to Ani that she and Alex were having bad sex, which made Ani introduce her to masturbating to find out what she likes. When doing this, Jessica found herself thinking about Justin and told Ani that she started thinking about someone "really bad" for her. Ani told her that it's just a fantasy and maybe it's a way to get them out of her system.

Bryce asked Justin to meet up with him, the reason being that it was important and about Jessica. Justin didn't want to sit down with him, but only hear what he had to say about Jessica. Bryce told Justin that Jessica came to see him, which Justin didn't believe. He said that she seemed to be doing great; Justin told him that if she was coming to see him she isn't doing great. He threatened him that if he ever comes near Jessica he'll kill him. Bryce later told Jessica about this when attempting to apologize to her.

Jessica saw Justin at school and confronted him. She told him that she doesn't need him to protect her and can take care of herself. When Justin was confused as to what she was talking about, Jessica clarified that Bryce had told her that he had threatened him. Justin told her that he was just telling Jessica went on about not needing protection and why people mess with people they shouldn't mess with, and pushed Justin against a door. She started kissing him. When she stopped, she told him to never talk about or to her. Justin was seemingly confused as she walked away.

Jessica broke up with Alex after having sex because their relationship wasn't working for her. Jessica went to Monet's while Justin was working. Justin greeted her and asked how he can help her, to which Jessica replied that no one at Monet's says that. She told him that she needed to talk to him, and Justin answered that he would have a break soon. Jessica pulled him towards her and repeated what she said, adding and emphasizing the word "now". They went to a back room of Monet's and had sex.

Justin and Jessica started repeatedly hooking up and were dating again. They kept their relationship a secret, as they knew they'd get a lot of judgement and criticism for it. At some point they started trying out BDSM and having rough sex as Jessica liked being in control. Jessica tied Justin's hands to a cupboard next to her bed and covered his eyes. Jessica told him that they were exploring and asked if he was good with this; Justin responded that he's "totally good" with it. They also hooked up in the Outhouse on Clay's bed. It was rough as Jessica would push Justin and choke him. Suddenly Clay began to unlock the door and they both got up to hide. Jessica pointed out that Justin doesn't have to hide as he lived there and Justin got back in bed, pretending as if he was masturbating which made Clay leave.

Justin visited Jessica at the Crestmont, where she was working, while Alex was also there to pick up Tyler. He brought two drinks from Monet's with him. When seeing Justin, Alex told Jessica "you're fucking kidding me", but Jessica said that he was probably there to watch a movie. Justin confirmed this as he came standing next to them and Alex questioned him on the movie. Justin was clearly lying as he couldn't explain what kind of movie he was going to watch; Alex got annoyed and left.[37]

Justin served Jessica when she was buying a drink at Monet's. Jessica noticed Alex and they started talking. Alex joked that their friendship had survived dumping him for Justin before. When Alex questioned why she chose Justin over him, she mentioned not being able to explain why you want to be with someone over someone else. When asked to at least try, Jessica explained that her body was attracted to Justin and made her feel safe. This angered Alex, as "how can the guy who let you get raped make you feel safe". Standing up to leave, he accidentally spilled a drink on Jessica and went to get something to clean it up. Meanwhile, Justin rushed to her side to help clean it up and ask if she's okay, angering Alex as he went outside and slammed his stick against a pole.[38]

As the Student Body President, Jessica revealed to the athletes that they are going to cut their funding. After Zach explained that football is a lifeline for some people, Jessica questioned for who. Justin spoke up and told her that football had made him feel like himself again in a really long time. Jessica didn't say anything after that.

A few days before the homecoming football game, Justin and Jessica were making out in a room at school. Justin asked her if she'd come see him at the game, but Jessica questioned why he always wanted to talk and continued kissing him. Justin mentioned it being a serious question and that he'd really appreciate it if she came. Jessica told him she'll be at the game but not to watch and she can't tell him what she's going to do. Justin jokingly asked if she was going to bomb the game, but got worried when she didn't respond. She denied this but revealed that they did have something planned that was bigger than her, and he needed to respect that.

When Jessica and her HO group ran onto the field and interrupted the homecoming football game to protest, Monty told Justin to get "his bitch" off the field, to which Justin told him to shut up. He got annoyed at Charlie for worrying that it's too cold for the girls to be naked, asking if that's what he's focused on right now. A Hillcrest football player, Dean Holbrook, groped Jessica by her breasts which infuriated Justin. He yelled "What the fuck?!" and started running onto the field, starting a huge fight. Jessica kicked Dean and Justin took over, repeatedly punching the Hillcrest player.

After the game, Jessica called Justin several times to ask him to come to the pier with him and meet up with Bryce. Justin didn't pick up and was left messages saying that she's worried and needs him. She gave up and called Alex instead. That night, Bryce was murdered by Alex with Jessica as bystander.

Jessica picked up Justin at Monet's after his shift. They drove to a motel and were followed by Ani and Clay, who suspected them of having something to do with Bryce's murder. At the motel, Jessica mentioned that everyone is asking questions and it's freaking her out. Justin asked Jessica if it was a bad idea to get together that night. Jessica told him that she needs him to "keep his shit together", as she can't have him falling apart on her. Clay and Ani then knocked on the door and Justin and Jessica told them to come in. They started going on about how they knew Justin murdered Bryce because Jessica had slept with him and that they would take care of it to keep him out of prison. Justin started laughing at their theory, but Jessica shoved him a bit so he would stop, as she was offended that they thought she had slept with her rapist. They told Clay and Ani that their theory is wrong and Justin didn't kill Bryce. They all sat together outside and discussed what actually happened; Bryce had contacted them to talk about what he did and Jessica and Justin were the ones sleeping together.

Ani and Jessica talked about her relationship with Justin. She asked if sleeping with Justin wasn't bad enough already, but Ani told her that she could do what she wants with her body. She wondered what people would think if they knew she was hooking up with the guy who let her get raped. Ani told her that's her business and no one has to know. Jessica told Ani that it was hard not talking about it with her. Jessica told her that once she started thinking about Justin, she couldn't stop. She said that for the first time since awhile sex wasn't just a thing where she just went through the motions anymore and that it started to get a bit kinky.

Justin got annoyed when he saw the posters announcing the HO protest at Bryce's funeral, telling Jessica it's fucked up. Jessica ripped off the poster and told him that she wasn't involved. Alex walked by and warned them about the locker search. When Alex told Justin he was lucky that he had nothing to hide, Justin wondered why Alex cared so much about the locker search.

After Bryce's funeral, Justin went to talk with Jessica at the Crestmont. He asked Charlie if he could give the two of them a minute. Justin mentioned that he's well-trained (Jessica trained him) and a good kid. Jessica noticed something was wrong and asked Justin what's up. Justin explained that Tony was arrested and they made a connection with Bryce. They wondered if he could've killed Bryce and talked about Alex taking steroids. Justin mentioned that he first thought it was ridiculous that Ani and Clay thought one of them murdered Bryce, but now realized that it could very well have been someone they know. Justin started talking about HO breaking up the funeral Jessica immediately said that she didn't want them to do that and Justin told her he knows this. He told her that at that moment he felt like wanting standing up for Bryce and hates himself for feeling this way. Jessica comforted him and told him that she gets it, to not hate himself and that he isn't an asshole. Justin was crying and Jessica held him in her arms, telling him that Bryce didn't deserved to die.

When Ani and Jessica were talking about Clay, Ani asked Jessica if she knew if Clay went home with Justin on homecoming night. Jessica lied and told Ani that Justin was with her (she later said she lied to protect Justin). When Alex heard about this, he confronted Jessica and screamed at her, asking how far she would go for Justin. In front of several students, Alex loudly said that she can keep lying so she can keep having sex with Justin.

Jessica arrived at the HO clubhouse and confronted Casey about protesting at Bryce's funeral. Casey told her she doesn't get it because if she did, she wouldn't be back with Justin. Jessica told her that she doesn't have to explain her choices and her personal life has nothing to do with it. Casey told her that her personal life has everything to do with it and going back to the guy who let her get raped is not okay. Jessica told her things are way more complicated, but Casey responded that this one was simple.

Justin entered the locker rooms and got cheered on by the other jocks. Justin asked what was going on and Charlie told him he was his hero because Jessica is "scary as shit but so hot". Monty told Justin that he'd been holding out on them and the reason Jessica wants to cancel boy sports is so he'd have more time to have sex with her. Most of the team left the locker room and Justin told Zach he doesn't want to hear "it", likely expecting criticism for his relationship with Jessica. Zach asked Justin if he loved her, to which Justin nodded, and said that he then shouldn't listen to what anyone says and take care of her. Justin said that he will.[39]

Justin argued with Alex about Jessica. Justin told Alex that he was messing things up because he's still in love with Jessica. He pointed out that Jessica is scared of Alex and Alex questioned if she had sent him to fight for her. Justin called Alex a monster who needed to take a breath, and Alex asked him if Jessica even knew Justin was on drugs. Justin told him to move on and leave her alone, to which Alex asked if he'd let her get raped again. They started fighting before Clay broke them up.[40]

Justin and Jessica bumped into each other in the school hallways. Jessica stated that she sucks for avoiding him since their relationship got exposed. Justin mentioned that he doesn't blame her and he and Alex really messed things up for her. Jessica told him it's not his fault, but Justin replied that it does feel like it as all he does is mess up her life. Jessica said that she's the one being a hypocrite. Justin didn't want their relationship to be over and Jessica didn't either. Justin proposed to tone things down a bit until everything would settle. Jessica disagreed, as she's supposed to be living her truth and her truth is that she loves his "lame ass". They both laughed. Justin warned that people were going to talk about them, but Jessica responded that people always do. They both said "fuck them", meaning they don't care that people talk about them, and started kissing in the middle of the hallway.

In the boys' restroom, Alex told Justin that he needs to tell Jessica about his drug use. Justin asked Alex if Clay told him this, to which Alex told him Clay didn't but he did know he was using. Justin questioned why it matters to him and if he was trying to ruin Jessica's and his relationship. Alex told him that he thinks Justin's worthless and doesn't deserve Jessica, but for some reason Jessica loved him. Justin asked if he can't deal with that and Alex pointed out that he'd been dealing with it for two years already while he has been destroying her life. Justin asked when he's going to quit; Alex returned the question and told him that Jessica deserves the truth.

When seeing Justin, Jessica started hugging him from behind. Justin acted annoyed and told her to not do that. Jessica pointed out that it was fine as they were public now, but Justin accused her of making a show out of it. Jessica wanted to know what he meant as he tried to walk away from her. Justin accused her of making their relationship about herself and using him to make a point. Jessica denied this and told him that the only point she was making is that she loves him and that's all that matters. Justin told him she shouldn't love him because he's bad for her. Jessica was confused as to all the things he was saying and wanted to know what's going on with him. Justin lied and said that he had cheated on her on homecoming night, which is the reason he didn't pick up his phone. Jessica didn't believe him and asked who he cheated with; Justin told her that it doesn't matter, she shouldn't be with him and their relationship is over. Jessica was trying to hold back tears as Justin left.

After having a conversation about Mrs. Baker, Clay asked Jessica if she could tell Justin he'll be home late. Jessica revealed that they're not talking because they broke up. Clay was confused asking "What?". Jessica explained that Justin told her he has cheated, which she doesn't believe, and that he's better off without her, which she doesn't get. Clay realized what the real reason behind the break-up is and told her about Justin's drug addiction. Justin later told Clay that he was thankful for this, as he couldn't tell her himself.

While Justin is working at Monet's, Jessica came to see him. Justin asked what she was doing here and Jessica told him that she was there to tell him she's "rejecting his break-up request". Justin pointed out that he had cheated, but Jessica explained that she knew he didn't because Clay told her about his drug addiction. Justin got angry about Clay telling her this, but Jessica pointed out that Clay cared about him and neither she or Clay would give up on him. Justin started going on about how bad he was for her, but Jessica told him to stop. She said that she loved him and would help him get through his troubles. Justin repeated that she was better off without him and tried to leave, but Jessica stopped him. She asked to look at her and say that he doesn't love her. He told her that she knows he loves her, but he's going down a dark hole and doesn't want to take her down with him. Jessica gently kissed him and said that she goes where he goes. They folded their hands and put their foreheads together.[41]

Jessica and Justin met up in a room at school; Justin didn't understand why as they're not a secret anymore. Jessica told him that she's been thinking about her activism and what she has been putting him through and that it's a bad time to draw attention to herself. Justin questioned why it was a bad time for her. Jessica revealed that she told Ani they were together after homecoming to protect him. Justin pointed out that he didn't ask her to do that, but Jessica explained that she had panicked. She told him to get his alibi straight as it could be bad for him when they would ask her questions. Justin still didn't understand why she'd lie about being with him, Jessica told him there are a lot of things going on and she's just trying to help him. Jessica left the room and Justin called her name, but she didn't respond. Justin told Clay about what Jessica said, but that he had several missed calls from her that told him to call her back because she needs something.

Jessica spoke at an assembly to apologize to Hillcrest about the protest and fight during the homecoming game, which Justin attended. Jessica gave a speech about sexual assault survivors and encouraged students to stand up and reveal that they're survivors. Justin also stood up and said that he's a survivor, to which Jessica was shocked and confused. After the assembly, she asked if it was real and Justin confirmed this, but she couldn't ask further as Clay got arrested. When Justin tried to follow Clay and the cops, Jessica pulled him back and held him by his arm.

The two of them went to the Sheriff's Department to wait for Clay, who was getting interrogated by the cops. Jessica asked Justin if he was okay and would tell her if he wasn't as she clearly doesn't always know. Justin revealed that he was molested as a child and sexually assaulted when doing sex work on the streets, which made them both cry. Jessica told him she was sorry and felt bad for preaching about recovery to him. Justin held her hands and told her that she had needed time for herself and deserves that. He told her that he badly wants to be there for her and didn't want "his shit to get in the way of her shit", to which Jessica stated that his "shit" is her "shit" and Justin that "they share shit". They busted out laughing when Jessica remarked that the conversation was getting weird. They hugged, cried and said they love each other.[42]

Justin and Jessica supported Tyler at the Sheriff's Department when he reported Monty. After Jessica revealed to Ani who had killed Bryce, Justin met up with them at Monet's. Justin worked on covering up the murder and framing Monty to prevent Alex and Jessica from getting arrested. In her bedroom, Jessica picked up and read the card Justin had sent her when he was homeless that said he'll always love her.

In a room at school, Jessica gave Justin the tape that Bryce had given her right before his death. She started kissing him and told him to not talk, but Justin said that this time he is talking and there's no time to mess around. Jessica told him that she loves him, doesn't want anything to happen to him and that she's scared. Justin put his hand in her hair, told her to not be scared and asked if she believed in him. Jessica told him that she of course does; Justin told her that then it's going to be okay before kissing her and leaving.

After everyone listened to Bryce's tape and left the Outhouse, Jessica asked Justin what will happen to them now. Justin told her that nothing has to happen and he loves her. Jessica asked how he could love her; Justin replied that it's the only way he knows. Jessica then asked how he could look at her and not see somebody different, as she was involved in a murder. Justin asked her if she could look at him and not see the boy who let Bryce rape her; Jessica stated she couldn't. Justin told her "So…", seemingly meaning to say that he can still love her besides her actions as she can still love him besides his actions. Jessica then told Justin that she's afraid and Justin said that he knows. They kissed and cuddled on his bed.

When Clay and Justin were having a conversation at Monet's, Jessica joined them on the couch. Justin explained that life is going through hard times and making it out alive. Jessica pointed out that she wants more than that and they deserve some happiness. Clay and Justin agreed. Justin told Clay and Jessica in a cheesy voice that he loved them, Jessica laughed and said he ruined the moment, but in Justin's opinion he was embracing the moment. Jessica asked if he could get her more coffee and Justin told her he would in a minute because the couch was comfy. Jessica cuddled up against him and Justin gave her a kiss on the head.
Hannah was Jessica's best friend. They were introduced to each other by the school counselor and soon became close friends. Their friendship fell apart after Jessica was made to believe that Hannah stole her boyfriend.
Hannah and Jessica first met in the office of the school counsellor, Mrs. Antilly, a few weeks after starting at Liberty High. Mrs. Antilly introduced them to each other as they were both new students and can be there for each other. Hannah and Jessica thought it was ridiculous that she thought they could automatically become friends, so they started making sarcastic comments and calling each other by the wrong name.

After school, they were walking in the same direction and decided to go to Monet's together. They became good friends, Hannah described it being a "hot chocolate relationship", "good for cold months, but maybe not perfect for all Seasons". They later became friends with Alex, and the three of them continued to have a close friendship and hang out at Monet's.

However their friendship turned rocky after, as Hannah tells it, Alex and Jessica suddenly stopped coming, she later found out it was because Alex and Jessica were spending more time together, and were dating. Alex and Jessica broke up and as revenge, Alex contributed to a list and stated that Jessica's ass was the worst while Hannah's was the best. This caused a rivalry between them. They met up at Monet's, where Jessica told Hannah that she knows that she's now dating Alex and is the reason he broke up with her. Hannah told Jess she had nothing to do with it, but Jess didn't believe her. She called Hannah a slut, to which Hannah told her "fuck you". Jessica slapped her in the face, but immediately seemed to regret it and ran away.

When Hannah saw Jessica drunk and dancing with Justin at the Winter Formal, she took Jessica to her car to drive her home. She warned her for Justin and gave her food. Jessica apologized to Hannah for slapping her.

Hannah attended Jessica's party at the start of their junior year. Hannah noticed that Justin and Jessica were now dating, so she asked Jessica why and told her to be careful. Later, Hannah was hiding in Jessica's room when she and Justin entered to hook up. After Jessica passed out and Justin left, Bryce entered the room and raped Jessica. Hannah witnessed this, and cried while doing so. On the tapes, she said she couldn't get her feet to move and also blames herself for not doing something. After Bryce left, Hannah put a blanket on top of her and apologized.

One night, Hannah was walking through town when she saw a party and went to take a look. Here, Jessica saw her and asked to hand over pizza. Jessica was in the hot tub with Justin, Zach and another girl and invited Hannah to join them, which she did.

Before Hannah's suicide, she made tapes that included Jessica as the second reason why she killed herself and also made a tape that talked about what happened to Jessica at her party, without mentioned her name.

After Hannah's death, Jessica had a negative view on Hannah as Justin had told her that she lied on the tapes.
After Hannah's death, Jessica wanted to do the right thing for Hannah by standing up for her and making the school understand what teenage girls go through at Liberty High. Before she testified, however, she became reluctant and was overcome with fear. Hannah's case wasn't going the way she thought it would, the school's lawyer tore down Hannah's image by revealing her unlikable characteristics. After her testimony, Jessica cried in the bathroom and apologized to Mrs. Baker, saying that Hannah was her friend.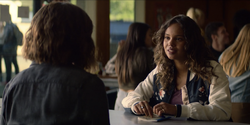 In a flashback, Hannah, Jessica and Alex played 'Never Have I Ever'. Alex said that he's never kissed his best friend, so they all ended up kissing each other, including Hannah and Jessica. When Jessica and Alex kissed much longer, which seemingly saddened or surprised Hannah.
In another flashback, Hannah tried to tell Jessica about Bryce raping her. Hannah was shocked when she saw Justin act like nothing had happened at the party, but Jessica misinterpreted her reaction and told her to not be a bitch and to let her and Justin be happy.
Jessica visited Mrs. Baker; they talked about a poem Hannah wrote. Jessica mentioned that Hannah kept everything to herself and now she thought about it, she was really brave.
At the end of season, Jessica attended Hannah's funeral with Alex. Afterwards, they talked about the first time they met Hannah.
Clay is Jessica's friend. They started out as acquaintances, Jessica grew to like Clay as he was the only one who tried to tell her that Bryce raped her. Through the second season they become good friends.
Jessica came into a classroom to speak to Marcus and Zach about Justin, the teacher told Jessica to get to her own class and before she left she noticed that Clay had overheard her, she asked him what he was listening to—as she already knew about the tapes—he didn't respond and she left. Later on Clay talked to Mr. Porter and saw Jessica on the opposite side of the school hallway, she saw Clay and stopped in her tracks and turned around quickly and walked away fast. After he listened to the start of Jessica's tape, he caught up with her in the hallways and asked about the tapes, Jessica became mad at the mention of the tapes, Clay told her that he was trying to figure it all out. He asked her where Justin was and Jessica told him that she didn't know, Mr. Porter had pulled Justin out of class and Justin walked off the school grounds and hadn't been seen by her since. Clay asked about her and Justin's relationship status, Jessica confirmed they were still together and told Clay to not believe everything he would hear and walked away. After being almost done with Jessica's tape, he attended a pep rally, Jessica did a cartwheel for Justin to introduce him but he didn't show, Jessica then left the auditorium and Clay watched her and then followed to meet her outside.

He overheard her on the phone to Justin and told her that they needed to talk, Jessica became frustrated with Clay, Clay told her they needed to inform Mr. Porter about Justin being missing, Jessica found the idea of telling Mr. Porter stupid, Clay asked if Mr. Porter knew about the tapes and Jessica told Clay to keep his mouth shut. Jess started to walk away but Clay called out her name and stopped her, Jessica told him to back off and walked away. After Clay finished her tape he saw her in Monet's, sat down near her and asked about her about why she and Hannah broke their friendship off. Jessica revealed the truth about their friendship to Clay. Clay then asked why Marcus and Zach had offered him a ride to Bryce's house, Jessica realized that Justin was at Bryce's house and told Clay that they weren't his friends.

Clay overheard Jessica and Justin talking about their costumes, Justin saw Clay and asked what he was looking at, Jessica told Justin that Clay was looking at their costumes and then asked if Clay understood who they were dressed as, Clay stated that they were dressed as Sid Vicious (bassist for the sex pistols) and his girlfriend Nancy Spungen, however he messed things up when he asked if they knew how their relationship ended, Jessica sarcastically thanked Clay, as Clay walked away Jessica let Justin know that Sid possibly killed Nancy. After Clay decided to stop listening to the tapes, he walked into school happier and said hi to Jessica and asked how she was doing. Later on he did a tour of the school for some new students and finished the tour angry and told the students that everyone at the school will be nice to them until they drive people to kill themselves referring to the subjects on the tapes involvement in leading Hannah to suicide.

Clay reached the tape about Jessica's party which detailed her rape, which she believed was a lie. Clay came to school and stared at her as she talked to her friends outside school, Jessica caught Clay staring at her and excused herself to go inside the building. Clay followed her in and tried to discuss the night of her party, Jessica told Clay that he needed to move on from it, Clay refused to and asked her why she wanted him to move on so badly. She took him into a room and told him that Hannah lied on the tapes, that she had sex with Justin and wasn't raped by someone else. Clay asked Jessica if she remembered having sex with Justin or if Justin told her that they had sex and she just believed it. Jessica confirmed that she remembered having sex with Justin. She started to leave the classroom and Justin came in and told Clay to leave Jessica alone, Clay didn't believe Jessica and asked Justin who raped Jessica that night, Justin then acted as if he didn't know what Clay was talking about. Later Jessica talked to Courtney and started question things, she started to wonder if Hannah had actually told the truth considering that other things that Hannah said on the tapes were real; Courtney lied by reassuring her that Justin is her boyfriend and Hannah was jealous because Jessica was dating Hannah's ex.

Clay later confronted Justin about lying to Jessica, Justin continued to lie but then stated that he was protecting Jessica. In a

flashback

, Clay came to Jessica's party early, she told him that he could do snacks, he asked if there was a particular order she wanted and Jessica told him to be bold and chose what to do with them. In the present, Jessica and Clay met at Monet's so Clay could talk to her about what she wanted to do with the tapes. Clay told her she could either use the tapes as proof of her rape or he said he would to burn them for her but she told him not to and showed gratification for Clay being the only one having tried to let Jessica know the truth about the night of her party.
Clay came into the lunch hall and Jessica asked him what happened to his face as she had noticed there were bruises. Clay told her that he got ran off the road, he noted that it was someone in what looked like a black range rover, a car that Bryce Walker owned. Jessica became confused as Clay was not on the list to testify and Clay rhetorically asked if Bryce knew that he wasn't on the list. Alex told them that it didn't matter whether or not someone was testifying because the unknown person was going after all of them. Alex then showed Clay the threat that he had received. Clay and Jess both commented on how crazy the situation was. Clay told them that they had to stop Bryce. Alex asked him how they could, he added that both their situations would stop them from being able to stop or confront Bryce. Alex was physically incapable due his suicide injury and Clay would be grounded for talking to him. Clay stated that he promised his Mom that he would stay away from Bryce, however Clay asked

"if he's coming after me then what can I do?"

Alex looked over at Bryce's table and asked Jess and Clay if the person giving out the threats was Zach Dempsey, Jessica told Alex that he had been helping Alex with everything. Alex asked why Zach still hung around Bryce. Clay suggested that Bryce or someone else was protecting Zach. Alex and Clay both turned to look at Jessica, she asked why and Clay told her that she could call out Bryce in court. Jessica told them that she was only supposed to speak about how the list destroyed her and Hannah's friendship. Clay told her that the list wasn't all of the truth and Jessica told him that it wasn't apart of the case.

Clay told her that if she said it could make it a part of the case and Jessica became annoyed at how easily Clay believed she could make it happen. Clay told her that he was aware that it wasn't easy, but when they ask her about the real reason she stopped speaking to Hannah she could say the real reason and the truth would be out. Jessica excuses herself to leave for her first lesson, Clay called Jess back and she told him that the truth doesn't always make things right.

Later on, Clay, Alex and Tony watched Jessica give her testimony about the list. Sonya asked if the list was the only thing to break up their friendship and Jessica contemplated speaking out about Bryce, she had flashbacks to her rape and trying to tell the police what happened, she then started to panic and cried; she couldn't tell them what happened and affirmed to Sonya that the list was the only thing. Clay, Alex and Tony became disappointed but understood. Clay came over to Jessica's house and asked what happened. Jessica told him that she had a flashback to the police station when her father made her go and report her rape, she told them that she couldn't remember who did it. Jessica told him that she couldn't tell them because she knew they wouldn't believe her, Clay told her that if she went back to them, the group could back her up. Jessica told him that they couldn't because they weren't there, Hannah was the only witness and she's dead. Jessica noted, that even while dead, Hannah was being ripped apart in court and "she's sweet and sensitive and white", which proved to Jessica that she wasn't the right kind of victim to go against Bryce, especially when it was just his word against hers. Clay asked about Justin, Jessica then told him that Justin might as well be dead too. Clay asked if she had heard from Justin and Jessica looked at a postcard and Clay noticed it for a second. She then got up and stated she no longer wanted to talk about it, she turned her back and told him she was tired of overthinking things for her appearance, Clay picked up the postcard and read the note on the back while she talked and then put it back.

Clay called out for Jessica in the hallway, she asked him what was going on and he told her that he found Justin as over the weekend he and Tony went down to Oakland to find him, Jessica asked how he knew and then realized he looked at the postcard behind her back. Clay told her that Justin was at his house and that they were getting him better to allow him to testify for the Bakers' so he could back up Hannah's story. Jessica told him that it wasn't Justin's story or Hannah's story it was hers; Clay stressed that Justin wanted to help her, she expressed that she didn't want him telling her story and hushed Clay as they saw Bryce walk by Jessica and Clay both attended Alex's birthday party at the arcade. Tyler stopped by but was quickly forced to leave by Zach and Jessica, Alex questioned them and Jessica told Alex that Tyler is a pervert, Zach began to talk about how Tyler hurt Hannah but Clay interrupted Zach and told him that he hurt Hannah more than any of the group. Zach told Clay that at least he and Hannah didn't do drugs, Jessica tried to play peacemaker but Clay told her that she didn't help either, Jess told him that she tried and Alex told Clay off for lecturing them about what they did when he hurt her the same in his testimony possibly more than Zach, Jess and Tyler. Late at night Clay published the audio from the tapes.

Clay's actions had an effect on Jessica as she was not ready for everyone to know what happened to her, she hid in the bathroom and cried. Later on Justin and Alex both lectured Clay on his actions and Clay asked for their help in taking Bryce down. Clay and Alex came to Jessica's house to escort her to the police station and provide comfort amongst friends while she filed a full rape report against Bryce, who was later arrested for her rape.

[35]

Clay and Jessica waited for Lainie and Justin to come out of court but Lainie told them that he couldn't be released yet. Lainie then told Jessica that she was getting a court order so that Bryce wouldn't be allowed near Jessica in school. Later on during the

Spring Fling

Jessica was amongst Clay's friends to comfort him at the dance while his and Hannah's song played. After people were alarmed that there was an active school shooter, which turned out to be Tyler Down, Clay went to confront Tyler. Jessica and Justin came out of the building to check on Clay, but Clay demanded them to go back inside after Tyler turned the gun to point it at them instead. Later on they came back outside after Clay was successful in stopping Tyler, they asked if he was okay and Justin asked what to do.
This season goes through events where Bryce Walker is either dead or alive but not in order, this details their relationship and interactions: starting from when Bryce was alive, to when Bryce is dead; in that order.

— Before Bryce died —
After Tyler's attempted school shooting at the Spring Fling, Clay met up with Justin and Jessica at Monet's and texted a few people to gather with them to talk about what to do with Tyler and how to help him.[43] Later on Clay gathered the group once again to give them a completed schedule of who would take care of Tyler and when, Jessica commented on the insanity of them participating in it and then the insanity of "Oh, my God, you built a website", Clay told her that he didn't build it was more of "storage space".[36]

— After Bryce died —


Clay and Ani went to Jessica to find out about Chlöe Rice, after they started to look into Chlöe as a suspect in Bryce's murder. Jess told them that she started to attend Sacred Heart and told them that she and Chlöe had stopped talking. Clay pointed out that she and Chlöe seemed closer after Spring Fling, Jess told him that "friends come and go". Clay asked her if Chlöe and Zach ever became a thing, Jess told him that they were just friends because Chlöe had "major Stockholm (syndrome)" when it came to Bryce. Ani asked her if Chlöe and Zach ever had any secrets between them, Jess told her that they never had secrets but Chlöe had one; she was pregnant and Bryce was the father.[36]

Ani used a pencil to shade, to reveal etched marks in Bryce's notebook. She found out that Bryce had written a note to Jess apologizing for raping her the night of her party. The note was unfinished, and Ani began to suspect that Bryce might have tried to give it to her and she may have killed him.[36] She brought her finding to Clay, and it made him question her. Later, they noticed Jess in the library and Ani told him that she was never in the library that late, Clay asked Ani if she was waiting for someone and looked at her, Jess noticed him looking and asked him why. Clay pretended that nothing was going on and Jess walked over to them and confronted them. She told them that she didn't know anything about anything, that she hadn't seen Bryce since court and she didn't know how she felt about the situation. Clay apologized to her but Ani pressed further and asked her if they hadn't been in touch at all. Jess became annoyed and asked her why she cared, Ani told her she didn't and Jess told her to drop the suspicion. After Jess walked away, Ani told Clay that Jess had lied to them. Ani told him that she had talked to Bryce after court because she herself saw it happen. Ani told Clay that Jess confronted Bryce at his house after she was elected Student Body President.[44]

Later on Ani remembered the time she and Jess met in Monet's after Jess had tried out masturbation for the first time and Jess told her that she during masturbation she had thought of someone who was really bad. Jess told her that she wanted to reclaim her power and re-write her own story. Ani believed that this meant that Jess might have thought of Bryce. Ani told Clay that she believed that Jess might have had sex with Bryce to get back her power, and things got out of hand and she killed him. Clay told Ani that the scenario sounded insane and didn't believe her. Clay later remembered that Tyler interrupted Ani and Clay in Monet's and told Clay that Justin didn't show up to meet Tyler at the scheduled time. Ani told Clay that Bryce might have texted Justin which might have led to a series of events where Justin killed Bryce to protect Jess. Ani remembered that Bryce had mentioned that Justin said he went to a Motel, Clay and Ani waited for Justin to be done with his shift at Monet's and watched Justin, Jess unexpectedly arrived, met up with Justin and left. Clay and Ani decided to follow them and all four of them ended up at a Motel; Clay and Ani told Jess and Justin what they believed happened but Jess and Justin cleared their names with what really happened.[44]

Later on Clay, Ani, Jessica, Justin, Tony and Zach discussed what to do with Tyler as they all suspected him of killing Bryce after they found out that Bryce was killed with a gun.[44] Later, Mr. Porter was brought back in to Liberty High to help the police build a case against Clay, however he purposefully picked out the students that he believed would help defend Clay instead. He questioned Jessica and she defended him over leaking the tapes online for everyone to listen to.[40] After Justin broke up with Jessica and told her that he had cheated on her[45], Clay talked to Jessica in the library and asked her what she and Olivia Baker talked about when Olivia came back into town, afterwards Clay told her the real reason Justin broke up with her; ultimately saving Jess and Justin's relationship.[41] Later on Clay found out about Jessica's involvement in Bryce's death through Ani and they hatched a plan to protect both the killer and Jessica after finding out the events of how Bryce was killed.[41]
Bryce was Jessica's rapist. Before Jessica knew that Bryce had raped her, they were friends. In the third season, Bryce attempted to apologize to her.
Bryce and Jessica were first seen interacting at the Winter Formal. Bryce saw Alex and Jessica talk and asked if they're back together. When Alex left, Bryce asked Jessica how he got all the hot girls and must have a huge dick. Jessica stated that there was only one huge dick nearby, referring to Bryce.

Jessica held a party at her house to celebrate the new school year, which Bryce attended. During the party, Jessica and Justin went upstairs to Jessica's room to hook up. Jessica was too drunk to have sex and passed out. After Justin left, Bryce got into the room and raped her. Jessica shortly woke up during the act and freaked out, questioning where Justin was and what he was doing. Bryce told her not to worry and that they're just having fun. Afterwards, Jessica didn't remember what had happened.[46]

During a basketball game Jessica was supposed to cheer for, she got benched for being too late. She wanted to leave, but Bryce asked her to stay. He showed her that he had brought vodka with him, after which Jessica agreed to sit with him.[26]

Bryce had just bought drugs in his car, when Jessica unexpectedly stepped in. Jessica asked if he wants to have some fun and to smoke the drugs he just bought. Jessica invited him over to her house as her parents weren't home. Bryce asked her if she was going to get him in trouble, to which Jessica answered "Maybe a little".[28]

At Jessica's house, Jessica showed her dad's guns off to Bryce. Jessica played around with a loaded gun, which scared Bryce. Jessica started pestering Bryce for not wanting to try out the gun, and as a result Bryce agreed to try it. Jessica taught Bryce how to shoot a gun. When discussing what to do next, Jessica asked about the hot tube at Bryce's house and to go there.[28]

At Bryce's house, more students came over and played poker. Justin and Alex arrived at the house to get Jessica to leave the place, but she refused and encouraged them to play too. When there weren't any seats left, Jessica sat on Bryce's lap. An argument between Jessica and Justin started, which led to Justin revealing that Bryce had raped her. Jessica went back home, where she received a text message from Bryce, asking if she's okay. This made Jessica break down crying.[29]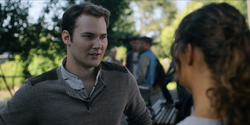 During the time Jessica isn't at school, Bryce spread misinformation around the school, saying Jessica had cheated with him and told Justin he raped her after regretting it. When Jessica returned to school, Bryce talked to her as if nothing happened. He welcomed her back, asked how she is doing and invited her to grab a drink. Jessica, clearly uncomfortable with the interaction, told him "whatever".
Jessica had a hard time dealing with the aftermath of Bryce raping her; she freaked out when she saw her body in the mirror, didn't feel comfortable in her own clothes, couldn't sleep in her own bed, etc. She had told the police that she didn't know who raped her because she thought they wouldn't believe her.
With support of her friends, Jessica reported Bryce to the police, causing him to get arrested. As Bryce was taken to the police car, he told her she's making a big mistake.
In court, Jessica addressed Bryce directly. She described how she experienced the night of the party, and started crying while doing so. She told Bryce that she'll never forget the feeling of him on top of her. Bryce got off with only three months probation, but Jessica still felt stronger. Mrs. Jensen requested a court order to force the school to protect Jessica from Bryce.
In a speech Jessica gave when she was running for Student Body President, she said that she had protected her rapist (Bryce) because she thought it'd hurt more to speak up and it would ruin her reputation. She said she'll no longer stay silent and will make sure that all the rapists and predators are gone. She founded a group for sexual assault survivors and allies.

Bryce invited Jessica to come over, which she did. She informed Bryce that she agreed to come because she wanted to tell him that she's doing great and he didn't break her. Bryce just said "okay", but stated he knows what he did when she got angry. Jessica called him a psychopath and said he destroyed lives. Bryce simply replied that he hopes that isn't true and wants the best for her. Jessica then revealed that no matter what she does, he's still on top of her and she still can't breathe. When Jessica wanted to leave, Bryce grabbed her wrist but let go when she looked at him angrily.

Bryce made a second attempt to talk to her at The Crestmont. He told her that he knows that he hurt people and wanted to apologize. Jessica simply told him to leave, but as he walked away he got frustrated and came back, startling Jessica. He said he doesn't know what she wants him to do, but that he's truly sorry. Bryce also told her that he isn't the person who raped her anymore, but Jessica didn't believe him. She told him she doesn't need anything from him and to work on what it is he needs.

Before the Homecoming Football Game, Bryce texted Jessica to meet him outside the school. He revealed that he had something to give her and wants to give her an explanation before he does. Jessica refused to meet up next to the football field because everyone can see them there, so Bryce asked to meet at the Navy Pier after the game and to bring someone if it makes her feel safer.

Jessica brought Alex with her to the pier, where they found Bryce severely injured from a beating from Zach. Bryce had created a tape of his own for Jessica, which Jessica at first thought was a joke. He told her that it was a confession and apology that she can play for whoever she wants. Bryce complained that the world won't let him change, but Jessica pointed out that the judge who let him off with probation did. When Alex and Jessica were about to leave, Bryce begged them for help to get to a hospital. Jessica refused, but Alex walked back to help him. As Alex was helping him get up, Bryce started accusing Jessica of setting him up and threatened to destroy Zach's life. This made Alex throw Bryce in the river, drowning him. Jessica watched it happen in shock.

Jessica didn't appear to mourn Bryce, but was still understandable of people who did. She was firmly against the protest her group H.O. organized because she thought the people who mourned him should still be respected. In a speech at an assembly, Jessica quoted Bryce's apology tape.

The group framed Monty for Bryce's murder and gathered in Clay and Justin's room afterwards. They listened to the tape Bryce made for Jessica. On the tape, Bryce explained that he recorded his apology because he felt like she'd listen better if he wasn't standing in front of her. He said that he keeps replaying the night he raped her in his mind. He admitted to not caring about how she felt at the time and confessed to raping about eight other girls. He said he was sorry for what he did and wished Jessica the best.
Hallucination Bryce
In the fourth season, Jessica started to get hallucinations of Bryce. The first time this happened, Jessica was burning the last copy of Bryce's apology tape when suddenly a hallucination of Bryce stood in front of her causing her to freak out. She had another hallucination of Bryce smirking at her when she's talking with Ani about their friendship.[47]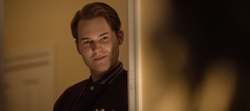 When Jessica was walking through the woods during a camping trip, she heard Bryce's voice. Jessica freaked out, asking who's there and tripped on a branch. The voice told her that it looked like it hurt and to be careful; suddenly a hallucination of Bryce was standing there. Jessica backed away as the hallucination started to get closer and closer. Hallucination Bryce questioned her about why she's still afraid of him as he's dead. Jessica told him that he deserved to die. Bugs started crawling out of the hallucination's mouth; Jessica fell down and started screaming.[48]
At prom, Jessica, Alex and Zach talked about Bryce. Alex said that he should've been here, but Jessica pointed out that he would have been drunk, looking for his next victim and making Alex feel awful. Zach said that Bryce didn't deserve to die, but that he ruined all three of their lives and they deserve to live. Jessica seemed to agree with this.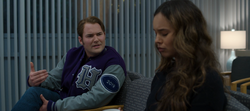 When Justin was dying from AIDS in the hospital, Jessica got another hallucination of Bryce. The hallucination told her he won and asked why she was giving him the silent treatment. Jessica accused Bryce of killing Justin and wondered how one person can cause so much pain. Bryce told her to look in a mirror because she let him die and stated she probably has HIV too.
Jessica had her last hallucination of Bryce when the group was burying Hannah's tapes. The hallucination told her that it's his day too because he's on the tapes. Jessica replied that his day is long gone and said that he didn't win because of the close friendships that were created. The hallucination said "So that's something, right?", to which Jessica said "Sure". Jessica watched the hallucination turn around and walk away, seemingly finding closure.[49]
Nina was Jessica's friend. Nina is also a rape survivor and was there to support Jessica as she understood her experience.
Jessica and Nina first met in "The First Polaroid" when Mr. Porter was talking to Jessica and Nina interrupted their conversation to talk about cheerleading. When Mr. Porter left, Nina introduced herself to Jessica. She advised Jessica to not tell Porter anything.

Jessica started attending a support group for sexual assault survivors and saw that Nina was also attending the group. Nina revealed that she figured out the rumors about Jessica falsely accusing Bryce of rape weren't true and wanted to be a friendly face. They became friends.

After Jessica told the support group about what Justin did to her, Nina told her it was brave and she should be proud. Nina suggested that she should also talk about Bryce and that she also talked about her rapist besides not turning him in, because it's her story to tell. She then assured Jessica that she can always talk to her; they hugged.

Jessica, Nina and Nina's boyfriend went shopping together. Jessica got a panic attack when she saw her body in the mirror, as she got flashbacks to when she got raped. Nina comforted her and lied to her boyfriend what was wrong, revealing that he doesn't know that she was raped.

Jessica hung out with Nina and her friends. Nina encouraged her to flirt with a boy that had been staring at her for a while.

At school, Jessica and Nina talked about how someone had burned the word 'rapists' onto the baseball field. Nina was mad about it, as they were telling other people's story. They came across Nina's friend Michael; Jessica noticed that Nina and Michael were flirty with each other.

The next time they see each other, Jessica asked if something happened between her and her boyfriend. She explained that her boyfriend has been asking questions and she doesn't want to tell him about her rape. Jessica didn't understand why she doesn't try to tell him and starts up with another guy, and realized that Nina still had trauma from getting raped. Nina got annoyed and told Jessica that trying to help her was a mistake.

Clay and Justin gave Jessica a Polaroid of Nina dancing in the Clubhouse (taken shortly before she was raped), which Jessica then gave to Nina. Jessica told her that she gets to decide what to do with it as it's her story. However, Nina pointed out that it isn't her story because in the Polaroid, it looks like she's having a good time. Jessica apologized for what she said to Nina about her trauma, but Nina told her that she was right and she isn't strong enough to be there for Jessica.

At the end of the season, Jessica is seen telling Nina that she now feels peace after the trial against Bryce and the school ended.
Diego is Jessica's former lover and friend. They started out as casual partners who later ended up catching feelings for each other.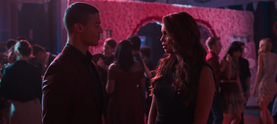 They first interact Jessica and her group try to talk to the boys at the locker room but the guys of the football team are rude to her. Diego defends Jessica and tells them to shut up. However, she isn't happy with this. Diego approaches her again at the Love is Love Dance and praises her for her activism. He asks her for a dance, but Jessica replies that she's here with Charlie so she can't dance with him. Diego points out that she's only trying to make Justin jealous and she won't be able to do that with Charlie because he's 'gay or bi'. Jessica gets mad at this, but Diego has a good comeback which she appreciates. Later, Jessica ditches Charlie and accepts Diego's offer to make Justin jealous using him and the two start a casual relationship.
At first, Jessica is trying to keep Diego from the truth as he is investigating Bryce's murder. He is still messing with Clay, which Jess tells him not to do. At the camping trip, Jessica and Diego are getting closer and they sit together at the campfire. Clay, Alex, Ani and Justin all warn Jessica about Diego, but she believes that Diego just likes her and she has got him under her hook. Turns out that her assumptions are right, as Winston (rightfully) warns Diego that she's playing him but Diego is convinced that she is just looking out for him. Meanwhile, Jessica starts hooking up with Justin again and lies to Diego about it. Diego admits to Winston that he loves her. Jessica starts to develop real feelings for Diego, which even Justin understands. Justin and Diego's conflict also seems to lessen after Diego's arrest and the riot. After Diego suspects that she had an involvement with Bryce's murder, they have a huge fight and Diego threatens her, ending their relationship. He tries to reason with her afterwards but Jessica doesn't have it and officially gets back together with Justin.
After Justin's death, Jessica tells Diego that they're both at risk of HIV and they go to take tests together. After getting the result of his test, Diego is surprised to find her waiting for him. He informs her that he's giving up the investigation as it would cause her further hurt. They talk about how they both miss their loved ones (Justin and Monty), and Jessica empathizes with him. Diego tells her that he'll be there if she ever needs anyone to 'miss people with'. He proposes to start a real relationship this time and is willing to give her time if she needs. Jessica tells him that maybe he can ask her out in a month. They are last seen sitting at the waiting room together, smiling at each other.
Ani is Jessica's best friend. They bonded soon after meeting each other. Ani moved in with her in the fourth season.
Ani and Jessica met when she attended a meeting of the student body. After the meeting, Ani encouraged Jessica to run for student body president and proposed to help campaigning. Jessica accepted Ani's help and told her to meet up the next day.

When Jessica was elected as the new student body president, Ani told Clay that she thinks Jessica is amazing and a bit terrifying. She also found out that Bryce, who she lives in the same house with, is Jessica's rapist. Ani informed Jessica that she lives with Bryce and hadn't made the connection before. Jessica explained that she didn't tell Ani about Bryce because she had the chance to be a strong person around her; Ani then said that that's how she is to her. Jessica made Ani promise to be careful.

Jessica talked with Ani about her relationship with Alex and admitted that she isn't enjoying their sex. Ani suggested masturbating to figure things out. They went shopping for toys and Ani instructed Jessica on how to use them. After Jessica tried them out, they talked at Monet's about how great it felt and how Jessica had started thinking about someone bad for her.

When Jessica founded Hands Off Our Bodies with Casey, Ani was involved. During a HO protest at the Homecoming Football Game, Jessica saw Bryce warn Ani about police entering the field. Jessica now believed that Ani and Bryce are friends, got angry and pushed Ani.

A few days after Homecoming, Ani saw Clay get taken by the police and immediately informed Jessica. Clay and Ani asked Jessica what she knows about Chlöe.

After it was revealed that Bryce had been murdered, Ani and Clay tried to figure out who did it. Ani came with the theory that Jessica slept with Bryce and Justin killed him over it. They followed Jessica and Justin, told them about the theory and said they would help them. Jessica was offended that Ani thought she had slept with Bryce.

Ani apologized to Jessica for thinking that she had slept with Bryce. She also told Jessica that she can do what she wants with her body and she's brave. Jessica revealed that it's been hard to not tell her about what she has been doing with Justin and now told Ani what had happened between them the past months.

After seeing the footage of Clay pointing a gun at Bryce, Ani asked Jessica about what she knows about Clay and Hannah. Jessica told Ani that Clay had gone after all the tape subjects and didn't respect that she was hurting. She also said that Clay wasn't with Justin, as Justin was with her on Homecoming night.

Ani found out that Jessica lied about being with Justin and questioned her about it. Jessica said that she lied to protect Justin and it's none of her business. Jessica then warned Ani that someone's going down for it and they'll likely take everyone along.

Jessica held a speech at an assembly about being a sexual assault survivor; Ani recognized part of it as she had found a note directed at Jessica at Bryce's house. After the speech, Ani told Jessica that she was incredible and asked about the part of the speech she recognized. Jessica lied and said she came up with it herself, but Ani already realized that Jessica must know more about Bryce's murder.

After Clay got arrested, Ani told Jessica that the worst thing she's ever done was sleeping with Jessica's rapist, Bryce, and asked what's the worst thing Jessica has ever done. Ani was the first person Jessica admitted to what happened to Bryce. Ani helped covering it up so Jessica (and Alex) wouldn't get in trouble.
Jessica and Ani cleaned up Clay and Justin's room together and decorated it for Justin's Welcome Home Party. They talked about how Ani hadn't told Clay that she is going to move to Oakland with her mom soon.

A few days later, Ani was hanging out at Jessica's house when Jessica told her that she should move in as they had an empty bed room. Ani thought her mom wouldn't allow her, but Jessica told her that she doesn't have anyone and asked what she'd do without her. They ended up getting permission from Ani's mom, so Ani moved in with Jessica. After Ani moved in, they burned Bryce's tape in the woods.

Jessica and Ani talked about getting through the last few months of high school. Jessica was worried that she'd never see Ani again after high school, but Ani told her that it's not true and their friendship is forever.

When Jessica was complaining that she doesn't have a date for the Love is Love dance, Ani offered to go together. However, they both ended up going with other dates.

Ani questioned Jessica's relationship with Diego, as he had beaten and intimidated Clay. Jessica called Ani out for telling her who she can't sleep with when Ani had slept with Jessica's rapist and blamed Ani for "letting Diego mess with Clay". Ani then revealed that her mom is in the hospital and she's leaving to help her.

When Ani returned to Jessica's house, she walked in on a shirtless Diego jumping out of Jessica' window. Jessica awkwardly welcomed her back. A bit later, Ani asked Jessica about avoiding her at school. Jessica revealed that she was with Diego and said Ani doesn't get to say anything about who she's sleeping with. Ani then revealed that she's moving out and staying with Tony. She said sleeping with Bryce was unforgivable and apologized for hurting Jessica. She worried that things have completely fallen apart between the two of them and she's not the person to restore it.

Ani supported Jessica when she led a walkout out off the school, giving her a megaphone to speak to the students. When a riot broke out and things got serious, Ani helped Jessica get away from the police.

Jessica said she wasn't going to prom; Ani proposed to go together. Jessica refused, as she didn't want to do the 'friends thing'. Ani then told her that they've fought like lovers, talked sex more than with men and she believes she had a crush on her when they first met. She asked Jessica to prom: "not as friends, not as girlfriends, but as you and me". Ani started singing "can't take my eyes off you" and touched Jessica's hair until she agreed to go to prom with her. They laughed and hugged.

Jessica and Ani attended prom together. When Diego wanted to talk to Jessica, she told him to do it in front of Ani. Later, Jessica and Ani were dancing together. Justin arrived, and Ani encouraged Jessica to dance with him.

After Justin's death, Ani comforted Jessica at his funeral. She told Jessica that she's strong all on her own.

At graduation, Ani was standing with Jessica and her family. When the group buried the tapes afterwards, they were seen hugging.
Estela is Jessica's friend. They became friends after Estela joined H.O.. Estela looks up to Jessica for her activism and took over H.O. when Jessica graduated.
At Liberty High's Future Fair, Estela, approached Jessica at the H.O stand and introduced herself; Jessica admitted to already knowing her as she is Monty's sister. Estela then expressed her admiration for Jessica's work in H.O. and asked if she can join. Jessica accepted her because H.O. it's a safe space for everyone.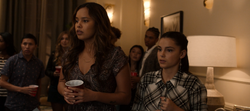 Jessica and Ani were doing school work together in the library, when Winston introduced himself to Estela. When Estela wanted to know if he was friends with Jessica, Winston mentioned that he thought Jessica's work was inspiring and Estela agreed with him. Jessica clearly didn't like that Winston was talking to Estela and after Winston left, she told Estela that he isn't nice.
Jessica and Estela attended the Find Your Drink Party together. Here, Diego announced that they're going to drink on Monty and called Estela to get over. Estela was nervous, so she asked Jessica to come with her.
When Winston informed Estela about who he thinks killed Bryce, he said that Justin likely did and and Jessica knows about it. Estela mentioned that she doesn't think Jessica would lie to her and thought they were friends. Later, Estela, Winston and Diego listened to the tape Bryce made for Jessica, after which Winston believed that Justin was sent by Jessica to kill Bryce. Estela was saddened by this.
During The Student Riot, Estela was taken by a cop. In response, Jessica started to fight the cop.
When Jessica and Ani graduated, they asked Estela to take over HO. Estela was very excited about this.
Appearances
Season 3
Season 4
 Quotes
Trivia
Jessica's biracial identities shed light to a number of issues women of color have to face.

After her rape, she's seen to be terrified to name Bryce as he is a white, wealthy kid and she's a biracial girl and that is one of the reasons why she does not think she's the 'right kind of victim'.
She straightens her wavy hair the day she goes to testify in "The Drunk Slut". Alex asks her about it and she replies, "It's Court Hair.", implying that she's feeling that she has to remove her biracial identities from her appearance before going to court as there's a popular racist belief that women of color are more 'impure' (in a sexual meaning) than white women and that can go against her in court.

Jessica stated that she'll always love Alex and that he's the best friend she has ever had, in "Let the Dead Bury the Dead".

This implies that she considers Alex closer than her other two best friends of the series, Hannah and Ani.
She also stated that Alex was the only one she could trust and the only one who understood what she was going through after she was raped and Hannah committed suicide.

Before Justin's death, she told him that he was the best thing that had ever happened to her and that he taught him what love was, in "Graduation".
She was Hannah's second best friend after Kat.
In "Two Girls Kissing", it is revealed that Jessica has been sleeping on the floor of her parents' bedroom, because she can't be where Bryce raped her; in her bed.

When she states that she's ready to sleep on her own bed, her dad shares a tender moment with her when he tucks her in and stays with her until she falls asleep.

Jessica moved to Evergreen County in 2016; because her Dad is in the air force, she moves nearly every two years.[50]
The name of her official Instagram account is 'cheerstojess'.
In the third season, she was elected as Student Body President, succeeding Marcus Cole and Courtney Crimsen. Her promise for the election was that she'd 'take down the jocks of the School' and 'put and end to their bullshit'.

A petition was circulated by some guys that demanded she should be removed from this position, without result.

Jessica is an accessory to Bryce Walker's murder as she was with Alex in the crime scene and lied to protect him afterwards.

In "Graduation", when Winston mistakenly assumed that she was the actual murderer, Alex confessed to him that it was he. When asked if Jessica was with him, Alex stayed silent. However, Winston realized the truth.

In "Valentine's Day", it is revealed that Alex had stopped talking to Jessica after Thanksgiving as she reminded him of Bryce's murder. However, their friendship have mended by the end of the season.
In the fourth season, Ani Achola moved in with her.
In "College Interview", Jess talked about how two of her friends painful decisions had changed their life in her interview. Even though she didn't mention any of their names, she was actually referring to Hannah and Alex.
In Season 4, Jessica started seeing hallucinations of Bryce and Monty, just like Clay has been seeing hallucinations of several characters throughout the series. In "Graduation", Jessica sees her last hallucination of Bryce after the gang buries the tapes, where Clay and she smile at each other, possibly because they know about each other's hallucinations.
In Jessica's Season 4 promotional poster, Alex wrote "You deserve to be happy". In the series, Jessica says this line to Alex after Alex and Charlie are voted Prom Kings in "Prom".
Hannah, Jessica and Alex used 'F. M. L. Forever' as an acronym of 'Fuck My Life' whenever they met up or had a tough topic to talk about. Even after Hannah's death, Alex and Jessica continued to use it as a reminder of Hannah and also a motto of their friendship. In "Let the Dead Bury the Dead", after Jessica and Alex confirmed that they were still best friends, they shook hands, saying 'F. M. L. Forever'; and in Season 4, Jessica and Alex wrote it in each other's promotional posters that appeared as their yearbook photographs.
Jessica took her SATs two days after Bryce received probation for raping her and after Bryce was murdered.
Jessica was tested HIV Negative after Justin's death in "Graduation".
Jessica was rejected from the first three Colleges she applied for. However, in "Graduation", it is revealed that she got into Berkeley, the same College Alex (and possibly Tyler) are attending.
Gallery
See also: Category:Images of Jessica Davis