"
I don't blame Hannah for anything. That's how it is for girls. People judge you by the way you look, the things they hear about you. They put a label on you. I just feel like boys get to define themselves. They get to choose their identity and they can hide behind it. Well, most boys. I think some know what it's like to be afraid. To feel like the world gave you a certain label that you have to live with for the rest of your life. Most boys don't know what it's like, but, every single girl does.
"
— Jessica, in "The Drunk Slut"
Jessica Davis is a main character that began Liberty High around the same time as Hannah Baker. She mentions that she is a military brat, explaining why her family has moved around so much. The two were paired up as friends by their guidance counselor but bonded as a result. The two hang out at Monet's where they meet another kid new to Liberty High, Alex Standall.
Jessica is the second person on the list of reasons why Hannah killed herself, where she was responsible for mistakenly believing that Hannah was the reason for her breakup with Alex.
In the second season, Jessica returns to Liberty High after a few months only to find that Bryce Walker has twisted the story behind her rape. Hannah's trial commences and she is the third to testify. Due to this, she receives a series of threatening notes and pictures designed to keep her from testifying. When she does take the stand, she calls out the bullying culture at Liberty, but she is unable to admit the truth about Bryce.
Early Life
Jessica is known to move every two years because her dad is in the air force. At her previous school, she had a friend named Amy. She confided in Amy about her weird sexual fantasies about Avenger's characters--including Scarlett Johansson. Before she left, Jessica told Amy not to tell anyone about the dreams, but Amy ended up posting about it anyways. Because of this rumors about her dreams ended up at her new school and people twisted it, making Jessica "that girl."
Throughout the Series
Jessica's Mistake (Reason #2)
Jessica is Hannah's second reason of why she committed suicide.
Hannah, Jessica, and Alex regularly met at Monet's after school. Jessica and Alex started to drift away from Hannah, with Hannah finding out they were dating and stating she was fine with it. After Jessica refused to have sex with Alex, they broke up. Jessica, however, didn't know why he chose to end it. However, after a list was spread around the school with a section listing Jessica as having had the worst ass in the school and Hannah branded as having had the best ass. She discovered that Alex was the one who added the section, Jessica thought that the reason why Alex chose to end their relationship was because he cheated on her with Hannah or Hannah had sex with Alex while they were dating. Jessica angrily accused Hannah of this at Monet's and refused to listen to Hannah's claim that Alex made the list on his own (which was true as he made it deliberately to spite Jessica for her refusal to have sex with him). She called Hannah a slut and slapped her on the face after Hannah said "Fuck you". Jessica's words and action in that moment were what marked the end of their once strong friendship as she started to believe into the rumors of 'Hannah the Slut', which were never true. Jessica completely broke Hannah's heart. Jessica never took Hannah back as a friend after this although she once drunkenly apologized for slapping her. In the second season, it is shown as a flashback that she also abandoned her a second time when Hannah tried to tell her about Jessica being raped at her party as Hannah realized that Jessica didn't remember.
Personality
Jessica is shown to be a fierce, kind and caring person who is a good friend and loving, supportive girlfriend, however she is also somewhat arrogant, selfish and cruel at times. She was a good friend to Hannah when they first started at Liberty High however after Alex broke up with her, she wrongfully accused Hannah of being responsible for the breakup and arrogantly refused to listen to her about Alex making the list on his own, she slapped her and called her a slut which coldly ended their friendship and completely broke Hannah's heart. However the real reason they broke up was because Jessica refused to have sex with Alex and so he decided to humiliate her on a hot or not list, Hannah was labelled as 'best ass' and Jessica was labelled as 'worst ass'.
Jessica makes herself known to be aggressive for the first time when she slaps Hannah and calls her a slut, she shows her aggression once again after learning that Justin didn't stop Bryce from raping her, by slapping him. Even though she drunkenly apologized to Hannah once about slapping her, she still did not take Hannah back as a friend and abandoned her, she is shown to be verbally aggressive to Hannah once again when she tells Hannah to not be a bitch, as she thinks she is jealous of her and Justin, when Hannah is actually trying to just tell her that she was raped by Bryce (back when she isn't aware and Hannah is alive).
She initially does not appear to show much remorse for what she did to Hannah and does not believe what Hannah says on the tapes to be true, calling her a liar and chooses to believe Justin that she was not raped. She even tells Clay that Hannah is the one who ended their friendship and stopped coming to Monet's, completely ignoring that she is the one who ended it, showing that she is a hypocrite. She is also shown to be in agreement with keeping the tapes a secret and also with the plans to keep Clay from revealing the tapes. However although she denies Hannah's revelations, Jessica is shown to be mentally and emotionally damaged as a result of being raped by Bryce and even though she denies that it happened she starts to have flashbacks of the rape, so to help with her pain jumps into alcohol.
However after learning from Justin that Bryce did indeed rape her and that he allowed it, she is shown to be angered, shocked and betrayed and tells Justin that she hates him and ends their relationship. She then turns her back on all those on Hannah's list who tried to convince her that Hannah was lying and shows appreciation to Clay for being the only one who tried to tell her the truth.
After learning of her rape, Jessica is shown to be remorseful for what she did to Hannah and admits during her deposition that she slapped her, however she still denies the existence of the tapes in order to ensure that no one else finds out about her rape, though she tells Clay not to destroy them either and possibly wants to somehow get revenge against Bryce, even though she isn't yet sure about what that is or how to get it. Even after Justin offers to kill Bryce for what he did, Jessica refuses to take him back and claims that she never wants to see Justin again.
Jessica is now a very emotionally damaged person and completely traumatized, however she does reveal to her father about what happened to her.
In the second season, Jessica struggles to cope with her rape. After she returns to school, she finds out that people think she is a slut, as Bryce has lied to the student body, convincing them that he and Jessica hooked up one night, and she called it rape because she felt bad about cheating on Justin. She lashes out at Chloe when she tries to be nice to Jessica but makes it clear she believes Bryce. She finds solace in her friendships with Alex, and Nina Jones, who she later finds out is another rape survivor. Despite this, it appears she is not ready to move on, as she shares a kiss with Alex but becomes frightened when things start to get more intimate, and later has a panic attack while shopping with Nina, also later finding out that Nina, despite being through the worst part of the aftermath of her rape, is still not completely over it, as she was unwilling to talk about what bothered her with her boyfriend and later cheated on him. She is still mad at Justin for what he did, and goes against him and Clay when they want to give the polaroids found at the Clubhouse to the police. Later, after Clay, Alex, Justin, Courtney, Ryan and Zach support her, she agrees to go to the police, along with Justin, and tells them the truth. She is very disappointed when Bryce is found guilty, but only given three months probation. She officially gets back together with Alex, and attends the Spring Fling with him, but later hooks up with Justin in the locker room, showing that she has forgiven him for his actions.
Physical Appearance
Jessica is a beautiful biracial girl with long curly brown hair, a dark complexion and brown eyes. She is shown to have a very casual but stylish attire.
Relationships
Alex is Jessica's ex-boyfriend and best friend.
Hannah was Jessica's best friend.
Justin is Jessica's boyfriend.
Bryce was Jessica's rapist.
Nina is Jessica's friend.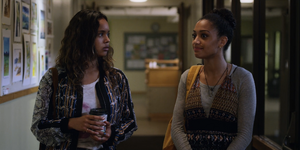 When Mr. Porter is talking to Jessica, Nina approaches Jessica to get rid of him, and she introduces herself. Later, when Jessica goes to a support group for rape survivors, she finds out Nina is a rape survivor too who also attends the support group. Nina explains that she wanted to be there for Jessica because she was sure the rumors about Jessica lying about her rape were false. They become friends and support each other.

Appearances
Season 3
 Quotes
Trivia
She is Guatemalan.
She was Hannah's second best friend after Kat.
In "Two Girls Kissing", it is revealed that Jessica has been sleeping on the floor of her parents' bedroom, because she can't be where Bryce raped her.
Gallery
See also: Category:Images of Jessica Davis
References
Community content is available under
CC-BY-SA
unless otherwise noted.