"
Making mistakes is part of being a survivor. At first you think you're permanently broken, but then, little by little you start picking up the pieces and you start realising, what you're making is a mirror. And the more of those pieces you put together the more you start to see yourself. But maybe we can start picking up the pieces of that mirror together, and we can finally see the truth. If you think sexual assault doesn't affect your life you're wrong. There are survivors all around us.
"
— Jessica during her speech about sexual assault in the assembly, in "And Then the Hurricane Hit"
Jessica Davis is one of the main characters of Netflix's "13 Reasons Why". She is the daughter of Greg and Noelle Davis, the older sister of Elijah and Cooper Davis, the ex-girlfriend of Alex Standall and Justin Foley, the ex-lover of Diego Torres, an accessory to Bryce Walker's murder, a member of F.M.L. and H.O., and the former best friend of the late Hannah Baker. She is a former student, cheerleader and the former Student Body President at Liberty High School. She is portrayed by Alisha Boe.
In the first season, she was shown to have been paired up to be friends with Hannah by the school counselor. She becomes good friends with Hannah and then Alex, unfortunately, their friendship ends over a misunderstanding. A few months later, Hannah commits suicide, before her death she recorded thirteen reasons why she killed herself. Jessica receives the tapes, being the second reason. On the tapes, Hannah also revealed that Justin's friend raped a girl while she was unconscious, it is revealed to Jessica that the girl is her and Justin's friend is Bryce Walker. Justin constantly tells her that Hannah lied and they were the ones who had sex. After growing closer to Bryce, Justin becomes mad and reveals that Hannah told the truth, she cuts ties with Bryce and breaks up with Justin. Although she was unaware of it, her behavior midway through the season suggests she slowly started to remember her rape and possibly always knew that it happened (but not who did it) but put it in the back of her mind.
In the second season, Jessica returns to Liberty High after a few months only to find that Bryce has twisted the story behind her rape. Hannah's trial commences and she is the third to testify. Due to this, she receives a series of threatening notes and pictures designed to keep her from testifying. When she does take the stand, she calls out the bullying culture at Liberty, but she is unable to admit the truth about Bryce. Later, she becomes ready and files a rape report against Bryce, with the support of her parents all of her friends
In the third season, Jessica is the student body president, she co-founded H.O. with Casey Ford for sexual assault survivors in the school. Throughout the season, she learns to become comfortable with being in her body by trying out masturbation for the first time and then having sex with both Justin and Alex. After Bryce's murder, she becomes one of the main suspects as he is her rapist and she was seen by Ani confronting him in his house. Bryce recorded and handed her over a tape, admitting to raping her, Hannah, Chlöe Rice, and other girls, which she uses a part of his speech on the tape in her own speech during an assembly for sexual assault survivors. After her (and Alex's) involvement with the murder gets revealed and covered up, she rekindles her friendship with Alex and tells him that they're survivors.
In the fourth season, Jessica lets Ani move in with her and continues her activism against misogyny and rape culture. Her mental health starts spiraling as Alex stops talking to her, Justin breaks up with her and the truth behind Bryce's murder threatens to unravel. She strikes up a casual relationship with Diego, the captain of the football team who's determined to prove Monty's innocence, to keep him from the truth but unintentionally ends up catching feelings for him. After fighting the authorities about the presence of SROs taking responsibility for causing the riot, Jessica truly becomes a leader of the school. She gets back together with Justin shortly before he's diagnosed with HIV and tragically passes away. After Justin's death, Jessica considers moving on with Diego. even though she still loves Justin. Her friendship with Alex also mends as she accepts his sexuality, Alex confesses to Bryce's murder to protect her from further hurt and they get in to the same college. At Graduation, Jessica gives a speech about high school experience, love and patriarchy.
Early Life
Jessica was born in 2001, revealed by Ani Achola in "Nobody's Clean" (Ani is shown unlocking Alex's phone with her birthday, only the year is shown). Jessica is known to move every two years because her dad is in the air force. At her previous school, she had a friend named Amy. She confided in Amy about her weird sexual fantasies about Avenger's characters--including Scarlett Johansson. Before she left, Jessica told Amy not to tell anyone about the dreams, but Amy ended up posting about it anyways. Because of this rumors about her dreams ended up at her new school and people twisted it, making Jessica "that girl."[2]
Throughout the Series
Jessica's Mistake (Reason #2)
Jessica is Hannah's second reason of why she committed suicide.
Hannah, Jessica, and Alex regularly met at Monet's after school. Jessica and Alex started to drift away from Hannah, with Hannah finding out they were dating and stating she was fine with it. After Jessica refused to have sex with Alex, they broke up. Jessica, however, didn't know why he chose to end it. However, after a list was spread around the school with a section listing Jessica as having had the worst ass in the school and Hannah branded as having had the best ass. She discovered that Alex was the one who added the section, Jessica thought that the reason why Alex chose to end their relationship was that he cheated on her with Hannah or Hannah had sex with Alex while they were dating. Jessica angrily accused Hannah of this at Monet's and refused to listen to Hannah's claim that Alex made the list on his own (which was true as he made it deliberately to spite Jessica for her refusal to have sex with him). She called Hannah a slut and slapped her on the face after Hannah said "Fuck you". Jessica's words and actions in that moment were what marked the end of their once strong friendship as she started to believe in the rumors of 'Hannah the Slut', which were never true. Jessica completely broke Hannah's heart. Jessica never took Hannah back as a friend after this although she once drunkenly apologized for slapping her. In the second season, it is shown as a flashback that she also abandoned her a second time when Hannah tried to tell her about Jessica being raped at her party as Hannah realized that Jessica didn't remember..
Personality
Jessica is shown to be a fierce, kind, and caring person who is a good friend and loving, supportive girlfriend, however she is also somewhat arrogant, selfish, and cruel at times. She was a good friend to Hannah when they first started at Liberty High however after Alex broke up with her, she wrongfully accused Hannah of being responsible for the breakup and arrogantly refused to listen to her about Alex making the list on his own, she slapped her and called her a slut which coldly ended their friendship and completely broke Hannah's heart. However, the real reason they broke up was that Jessica refused to have sex with Alex and so he decided to humiliate her on a hot or not list, Hannah was labeled as 'best ass' and Jessica was labeled as 'worst ass'.
Jessica makes herself known to be aggressive for the first time when she slaps Hannah and calls her a slut, she shows her aggression once again after learning that Justin didn't stop Bryce from raping her, by slapping him. Even though she drunkenly apologized to Hannah once about slapping her, she still did not take Hannah back as a friend and abandoned her, she is shown to be verbally aggressive to Hannah once again when she tells Hannah to not be a bitch, as she thinks she is jealous of her and Justin when Hannah is actually trying to just tell her that she was raped by Bryce (back when she isn't aware and Hannah is alive).
She initially does not appear to show much remorse for what she did to Hannah and does not believe what Hannah says on the tapes to be true, calling her a liar and chooses to believe Justin that she was not raped. She even tells Clay that Hannah is the one who ended their friendship and stopped coming to Monet's, completely ignoring that she is the one who ended it, showing that she is a hypocrite. She is also shown to be in agreement with keeping the tapes a secret and also with the plans to keep Clay from revealing the tapes. However, although she denies Hannah's revelations, Jessica is shown to be mentally and emotionally damaged as a result of being raped by Bryce and even though she denies that it happened she starts to have flashbacks of the rape, so to help with her pain jumps into alcohol.
However, after learning from Justin that Bryce did indeed rape her and that he allowed it, she is shown to be angered, shocked and betrayed and tells Justin that she hates him and ends their relationship. She then turns her back on all those on Hannah's list who tried to convince her that Hannah was lying and shows appreciation to Clay for being the only one who tried to tell her the truth.
After learning of her rape, Jessica is shown to be remorseful for what she did to Hannah and admits during her deposition that she slapped her, however, she still denies the existence of the tapes in order to ensure that no one else finds out about her rape, though she tells Clay not to destroy them either and possibly wants to somehow get revenge against Bryce, even though she isn't yet sure about what that is or how to get it. Even after Justin offers to kill Bryce for what he did, Jessica refuses to take him back and claims that she never wants to see Justin again.
Jessica is now a very emotionally damaged person and completely traumatized, however, she does reveal to her father about what happened to her.
In the second season, Jessica struggles to cope with her rape. After she returns to school, she finds out that people think she is a slut, as Bryce has lied to the student body, convincing them that he and Jessica hooked up one night, and she called it rape because she felt bad about cheating on Justin. She lashes out at Chlöe when she tries to be nice to Jessica but makes it clear she believes Bryce. She finds solace in her friendships with Alex, and Nina Jones, who she later finds out is another rape survivor. Despite this, it appears she is not ready to move on, as she shares a kiss with Alex but becomes frightened when things start to get more intimate, and later has a panic attack while shopping with Nina, also later finding out that Nina, despite being through the worst part of the aftermath of her rape, is still not completely over it, as she was unwilling to talk about what bothered her with her boyfriend and later cheated on him. She is still mad at Justin for what he did and goes against him and Clay when they want to give the polaroids found at the Clubhouse to the police. Later, after Clay, Alex, Justin, Courtney, Ryan, and Zach support her, she agrees to go to the police, along with Justin and tells them the truth. She is very disappointed when Bryce is found guilty, but only given three months probation. She officially gets back together with Alex and attends the Spring Fling with him, but later hooks up with Justin in the locker room, showing that she has forgiven him for his actions.
Physical Appearance
Jessica is a beautiful biracial girl with long curly brown hair, a dark complexion and brown eyes. She is shown to have a very casual but stylish attire.
Relationships
Alex is Jessica's ex-boyfriend and best friend. They have a deep bond that is solidified throughout the series.
Justin was Jessica's boyfriend.
Hannah was Jessica's best friend.
Clay is Jessica's friend. They started out as acquaintances, Jessica grew to like Clay as he was the only one who tried to tell her that Bryce raped her. Through the second season they become good friends.
Bryce was Jessica's rapist.
Nina is Jessica's friend.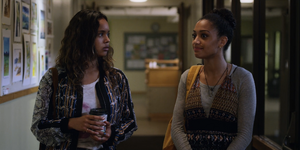 When Mr. Porter is talking to Jessica, Nina approaches Jessica to get rid of him, and she introduces herself. Later, when Jessica goes to a support group for rape survivors, she finds out Nina is a rape survivor too who also attends the support group. Nina explains that she wanted to be there for Jessica because she was sure the rumors about Jessica lying about her rape were false. They become friends and support each other.
Diego is Jessica's former lover and friend. They started out as casual partners who later ended up catching feelings for each other.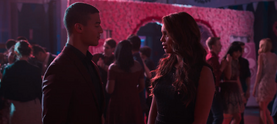 They first interact Jessica and her group try to talk to the boys at the locker room but the guys of the football team are rude to her. Diego defends Jessica and tells them to shut up. However, she isn't happy with this. Diego approaches her again at the Love is Love Dance and praises her for her activism. He asks her for a dance, but Jessica replies that she's here with Charlie so she can't dance with him. Diego points out that she's only trying to make Justin jealous and she won't be able to do that with Charlie because he's 'gay or bi'. Jessica gets mad at this, but Diego has a good comeback which she appreciates. Later, Jessica ditches Charlie and accepts Diego's offer to make Justin jealous using him and the two start a casual relationship.
At first, Jessica is trying to keep Diego from the truth as he is investigating Bryce's murder. He is still messing with Clay, which Jess tells him not to do. At the camping trip, Jessica and Diego are getting closer and they sit together at the campfire. Clay, Alex, Ani and Justin all warn Jessica about Diego, but she believes that Diego just likes her and she has got him under her hook. Turns out that her assumptions are right, as Winston (rightfully) warns Diego that she's playing him but Diego is convinced that she is just looking out for him. Meanwhile, Jessica starts hooking up with Justin again and lies to Diego about it. Diego admits to Winston that he loves her. Jessica starts to develop real feelings for Diego, which even Justin understands. Justin and Diego's conflict also seems to lessen after Diego's arrest and the riot. After Diego suspects that she had an involvement with Bryce's murder, they have a huge fight and Diego threatens her, ending their relationship. He tries to reason with her afterwards but Jessica doesn't have it and officially gets back together with Justin.
After Justin's death, Jessica tells Diego that they're both at risk of HIV and they go to take tests together. After getting the result of his test, Diego is surprised to find her waiting for him. He informs her that he's giving up the investigation as it would cause her further hurt. They talk about how they both miss their loved ones (Justin and Monty), and Jessica empathizes with him. Diego tells her that he'll be there if she ever needs anyone to 'miss people with'. He proposes to start a real relationship this time and is willing to give her time if she needs. Jessica tells him that maybe he can ask her out in a month. They are last seen sitting at the waiting room together, smiling at each other.
Ani is Jessica's best friend.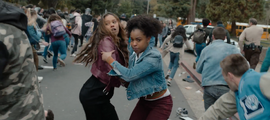 In the third season, Ani and Jessica first met at a Student Council meeting where Ani praises her for her views and suggests that she runs for the President. She also joins HO with Jessica and becomes close to her. Jessica tells her about her sexual problems, to which Ani suggests masturbation to figure things out herself. However, Jessica doesn't always trust her with everything as she lies to her about being with Justin and her involvement in Bryce's murder. Ani grows suspicious of her. After Ani admits to her that she slept with Bryce and that's the worst thing she's ever done, Jessica confesses her involvement in the murder and Ani covers the murder up for her and Alex.
In the fourth season, Ani moved in with her so she can finish her senior year in Evergreen. They mostly have a supportive relationship but have conflicts about Ani sleeping with Bryce and Jessica sleeping with Diego. When the school goes into lockdown, Jessica calls her and tells that she loves her. Later, Ani apologizes to her about Bryce and moves out. They also go to the Prom together and dances wildly. Ani comforts her after Justin's death. She also cheers for Jessica at graduation. They are last seen hugging after the burial of Hannah's tapes.
Appearances
Season 3
Season 4
 Quotes
Trivia
Jessica's biracial identities shed light to a number of issues women of color have to face.

After her rape, she's seen to be terrified to name Bryce as he is a white, wealthy kid and she's a biracial girl and that is one of the reasons why she does not think she's the 'right kind of victim'.
She straightens her wavy hair the day she goes to testify in "The Drunk Slut". Alex asks her about it and she replies, "It's Court Hair.", implying that she's feeling that she has to remove her biracial identities from her appearance before going to court as there's a popular racist belief that women of color are more 'impure' (in a sexual meaning) than white women and that can go against her in court. Alex is disgusted at this and says that he doesn't like it, causing Jess to understand that he's not referring to the hair but the mentality behind it. She shortly replies, "Noted."

Jessica stated that she'll always love Alex and that he's the best friend she has ever had, in "Let the Dead Bury the Dead".

This implies that she considers Alex closer than her other two best friends of the series, Hannah and Ani.
She also stated that Alex was the only one she could trust and the only one who understood what she was going through after she was raped and Hannah committed suicide.
Jessica is an accessory to Bryce Walker's murder as she was with Alex in the crime scene and lied to protect him afterwards.

In "Graduation", when Winston mistakenly assumed that she was the actual murderer, Alex confessed to him that it was he. When asked if Jessica was with him, Alex stayed silent. However, Winston realized the truth.

In "Valentine's Day", it is revealed that Alex had stopped talking to Jessica after Thanksgiving as she reminded him of Bryce's murder. However, their friendship have mended by the end of the season.
In the fourth season, Ani Achola moved in with her.
In "College Interview", Jess talked about how two of her friends decisions had changed her life in her interview. Even though she didn't mention any of their names. she was actually referring to Hannah and Alex.
In Season 4, Jessica started seeing hallucinations of Bryce and Monty, just like Clay has been seeing hallucinations of several characters throughout the series. In "Graduation", Jessica sees her last hallucination of Bryce after the gang buries the tapes, where Clay and she smile at each other, possibly because they know about each other's hallucinations.
Hannah, Jessica and Alex used 'F. M. L. Forever' as an acronym of 'Fuck My Life' whenever they met up or had a tough topic to talk about. Even after Hannah's death, Alex and Jessica continued to use it as a reminder of Hannah and also a motto of their friendship. In "Let the Dead Bury the Dead", after Jessica and Alex confirmed that they were still best friends, they shook hands, saying 'F. M. L. Forever'; and in Season 4, Jessica and Alex wrote it in each other's promotional posters that appeared as their yearbook photographs.
Jessica took her SATs two days after Bryce received probation for raping her.
Jessica was tested HIV Negative after Justin's death in "Graduation".
Jessica was rejected from the first three Colleges she applied for. However, in "Graduation", it is revealed that she got into Berkeley, the same College Alex (and possibly Tyler) are attending.
Gallery
See also: Category:Images of Jessica Davis