"
Clearly he knew her very well, he is devastated, he feels like he's responsible somehow. Was she his girlfriend? Did he do something to her?... I am defending a lawsuit brought by two parents whose daughter was so damaged by something that she took her own life. What if our son was a part of that?
"
— talking to Matt about Hannah and Clay, in "Tape 5, Side A"
Lainie Jensen is a main character in 13 Reasons Why. She is portrayed by Amy Hargreaves.
Lainie is the mother of Clay Jensen, the adoptive mother of Justin Foley and the wife of Matt Jensen. She served as a Litigator for the school in the lawsuit the Bakers file against Liberty High before she dropped out of the case due to Clay's involvement causing a conflict of interest.
Throughout the Series
Personality
Lainie is very passionate about her job and is a protective mother.
Physical Appearance
Lainie has shoulder length blonde hair with dark highlights, she has blue eyes and dresses in smart attire for business and casual attire as everyday wear.
Relationships
Clay is Lainie's son.
Matt Jensen
Lainie and Matt are continously tied over Clay's situation. They have their ups and downs, Lainie tends to care about both her career in law and her personal life but sometimes makes Matt mad when she seems to care more about her career, when something legal to do with Clay happens, than their family's situation. Matt and Lainie have an argument over their situation and she goes to stay with her sister for a while, later she comes back and apologises to the family for their argument having such a big impact.
| | |
| --- | --- |
| | Note: This section is a stub. You can help 13 Reasons Why Wiki by expanding it. |
Justin Foley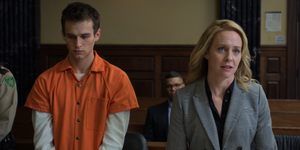 Lainie was angry when she first found out that Justin was hidden in their house, but after Justin explained his home situation, she tells him he can stay as long as he need to. She soon starts treating him like a son, and buys him clothes and a phone. Lainie gets mad when she finds out Justin's on drugs and leaves for a few days after a fight, but returns when she finds out Justin is going to testify to prepare him for the possible consequences. When Justin gets arrested, she and Dennis try to get him released. She and Matt talk about adopting Justin. Throughout the third season, Lainie cares a lot about Justin - like supporting him during Bryce Walker's funeral. She also explains that Justin will always have a home with them. During season 4, Lainie is the first person Justin goes to about his mother's death, which devastates Lainie.
Appearances
Quotes
Trivia
Gallery
See also: Category:Images of Lainie Jensen
References
See also