"
Clearly he knew her very well, he is devastated, he feels like he's responsible somehow. Was she his girlfriend? Did he do something to her?... I am defending a lawsuit brought by two parents whose daughter was so damaged by something that she took her own life. What if our son was a part of that?
"
— talking to Matt about Hannah and Clay, in "Tape 5, Side A"
Lainie Jensen is a main character in 13 Reasons Why. She is portrayed by Amy Hargreaves.
Lainie is the mother of Clay Jensen, the adoptive mother of Justin Foley and the wife of Matt Jensen. She served as a Litigator for the school in the lawsuit the Bakers file against Liberty High before she dropped out of the case due to Clay's involvement causing a conflict of interest.
Throughout the Series
Personality
Lainie is very passionate about her job and is a protective mother.
Physical Appearance
Lainie has shoulder length blonde hair with dark highlights, she has blue eyes and dresses in smart attire for business and casual attire as everyday wear.
Relationships
Clay is Lainie's son.
Lainie interrupted Clay while he listened to the start of the tapes and asking what he was doing. He reminded her about helicopter parenting, she then told him that she didn't intend to scare him. She asked what he was listening to and Clay lied about a history project. He ejected the tape and she grabbed it and asked if she could listen to it. Clay panicked and told her she couldn't because it was just a dumb project. He took it back and told he was going to his room to do homework. She informed him that the school emailed again. Lainie told him that she didn't like being the parent who asked if he wanted to talk about anything, and then proceeded to ask. Clay then lied and said he didn't know Hannah. Lainie mentioned that he worked with her at The Crestmont, Clay lied and said that he worked with her but didn't know her very well. He then left to go to his room. Later he came down and told her he was going to Tony Padilla's because Tony needed one of the tapes to do his work because they were working together on the project. She notified him that dinner would be ready in 30 minutes and Clay asked her to make a plate for him later. Lainie told him to text her if he was going to be coming home later. Clay then left after he told her he would. He then came back late at night and rummaged through his bedroom, Lainie asked if he was okay and Clay stressed that he forgot something, Lainie saw a big cut on his forehead and panicked. She asked if he fell off his bike and he affirmed but lied about how. She told him she would get the first aid kit but Clay declined it, Lainie then stressed that with how big and open the wound was he needed medical attention. Clay looked at his cut in the mirror and told her he was fine, she asked what happened again and recalled the same lie. He started to leave to meet Tony but Lainie stopped him and gave him his helmet and he left with it.[28]

Lainie knocked on his door in the morning and told him she made breakfast and that they were all going to have breakfast. He questioned it and she asked if he was awake, she opened the door and asked if he was alive. Clay became agitated at her opening the door and asked her to close it. She told him that she needed to be able to see him to know he was still alive, he told her that she heard his voice, she told him that she heard indistinct mumbles, he told her "We take what we can get in this life". She reminded him to take a shower and then eat breakfast. Later he came down to join his parents for breakfast, Lainie asked about his project and he expanded his lie. He noticed medication on the table and she explained, he told her that he stopped taking the medication two years ago, she told him that the doctor said that they would be available if Clay ever needed them again. Clay protested to taking the medication again and added that they have probanly expired, Lainie added that it was a new prescription. Clay expressed his disbelief with facial expressions and then excused himself from breakfast to go to school, Lainie reminded him about his lunch and he picked it up and left.[29]

Clay returned home late and apologised for being late and told them that he got distracted. Lainie asked him where he was, he lied and said that he was with a friend who was in trouble, he didn't believe them but he checked on them and found out they were in trouble. Lainie noticed different mannerisms in Clay and asked if he was drunk, Clay admitted to it and Lainie lectured him, he apologised and Matt asked him how much he drank, he admitted to drinking one beer. Lainie then grounded him and told him that for the next two weeks he would have to come home straight away after school, Matt interrupted her and stressed that they should all eat and talk first but Clay stated that he wasn't hungry and then threw up on the table. Clay apologised and his parents looked at him in shock and disbelief.[30] Clay came down for dinner and was about to make an excuse to leave the house but saw Tony, he asked him why he was there and Tony told him he was invited over. Clay and Tony had a riff before Clay returned home and so during dinner they tried to subtly—without letting Clay's parents know—talk about the tapes and fought over what Clay would decide to do with them.[31]

Clay woke up from a bad dream, sweating, he changed the sheets and came down to put them in the laundry, she felt the bedsheet and asked him if he had an accident, he told her that he wasn't seven and that he just got hot last night and started to sweat. She then took the laundry from him and told him she would do it because she hadn't seen him do it in a long time. They then had breakfast and she tried to talk with him but he excused himself to meet a friend at Monet's, Matt then finally admitted to her that he had started to see something off with Clay. Late at night, Clay came home and listened to music, Lainie came in and asked what he was listening to, he told her that it was one of Tony's mix tapes, she asked if he was okay and he affirmed he was fine. She told him that she needed to talk to him and asked if any kids were being bullied at his school, he asked if someone had called her and she denied it and reiterated that she was actually asking whether or not he knew if Hannah was bullied. He asked why she had asked about Hannah specifically and she revealed that her firm had been hired as the school's lawyers because Hannah's mother had filed a lawsuit against Liberty High. Clay asked if the school had their own lawyers, Lainie affirmed that they did but for a lawsuit they needed litigators, and she is one. Clay then asked if she was going up against the Bakers', Lainie re-phrased him and said tha she was defending the school, Clay reminded her that she is a parent of a kid going to the school, she then told him that she believed it was one of the reason why they asked her to take the case. Clay then clarified that she was going to try and prove that Hannah wasn't bullied. Lainie informed Clay that the school's position is that they didn't know about any bullying and would have stopped it if they did. Clay asked her if she believed them and she clarified that she believed that they'd find out if they knew. Lainie asked him if he was okay with it and he lied. She then asked about bullying again and then asked about Hannah Baker, he lied once more and told her that he didn't really know her.[32]

Clay brought Sheri Holland over and notified Lainie that they would be in his bedroom doing work. She reminded him to keep the door open, and Clay became slightly embarrassed. Later Sheri left and then Lainie came into his room, she asked if he was okay and he lied, but this time she picked it up and confronted him about it. Clay asked her why she was taking the case and she asked him if it was the reason he was upset and then asked if he was being bullied. Clay started to chuckle at her question and asked her what if he was the bully, she told him that he would never do that and he asked how she knows he wouldn't. Lainie told him he was a good person and Clay told her that maybe there aren't any good kids, he then implied she should leave his room so he could get ready for bed. She left the room but then told him that if the case was going to hurt him she would drop out but only if he told her why. He walked up to her and told her that she wouldn't be able to help him no matter what was going on and closed the door.[33] Downstairs, Matt and Lainie argued about how to get Clay help, Lainie told Matt that there was a reason that the school kept sending out emails about contagion and suicide clusters, but shrugs it off and told her that a girl died and Clay said he barely knew her. Lainie reiterated that she didn't just die, she slit her wrists and bled out in a bathtub. Unfortunately, Clay had been stood there in shock because he heard her say it. He then excused himself to go to school, Lainie told him that she hadn't made his packed lunch yet, Clay then told her that he would buy lunch and left.[34]

Later Zach Dempsey's mother came around to the Jensen's household to complain about Clay to Matt and Lainie, Zach told his mom that Clay had keyed his car with the words "why me?" visible on Zach's car, Lainie and Matt weren't convinced and Lainie tried to defend Clay but he interrupted her and admitted to doing it and apologised. Matt and Lainie then discuss why he would have done it, they come to a decision of grounding him for two weeks.[35] The next day he came home late and broke his grounding rules, he apologised to his parents and explained the situation, this time without lying. Matt then hugged him and Lainie told him that next time he needs to text them before he goes somewhere not on the way home from it. Clay explained that he couldn't get to his phone for a while and was open to being grounded for a month, however, instead of grounding him Matt just told him that he was glad he was still alive and Clay agreed.[36]

After someone planted drugs in Clay's bag, Lainie had to go down to the school to pick him up after being called about it, Clay asked his mom to take him to the police station so he could sign up for a programme, Lainie told him that he could sign up anytime in a week, Clay then told her that he needed to get it out of the way. Lainie then drove him to the station to sign up. They arrived and Lainie said she would wait for him outside on a bench. However Clay walked back over to Lainie and asked if he could ask her a question about legality. He described a situation where someone gets assaulted but the victim refuses to come forward, the witness moved away and there's no evidence that it happened, and asked if the perpetrator could still be prosecuted. She told him that it sounded like a tough case to prosecute, because the victim and the witness won't talk and there's no evidence to prove it happened. Clay then realised that there would be no case and no one would be able to press charges and whispers profanity under his breath. Lainie then realised that the situation was not hypothetical and forced him to tell her the truth. He ultimately told her that he knew Hannah and they were good friends and he was really upset about her death and it was effecting him in a bad way. Lainie reassured him that he is a good person and told him that Hannah was lucky to have him as a friend but Clay protested her statement. Lainie then questioned him about the assault and asked him if it had to do with Hannah. She then told him that even though a crime can't be prosecuted it shouldn't stay a secret. Clay realised something and then told her that he had to leave and promised her that he would be home later. Later Lainie told Matt what Clay said and started to wonder what Clay and Hannah's relationship was like and then wondered whether or not he had a part in something that led to her suicide, however Matt defended Clay.[37]

Just before Clay listened to his own tape, his Mom called to say that she would be home later and that she would talk about why later. She informed him that there was food in the fridge. They returned home at almost the same time and Lainie talked to him about the case: she told him that the school issued a settlement but the Bakers' turned it down and their lawyers would issue subpoenas out to kids in the school. She then told him that she got a copy of the list of names to get subpoenas and a number of his classmates were on the list, including Clay himself. Lainie informed him that he would be interviewed and she would prepare him for it.[38] Clay came down in the morning for coffee and Lainie talked to him about what was going to happen, but Clay brought up hypothetical situations while he asked legality questions and worried Lainie, she asked what he was talking about and he refused to answer. The doorbell rang and a officer handed Lainie Clay's subpoena. Late at night, Lainie woke up and went into Clay's room to discover that he never came home and didn't text.[39] Clay then came home, and ate breakfast in the morning, Lainie let Tony into the house and expressed that she wanted to talk about their depositions, Clay then excused himself and Tony to go up to his room. Lainie called his name and he promised that they would talk soon. Later on, during Tyler Down's deposition, Tyler mentioned the tapes existence and that Clay Jensen last had them in his possesion, Lainie was shocked to hear this as she hadn't know that Clay had tapes the entire time.[40]
It's five months later, and Clay returned home to be told by Lainie that Hannah's trial had moved forward and would start tomorrow because the Bakers' rejected the districts final settlement at the last minute. Lainie told Clay that he was not on either sides witness list, Clay became angry because the people managing the case heard the tapes and seemed to have not done anything about Bryce after they listened to Bryce's confession that Clay recorded. He became angry at her because she heard the tapes and dropped out of the case, she then told him that she dropped out of the case because Clay's involvement in Hannah's story became a conflict of interest for her. Clay then told her that she could get back on the case considering that he was no longer involved because he was not on either witness list. Lainie told him that if they knew who the sexual assault victim that Hannah talked about on the tapes was they could bring it forward but Clay refused to say who it was and said that it wasn't his place to say who they were. He became angry because he felt like the tapes coming out did nothing for Hannah (and Jessica). Lainie told him that she was worried about his anger, he calmed down and told her that he wasn't angry and that he would be fine because he hasn't thought about Hannah in months. However he then went to his bedroom and started to hallucinate her outside through his window.[41]

The next day, Lainie woke Clay up and she asked him if things were okay which he affirmed, she then asked him court was, and before he answered he asked her the same question she told him that she was there for paperwork and he told her that he was just curious. She told him that she was worried that he still thought about Hannah and cared about her, Clay excused himself to get ready for school. Later at night, Clay's parents invited Skye, Clay's girlfriend, over for dinner, they talked about the mural that Clay and Skye were making and Skye tried to signal to Clay that she wanted to go up to his bedroom to have sex by inappropriately touching him under the dinner table. Clay excused them and they went upstairs.[42] Early in the morning, he found out Skye was hospitalised, he tried to visit her in hospital and came home at 5am on his bike, his parents walked outside and asked him what was going on. Clay then told them a bunch of things that he had been keeping from them and asked if knowing it made it better or worse. Lainie told him that their agreement was that they would talk about things, Clay then asked her "When the house is on fire, do you discuss the fire or do you get out of the goddamn house?", before he went inside the house he told them that he needed a new car because his bike was damaged. Later, Lainie told him that she and Matt wanted to talk about something outside, he came out and they presented him a new car, on the condition that he would be honest and authentic with them and involve them in his life when it's appropriate to, he agreed to this.[43]

Clay hid Justin in his room—unknown to Matt and Lainie—and came down to wash his stuff, Lainie asked him about the smell of the clothes, Clay lied and said that accidentally wet them. Lainie informed him that it was just her and Clay for breakfast.[44] After Clay's parents found out about him hiding Justin, Lainie became mad at him because he hid Justin who is a witness in the case that Lainie is a lawyer in, considering the fact that Justin failed to respond to this subpoena he's in contempt and Clay should not be hiding him, especially in Lainie's house as she is working the case. Clay told them he had no other option, Matt told him that he had an option of taking to him and Lainie. Justin took over and revealed why Clay hid him. Lainie and Mat let him stay but Lainie told Justin and Clay that she had no choice but to inform the court of Justin's situation.[45] The next morning, Clay came down to see Lainie, Matt and Justin eating breakfast, Lainie informed him that Matt would take him to court for his testimony. After Clay's testimony revealed some things his parents didn't know, Lainie and Matt argued about the serious things he did that he kept them from knowing. Later, Clay came home to see Lainie, Matt and Justin sat watching TV like a family through the window. He came in and sarcastically commented on how they looked. Later on Lainie told him that he could keep going with his silent treatment as she understood why he wasn't talking to them, but that Justin would need his support the next day.[46]

Matt and Lainie became mad at Clay again because he hadn't told them that Justin was on drugs when he brought him here, Matt asked if they should call social services, Lainie told him that if social services was called Justin would disappear into the system and would not testify, Matt became angry and asked Lainie if that's all she cared about, Lainie told him that she cared about keeping the kids safe which was hard to do when they were working against them. Clay asked how he was working against her and Lainie told him that she was aware that he used his computer to leak the audio of the tapes because the files were watermarked. Lainie told him that he endangered her career and their livelihood, Clay then told her that she ruined his life. Matt silenced both Lainie and Clay from fighting further and told Clay to go to his room.[47] The next day Clay and Matt have breakfast alone, Matt informed him that he and Lainie had a disagreement and she went to stay with her sister while they figured things out.[48]

Justin and Clay came down in the morning and Lainie noticed bruises on both of their face and asked what happened. They both lied but Lainie didn't believe them and told them that if someone was hurting them they needed to tell her and Matt. Clay then asked what his mother was doing back home considering she was staying at her sisters house. She apologised for an argument between her and Matt having an impact on the family and Justin and said that it was fair for them. Justin told them that he felt like when he came into the house he messed things up for their family; Matt, Lainie and Clay protest his statement. Clay asked Lainie if she was back at home for good and she affirmed, and added that she needed to talk to Justin privately about legality and couldn't tell Clay why but if Justin decided to tell Clay afterwards that would be up to Justin. After the jury gave their verdict on Hannah's case. Clay and his friends watched Justin get arrested after testifying that he knew Jessica was raped by Bryce but didn't alert police and in fact tried to hide that it happened. Clay stressed to his mother about Justin's arrest but Lainie told him that Justin knew it would happen—which would be one of the legal things she and Justin spoke about—but she would try her best to get him out.[49] After Justin's arrest and Bryce and Jessica's court case is over, Lainie became Justin's lawyer and attended a court session with Justin, Lainie came out to meet with Clay and Jessica—who were waiting outside for Justin and Lainie—and informed him that they would only release Justin to a legal guardian and informed Jessica that she was working on a court order for the school that would legally stop Bryce from being able to interact with her. Later on, Lainie and Clay attended Hannah's wake after they attended her funeral, Lainie implied to Clay that he should talk to Justin, Clay then told Justin that he and his parents wanted to adopt him into their family.[50]
This season goes through events where Bryce Walker is either dead or alive but not in order, this details their relationship and interactions: starting from when Bryce was alive, to when Bryce is dead; in that order.

— Before Bryce died —


The day after the events of Spring Fling, Clay, Lainie, Matt and Justin had breakfast and they talked about the what happened at Spring Fling—an active shooter was reported to be in the building but turned out to be a false alarm—Lainie told the boys "At least you're all safe". Matt expressed that he believed that calling the police sounded like it was an over-reaction. Clay makes eye contact with Justin knowing that they are the only ones in the room that know what actually happened. Matt them moved on to wanting to clear out the workshop, Lainie asked if it would be for Justin, commenting "So we bring him into the house and then send him to a different building?" Matt told her that they are both boys, and that they would be seniors next year and need space. Lainie told him that they didn't need their space as they manage "all kinds of miscreant behaviour without either of us knowing" she tried to affirm with Clay but Clay seemed distant, she called out his name and he affirmed her statement.[51] One day, Lainie came in to Clay's bedroom—the workshop—while Clay had a new student named Ani Achola over, she introduced herself to Ani and Clay introduced Ani to her while she was doing the laundry for the day.[52]

— After Bryce died —


Lainie and Matt decorated the house appropriately, Clay came into the kitchen and Matt asked if he was ready, Clay asked what he would be ready for and Lainie reminded him of Justin's social worker's visit. Clay asked if he needed to be there for it and Lainie reminded him that they needed to let the social worker know that they could provide Justin with a happy and healthy environment. Clay then told them that he had something to do but he would figure out how he could be at home to talk to the social worker and do what he needed to do. Lainie and Matt gave each other a worried look and Clay reassured them that he understood the situation and left.[53] The Jensens attended Bryce Walker's funeral and Clay asked Lainie what the situation was with Barry Walker. She told him that she didn't know and asked him why, he asked about the fight they had went she went over to his house, Lainie told him that Nora Walker played the mediator and calmed things down, she added that she believed that Barry was "mostly talk", Clay then asked if she knew that Barry abandoned Bryce before his death. Lainie denied knowing of it but commented that she was not surprised. Matt told her to hold back because it's Barry's son funeral, however Lainie told him that it wasn't clear that his son had died from seeing the way he behaved at the funeral. Later, after Clay learned of the reason why Tony's family was deported and understood that deportation was a thing that he would never experience and never want to experience, he came home in a positive and loving attitude and hugged Lainie and Matt and told them he loved them, he then suggested that the family should have Justin's picture added to their family photos and Lainie told him that they would take pictures at some point with Justin as a family.[54]

After Clay was seen on the Walkers' home security camera pointing a gun at Bryce before his death, Lainie became mad that he didn't tell her about it and that he talked to the cops without a lawyer. Matt tried to calm the situation but Lainie stressed that it didn't look good that Clay had a gun pointed at Bryce just before he died. Clay told her that it was nothing and Lainie questioned him about where he got the gun and where it was left, Clay stayed silent. Lainie asked him "What the fuck were you thinking?" Clay then explained the situation and Lainie asked who he got it from, Clay refused to answer so Lainie asked Justin, but Clay told her to leave Justin out of it. Lainie stressed that he didn't understand the gravity of the situation. Clay told her that he didn't kill Bryce and Lainie told him that the police believe he did and that the court system isn't perfect and it didn't matter if he didn't do it; it looked strongly like he could have. He asked her rhetorically if she believed him and if she believed that he killed Bryce. He became angry and stood up from his seat. Matt once again tried to calm the situation and Clay asked him if he believed that he didn't do anything which Matt affirmed. Lainie told Clay that they would be able to take care of it and keep him safe but they needed to know everything and not be told lies. Clay said that he never lied, and Lainie stressed to him that he withheld. Clay once again asked her, this time non-rhetorically, if she believed that he could kill someone, Lainie answered that it didn't matter what she thought but Clay shouted "Yes, it does!" and left the room.[55]

After the police came into the Jensen's household with a warrant to search the house, Lainie sat down with Justin and Clay to discuss it. Justin told her that they took both of their laptops and Clay mentioned his phone being taken. Lainie then asked him what, if anything, they would find on his phone. Clay revealed that he sent a text message to Bryce threatening to kill him, he explained that it was after the events of Homecoming and he was mad and later he deleted them. Lainie informed Clay that she would talk to Dennis and instructed the boys not to talk to anyone else about the case. Matt asked Clay why he sent the text and Clay remained silent. Later on the Jensens' met with Dennis to talk the events through. Clay explained the situation regarding the text and Olivia Baker's voicemail but refused to say anything that could hurt Olivia. Dennis realised that he was more focused on saving his friends than saving himself and explained to him the full gravity of the situation. Matt asked him if he was at Bryce's house, which Clay remained silent on. Lainie then asked him why he was near Bryce's location minutes before his death, which Clay also stayed silent on after realising that the situation made it look like he definitely killed Bryce.[56]

After Clay realised that the cops were closing in on him and got a warrant for his arrest to be made, he went on the run. Dennis, Justin and the Jensen's had a meeting where Lainie asked Justin if he knew where he went and Justin told her he didn't, Dennis asked what time he realised Clay was gone and whether or not Clay alerted him that he intended to go on the run. He told him he realised at midnight and said Clay didn't tell him.[57] Later Clay was caught and arrested, he came out and had to wear an electronic device to track his location. Lainie told him that it was brutal but it was better than being in a jail. She told him that he had a meeting with the school counselor to see if it was okay for him to go back to school, Clay sarcastically commented on it and Lainie told him to stop making sarcastic comments and that his state of mind counted in the situation. Lainie told both Clay and Justin to watch their backs. Later on, Clay's name was cleared and the got closed, the Jensen's, Justin and Tony and Caleb had dinner together and before they ate they went around the table stating what they were thankful for. Lainie stated that she was thankful that Clay was still here and that he has people who care about him. Clay stated that he was thankful to be there with them and to be alive.[58]
Matt Jensen
Lainie and Matt are continously tied over Clay's situation. They have their ups and downs, Lainie tends to care about both her career in law and her personal life but sometimes makes Matt mad when she seems to care more about her career, when something legal to do with Clay happens, than their family's situation. Matt and Lainie have an argument over their situation and she goes to stay with her sister for a while, later she comes back and apologises to the family for their argument having such a big impact.
| | |
| --- | --- |
| | Note: This section is a stub. You can help 13 Reasons Why Wiki by expanding it. |
Justin Foley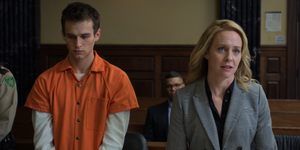 Lainie was angry when she first found out that Justin was hidden in their house, but after Justin explained his home situation, she tells him he can stay as long as he need to. She soon starts treating him like a son, and buys him clothes and a phone. Lainie gets mad when she finds out Justin's on drugs and leaves for a few days after a fight, but returns when she finds out Justin is going to testify to prepare him for the possible consequences. When Justin gets arrested, she and Dennis try to get him released. She and Matt talk about adopting Justin. Throughout the third season, Lainie cares a lot about Justin - like supporting him during Bryce Walker's funeral. She also explains that Justin will always have a home with them. During season 4, Lainie is the first person Justin goes to about his mother's death, which devastates Lainie.
Appearances
Quotes
"
I am defending a lawsuit brought by two parents whose daughter was so damaged by something that she took her own life. What if our son was part of that?
"
— Lainie to Matt in Tape 5, Side A
Lainie: "My son is worth everything to me, as I'm sure Hannah is to you. And if I lost him... felt someone had taken him from me, I would pursue any remedy possible. But I don't know any amount of money would suffice."
Olivia: "Would you settle for, say two hundred thousand dollars?"
Lainie: "I think I would only settle for the truth, whether I liked it or not."
―  Lainie when Olivia asks how much Clay's life is worth to her
Lainie: "How was court yesterday?"
Clay: "Why don't you tell me?"
Lainie: "I was just there to drop off some files. What about you? "
Clay: "I was just curious."
Lainie: "Clay, I know you said you don't think about Hannah, that you don't care about her anymore, but I am worried that that's not true."
Clay: "I gotta get dressed for school."
Lainie: "Well... okay."
Clay: "Okay."
―  Lainie and Clay on being at court and Lainie on Clay thinking about Hannah
Lainie: "You endangered my job, my license, our livelihood."
Clay: "You ruined my fucking life!"
―  Lainie and Clay arguing
Trivia
Gallery
See also: Category:Images of Lainie Jensen
References
See also