"
Eleven reasons, she came up just short. But she left so many out, you know that, don't you? No matter how many reasons there might be 'why?' there are always more 'why not?'
"
— to Clay Jensen, after she finds Hannah's Reasons Why Not List and shows him, in "Bye"
Olivia Baker is a main character in the first and second season and a minor character in the third season of Netflix's 13 Reasons Why. She is portrayed by Kate Walsh.
Olivia is the grieving mother of the late Hannah Baker, ex-wife of Andrew Baker and former co-owner of Baker's Drug Store. In the second season, she files a case against Liberty High School to get justice for her daughter's death.
Early Life
There has been a history of mental illness in the women on her side of the family.[1] When Olivia was 12 years old, she was raped by an 18-year-old guy.[2] Hannah mentioned that her parents started dating in high school and that Olivia was popular in at her school.[3]
Her husband, Andrew, cheated on her with Valerie for a month before he confessed to his affair. The affair is something that Hannah knew about (through an accident) before Andrew told Olivia.[4]
Throughout the Series
Personality
Olivia seemed to be happier and outgoing just like her daughter before her death; however, she was stressed about her family's store when she and her husband had begin losing customers to their rival store Walplex and struggling financially. She seemed to be unaware that Hannah was having problems at Liberty. After her daughter's suicide, she becomes reclusive and frantic. Olivia becomes desperate to know why her daughter committed suicide since she and her husband never got a note. She feels guilt for not being there to support her daughter. As she explored Liberty after Hannah's death, she became more aware of the situation that her daughter was in and the bullying culture. As soon as Tony gives her and Andy a flash drive of the tapes, she feels closure and confident that she will win the lawsuit against the school.
Physical Appearance
| | |
| --- | --- |
| | Note: This section is a stub. You can help 13 Reasons Why Wiki by expanding it. |
Relationships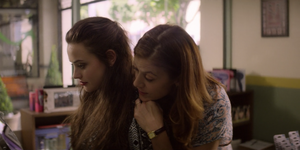 Olivia was close to Hannah before her suicide. She wanted what was best for Hannah. While Olivia was preoccupied with her store, she was unaware that Hannah was having problems and expressed grief over not being able to notice the signs that her daughter was suicidal. Olivia becomes desperate to know why Hannah took her life as she goes through her room and her belongings for evidence. After she receives the tapes that Hannah recorded before she died, she felt closure.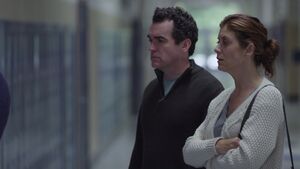 Andy was Olivia's husband. He had known Olivia since high school. They were happily married up until the point of Hannah's death and his affair with Valerie. Before Hannah's death, he and his wife was facing financial troubles with the store and along with his wife, was unaware of Hannah's problems at school. Andrew feels guilt for Hannah's death but reluctant to go to trial since they lack the evidence they need to win the lawsuit against the school. After receiving the tapes, Andy feels closure along with his wife. During Hannah's trial, they grow apart and head for divorce. Andy does not participate throughout most of the trial and moves in with Valarie. He lies to his wife about living with her; however, Andy comes to support Olivia and has dinner with her. After Hannah's funeral, Andy marries Valarie with her daughter so he can be reminded of being a father.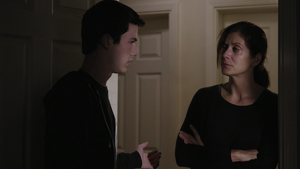 Olivia didn't know Clay before Hannah's death. He comes by to visit Olivia after seeing other children TP'ing the Baker House during Halloween. Olivia notices Clay at Liberty and at Monet's and becomes curious of who he is. During his visit to Hannah's house, Olivia gets to know Clay. He becomes reluctant to give Olivia the tapes and becomes hesitant when asked about how much he knew Hannah afraid that Olivia would blame him for Hannah's death. She wonders how much information he could get from Clay, but leaves before she gets a chance. Clay helps Olivia piece together Hannah's journey throughout school to help her learn why Hannah committed suicide. During Hannah's trial, Clay slowly reveals his relationship to Hannah and confesses his love for her. Olivia admires Clay's loyalty to Hannah and the one person she could trust. Olivia becomes more open to Clay and even gives him Hannah's "Reasons why not" when Clay is mentioned twice on the list. As soon as Olivia leaves for New York, she wishes she got a chance to know him when Hannah was alive.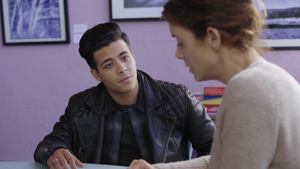 Tony helps support Olivia and Andy while they are finding evidence for their lawsuit and finding reasons why Hannah committed suicide. After Olivia finds a piece of paper which shows all the names that Hannah named on her tapes, she becomes skeptical of Tony and convinced that he is hiding something. Tony keeps the tapes safe as he wanted to keep Hannah's secrets for her. Tony later gives audio files of the tapes to Hannah's parents knowing that they needed to know Hannah's secrets. He spends more time with Olivia during Hannah's trial to support her.

Appearances
Season 3
Season 4
Quotes
Olivia: "All these people were Hannah's friends?"
Courtney: "Mm-hmm. She had so many friends and we all miss her so much."
Olivia: "Anyone who knew Hannah would know that she hated roses. She thought they were a cliché."
―  Olivia when seeing Hannah's school memorial
"
Andy… how did we not know? How did I not know? She was right here. And she was in pain, she was reaching out, and we just kept pretending everything was okay.
"
— Olivia about not knowing what Hannah was feeling.[src]
"
You don't win a chess match by giving away your strategy.
"
— Olivia[src]
"
We've all done things we're not proud of. And they seem to find out about the one thing you wish they wouldn't.
"
— Olivia[src]
"
Keeping it in, that is not brave. Feeling the pain, facing it, that takes courage.
"
— Olivia to Jessica[src]
"
My daughter wasn't the perfect victim. There's no such thing. Hannah was a beautiful young woman. Full of life, and dreams, and passions, and fears, and failings like any other teenage girl. And we let her down. And people wanna point to the parents, but we didn't allow her to be bullied, and we didn't send her away when she came and asked for help, and we didn't send her back to class with her rapist. Boys bullied her and adults allowed it. You know, I don't know a single woman who hasn't faced sexual assault, abuse, or worse. Not one. Many survive. My daughter didn't, and that's not her fault.
"
— Olivia to the reporters outside the courthouse.[src]
"
She dreamed of going to New York to become a writer. I'm not sure when that dream began to feel impossible to her. Hannah was my dream. And now I get to dream for Hannah as well as for myself. And so do all of you. So, please, dream your dreams. And dream them for Hannah, and don't let anyone take them away from you. Don't ever let them go.
"
— Olivia at Hannah's service[src]
Olivia: "I wasn't sure if I should share this with you, but after hearing what you said, I think... I think it's all right. I found it on one of the old computers when I was cleaning up the store. Hannah wrote it."
Clay: ""Reasons why not.""
Olivia: "You're on there. At least once, possibly twice. Did... did she call you "Helmet"?"
Clay: "Yeah, she did."
Olivia: "Eleven reasons. She came up just short. But she left so many out. You know that, don't you? No matter how many reasons there might be "why," there are always more "why not.""
―  Olivia showing Clay Hannah's reasons-why-not list.
"
I wish you a lifetime of learning what sorry means.
"
— Olivia to Bryce after he tries to apologize.[src]
Clay: "You never asked if I killed Bryce."
Olivia: "You never asked me."
―  Clay and Olivia before Olivia's elevator closes.
Trivia
In "Bye", Olivia tells Clay that she's moving to New York because it was always Hannah's dream.
Gallery
See also: Category:Images of Olivia Baker
References
See also