This article is about the Netflix series character. You may be looking for the book character.
"
I had a friend. Her name was Hannah. She killed herself. She left a job for me. Secrets to keep. I tried, I tried to honor her memory. I tried to keep those secrets, but I don't think I did the right thing. Her parents are hurting. I don't know what I'm supposed to do. I don't know what I'm supposed to do. I just - I wanted to take care of Hannah.
"
— telling Brad about Hannah and The Tapes, in "Tape 6, Side B"
Antonio "Tony" Padilla is one of the main characters in Netflix's 13 Reasons Why. He is portrayed by Christian Navarro.
Antonio, more commonly known as Tony, is a high school student at Liberty High who helps Clay with dealing with Hannah's death and is revealed to be the person who saw Hannah get taken away in an ambulance. He is the person Hannah enlists to take care of the tapes. She delivers them to his door before going home to commit suicide.
Early Life
Tony knew from a young age that he was different and tried things with girls before realizing that he's gay.[1] He came out to his dad when he was 14 years old. His dad kissed Tony on the head and said he loved him, but stayed silent for six days after that.[2]
Throughout the Series
Personality
Tony is shown to be a kind, caring, and loyal person. He is shown to be a good friend to Clay and was also a good friend to Hannah and was one of the only boys at Liberty High who did not ridicule her or sexually harass her. While he claims that Hannah was a friend, Tony himself admits that she was a bit too much to deal with and on the day she killed herself he wanted to avoid her drama for once and did not answer the door and just let her walk away after she arrived to give him the tapes and as such let her walk away to her death. Tony is shown to extremely remorseful for what he did by ignoring Hannah and as such is shown to be dedicated to fulfilling her final wishes to deliver the tapes to all those on her list that she reveals are the reasons for why she ended her life. He is also very close to Hannah's family and no doubt wants to help them in any way possible. While not on Hannah's list at all, Tony considers himself to be one of the reasons why she killed herself. He is very comforting as well as he reaches out to Clay during his grief over Hannah's death.
However Tony is shown to be a little too dedicated to his mission to follow Hannah's wishes as instead of turning the tapes over to Hannah's parents or the police he instead delivers it to the people on her list as she wanted which has caused many disasters to occur such as Alex becoming suicidal and attempting to kill himself and Tyler being bullied to an extent so great that he seems to be planning a school shooting. Even though he is well aware of Bryce's crimes, he still refuses to cease following Hannah's rules and expose the tapes to the public as he claims that the word of a dead girl will not be enough to bring Bryce to justice. He also disagrees with some of Clay's plans for revenge against some of those on the list such as spreading a humiliating photo of Tyler to the whole school. Tony is shown to be capable of physical aggression as Clay once witnesses him savagely beating up someone along with his brothers. He even lies to Hannah's mother a few times about knowing anything about why she killed herself simply to follow Hannah's rules.
By the end of the first season however, and after Clay is able to get a confession from Bryce, Tony finally understands that it is better to think about what Hannah needs rather than what she wanted and gives up copies of her tapes to her parents in the hopes that they will be able to help get justice for Hannah's death.
Physical Appearance
Tony is on the shorter side and has black hair, hazel eyes, and tan skin. Tony's hair is always gelled back very carefully and he dresses in a style similar to what a greaser in the 1950s might wear, with jeans, a leather jacket, and combat boots making up his outfits.
Relationships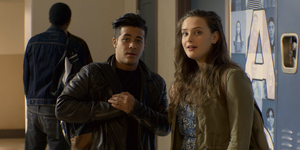 Before committing suicide Hannah gives the tapes to Tony telling him to give them to the people on the list. Hannah and Tony are good friends hence her giving the tapes to Tony. However, Tony later revealed their friendship isn't the reason she gave him the tapes. After Tony had beaten up a guy, Hannah hid Tony from the cops. They would hang out from time to time and Hannah would encourage Tony to ask out Ryan.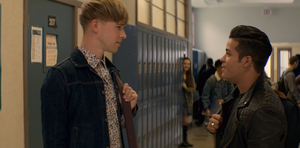 Ryan is Tony's ex-boyfriend. Tony had a crush on Ryan and asked him out. Their relationship didn't work out, but they remained friendly with each other. For example, Ryan offered to go to court with Tony and he made sure he didn't say anything in court that could get Tony in danger. Tony would invite Ryan to sit with him and Caleb when he was stood up by a date.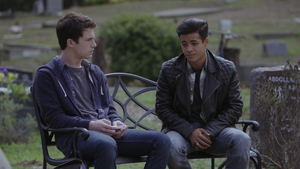 Clay and Tony have been friends for a long time. At some point, Tony recalled a time in seventh grade where Clay got bullied and Tony had offered that he and his brothers would go after the bullies. Tony has been there through the whole season to help Clay understand the tapes, but sheds very little light and instead told Clay to listen to the tapes. Tony stays with Clay when he listens to his own tape and comforts him when he breaks down. At the end of the season, the two of them drive off with Skye and Brad while listening to the radio.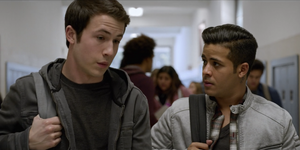 In the second season, Clay asks Tony for help with finding Justin in Oakland. Together they find Justin and bring him back to Evergreen, but Tony doesn't want to help with detoxing him due to his probation. At the Spring Fling dance, Clay surprised Tony by having invited his boyfriend Caleb to the dance. When 'The Night We Met', a song that reminds Clay of Hannah, started playing, Tony immediately started looking for Clay and hugged him. Later that night, when the group finds out that Tyler wants to start a school shooting, Clay goes to Tony for help.
In the third season, Tony helps Clay with covering up Tyler's attempted school shooting and getting Tyler better. After bringing Tyler home, Clay tells Tony that he's a good friend. Tony replies that it's both a blessing and a curse. Clay and Tony's becomes a bit rocky later in the season, as Tony didn't tell Clay about his family getting deported and about his interactions with Bryce. Clay started to doubt their friendship and had wanted to be their for Tony when his family got deported. Tony eventually tells Clay everything. Clay tells Tony that he loves him and Tony tells him the same as they share a long hug. Later in the season they have another confrontation, as Tony lied to Clay about meeting up with Mrs. Walker. Clay again starts to doubt their friendship and is suspicious of Tony. When the police suspected him for murder, Clay went to Tony to ask if he could make him dissapear. Tony planned to bring Clay to his family in Mexico, not caring about Caleb's worries and the risk of getting arrested himself. Tony is convinced Clay didn't murder Bryce and allows Ani to tell the police about his meeting with a cartel member to protect Alex and Clay.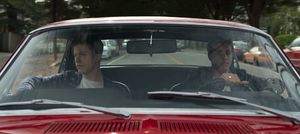 In the fourth season, Clay helps Tony with finding out what Tyler is up to regarding the guns he apears to be buying. When Tony thinks the police is setting up a trap for Tyler, Clay tells him that he's not in the right state to help. Tony comments that it's not like him to turn down a friend in need. Tony waits for the police's trap alone, but then gets joined by Clay who tells him that he "of course" showed up, which made Tony smile. The two see and follow Tyler, which lets to them getting trapped between the police and a gun seller. They find out that Tyler was working for the police and that's why he was buying guns and later apologize to Tyler. At prom, Tony and Caleb join Clay when he's sitting alone at a table. Tony here kisses Clay on the cheek and says that he loves him. After Clay freaks out at the sheriff's department, Tony and Clay are put in an interview room together. Here Clay tells Tony that they haven't really been there for each other lately. At Justin's funeral, Tony sits next to Clay. Clay tells Tony that he always makes things better, but Tony says he just shows up. Clay mentions that he hasn't showed up for Tony, but Tony denies this by saying that they both show up for each other. The season ends with Clay and Tony driving off to Tony's school together.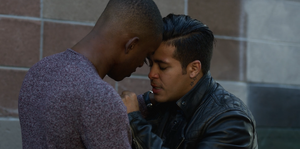 Caleb is Tony's boyfriend. Caleb is Tony's boxing coach, and they soon start hanging out outside the training sessions. They slightly show interest in each other. Through the second season, they become closer and start dating. They eventually open up to each other more. Tony doesn't want Caleb to meet his family yet; he says he just needs some time.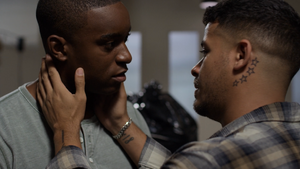 In the third season, Tony wanted to introduce Caleb to his family. He told Caleb that his mother was going to love him and the rest of his family would accept him. When arriving at the house, Tony finds out that his family is deported. After this, Tony wants to sleep at the family garage. Caleb told him to stay at his house, which Tony didn't want because his home is with him family. Caleb however managed to convince him that home is with people you love and he loves him and told him that Tony's life is also his life. Later, months after Tony had sold his car to Bryce Walker, Caleb surprises Tony by buying back his car. On Thanksgiving, Tony facetimed his family and introduced them to Caleb.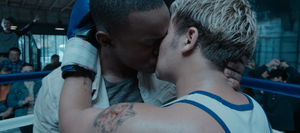 In the fourth season, Caleb supports Tony when he starts participating in professional boxing matches. He's also worried, especially as Tony goes to fight a white supremacist and Caleb thinks he'd want to try and kill Tony. After winning this fight, Tony gets offered a scholarship. Caleb encourages Tony to take it, but Tony doesn't want to because he needs to run his family's garage. Caleb facetimes with Tony's dad, who tells Tony to take the scholarship and sell the garage. Caleb buys the garage from Tony so he can go to college. Tony asks Caleb "What if I'm lonely?" Caleb then tells him that they're only an eight-hour drive apart and they'll make it through. At the end of the season, Tony kisses Caleb goodbye as he and Clay leave for college.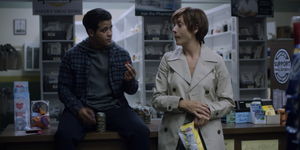 After Hannah's suicide, Tony helps Olivia to understand more about what Hannah was going through and helps with the investigation. After thinking about what's best for Hannah he then hands over a copy of the tapes to Olivia and Hannah's father Andrew at the end of the first season. When listening to the tapes, Olivia would keep calling Tony to ask questions about them. Andrew found the time Olivia spent with Tony inappropriate. In Season 2, Tony often visits Olivia in the store to help and talk with her.
Appearances
Season 3
Season 4
Quotes
"
Listen to the tapes, Clay
"
— Tony to Clay[src]
"
Hannah got hurt. It happens. You never really know what's gonna hit how. You don't know someone else's life.
"
— Tony to Clay[src]
"
Primero comemos, entonces lo demás.
(Translation: First we eat, then we do everything else.)
"
— Tony to Clay[src]
"
Sometimes when there's no justice, you're gonna make it for yourself.
"
— Tony about why he and his brothers beat up a guy[src]
"
She took her own life, Clay. That was her choice. But you, me, everyone on these tapes, we all let her down. We didn't let her know that she had another choice. Maybe we could have saved her, maybe not. It's impossible to know.
"
— Tony when Clay asked if he killed Hannah[src]
"
Okay, don't go into your Clay-hole. I'm not in the mood
"
— Tony to Clay, after Clay questions himself about being racist.[src]
"
When we act out of anger or fear, we can hurt people we don't mean to hurt.
"
— Tony testifying in court[src]
"
I think, sometimes, we aren't keeping secrets to hide from other people. I think, sometimes, we're keeping them to protect those people.
"
— Tony to Olivia about why Hannah kept secrets[src]
"
I've always been rough around the edges. Or at least that's what people think. Maybe it's what I want them to think.
"
— Tony during his testimony[src]
Clay: "Thanks for getting into this with me. You're a good friend."
Tony: "It's my blessing and my curse"
―  Clay and Tony
"
No matter what may come, or where we go, if it's one person in the mirror or all of us, we remember how good we are.
"
— Tony to his sister Gabriella[src]
Tony: "Have you even listened to her tapes?"
Bryce: "I never got the tapes."
Tony: "They were on the fucking internet."
Bryce: "Yeah, but they took them down."
Tony: "After two months!"
Bryce: "No, I never listened."
Tony: "Then you don't have any fucking idea how you hurt her."
―  Tony to Bryce about not knowing how he hurt Hannah
"
Hannah wanted it to be tapes. I made a promise, to see to it that everyone on the tapes hears the tapes. Tonight I keep that promise.
"
— Tony before letting Bryce listen to the tapes[src]
Bryce: "It was Justin's tape. It should have been mine."
Tony: "Two things. One, your tape is coming up. Two... they're all your tapes."
―  Bryce and Tony after listening to tape 9
Tony: "I always knew I was different, from a pretty young age. I just didn't know how. It was hard to find out, growing up how I did, where I did. Being a man is a particular way. So no one to ask about it. I tried things with girls pretty early on. Nothing really ever came of anything."
Alex: "Never?"
Tony: "No. I always felt like I was, uh...like I was playing a role or something. 'Cause I wasn't feeling like I was supposed to be feeling. Then I started feeling shit for boys. And that's how I knew."
―  Tony and Alex
Clay: "I think things are wrong. I think shit's happening."
Tony: "Yeah, that's, like, for years now."
―  Clay and Tony
Tony: "You could take her money. It would be the most fair thing."
Ani: "Would you take her money? I mean, it's not just about me."
Tony: "You have to stop worrying about them now. You and me, we do for Clay, for Jessica, for Alex, for all of them, without question. But what happens to them if the shit comes down? And what happens to us? They have parents who are citizens. It's different for us. Tell me I'm wrong."
Ani: "So what? You drive away? Leave Clay standing on the curb? He's your ride-or-die."
Tony: "I don't know. He showed up for Tyler, but...I don't know him anymore."
―  Ani and Tony
"
I have all of this shit in my life that I'm afraid of. That I can't fight back against. This is the one fair fight in my life
"
— Tony about his upcoming fight against a white supremacist[src]
Tony: "What if I can't do it? What if I'm lonely?"
Caleb: "Well, I'm eight hours away by car. Zeven the way your drive."
Tony: "I'm scared"
Caleb: "I know and that's okay."
Tony: "Okay."
―  Tony and Caleb about going to college
Trivia
Tony confirmed himself to be gay[46] and Catholic[47]. In the third season, he revealed that he gave up on Catholicism.[48]
Tony was Hannah's only friend from high school at the scene where Hannah committed suicide, arriving approximately half an hour afterward.[46]
As one of the only people who were nice to Hannah, Tony was not one of the reasons for her suicide and was the one entrusted with her tapes.
While Tony is not one of those who "killed" Hannah, some fans claim he technically "killed" her:

Hannah dropped her tapes off at his place, but, because he wanted to avoid her "drama", he waited an hour and a half before listening to them. By the time he realized what was about to happen, it was too late. Tony feels guilty over this and explains why he's so devoted to making sure those responsible for her suicide get the tapes (especially Clay, whom he knew would take it the hardest).

Tony rarely shows much emotion in the first season. He does, however, cry in episode "Tape 6, Side B".
Tony has three older brothers and a younger sister, who appear in "You Can Tell the Heart of a Man by How He Grieves".
Tony's astrological sign is a Scorpio♏, in a flashback he is shown talking to Ryan Shaver, Ryan stated "Scorpios are skeptical by nature", when talking about Tony.[49]
Tony is related to Angie Romero, she is his "third cousin, maybe fourth".[50]
His family might not know about his sexuality, as he refused to let Caleb meet his family in "Bye", claiming he "needed time". Later, however, in the third season finale, they are shown to be aware that Tony is dating Caleb, and seem to approve. Tony also tells Clay after he told his father he was gay, his father struggled with the knowledge for a week before accepting it.
Tony is the first main character that is Hispanic.
His birthday is November 20th.
Tony drives a 1960 thunderbird, a red convertible.
His favorite colors are red and black.
Gallery
See also: Category:Images of Tony Padilla
Playlist
References