"
I thought I'd never be able to get away from who I was. Who I've been. From what hurt. So, I climbed the bridge, and I looked down, and I saw this, like, flash of purple, like a jacket. And somehow, I just knew. So, I went down below the bridge. And I saw it was him. Bryce. Dead. Cold, like, gray. Like, not a person. And I thought 'That's it. He doesn't get to be anyone anymore. It's over for him.' And I knew right then that I didn't want to be dead. I want to live, and keep getting better and be stronger, and that's that's why I want to give the gun away. Because I didn't need it anymore.
"
— Tyler, in "Angry, Young and Man"
Tyler Down is a main character in 13 Reasons Why. He is a graduate of Liberty High School, the son of Mr. and Mrs. Down, and listed by Hannah Baker as the fourth reason that led up to her suicide. He is a survivor of rape, along with Jessica Davis. He is a photographer who formerly worked as his high school's Student Life Photographer. He is portrayed by Devin Druid.
Tyler was Liberty High's Student Photographer. In the first season, he is shown as the subject of "Tape 2, Side B", where he was responsible for photographically stalking Hannah Baker and spreading a photo he captured of Hannah and Courtney Crimsen kissing to everyone in the school, which ultimately ended Courtney and Hannah's friendship, due to Courtney being too scared about coming out as a lesbian. He is constantly bullied by Montgomery de la Cruz and his friends, but finds friends of his own. His friends leave him which makes him feel lonely and depressed.
Tyler goes through ups and downs in the second season, he seems to have become stronger and healthier, but still gets pushed aside by the group who don't see him as a friend he makes friends with Cyrus. He goes on a date with his crush, Mackenzie, and they begin dating, but eventually break up. Cyrus and Tyler have a tight but troublesome friendship and they take their hatred for the school bullies out on the school by various things, most notably: vandalizing the football field with the word "Rapists". Their miscreant behavior results in Cyrus being suspended and Tyler entering a programme to control his anger. He comes back incredibly happy and much healthier. Unfortunately, his glowing happiness is put to a monstrous stop, when he is mercilessly and brutally beaten and raped by Montgomery de la Cruz with a broom handle in the boys bathroom. Monty's actions push him beyond over the edge as he attempts a school shooting in "Bye", attempting to kill everyone who hurt him and then himself. However Clay Jensen, who Tyler had stopped considering a friend, convinces Tyler that it isn't the right way to make the hurting stop.
Tyler works through his trauma in the third season, Clay gathers some friends together to help take care of Tyler during his recovery. Tyler joins Hands Off Our Bodies—a group of sexual assault activists determined to dismantle the rape culture at Liberty High—as an ally. Tyler works up the courage to tell his friends that Monty raped him: he shares an emotional hug with Clay who Tyler now considers to be his best friend. Tyler shares his trauma with Jessica Davis, another rape survivor, he shows her a video he made before he planned to go through with the shooting, in which he confesses what Monty did to him and says goodbye to his parents, whom the video was meant for. He reveals to her that he told Bryce, who felt sorry for him and promised he would make Monty leave him alone. At the end, he showcases his photography: photos of everyone who has helped him, being happy.
Tyler reveals that he no longer feels anger toward Monty, just pity for him in the fourth season. Tyler begins to lose his friends trust as they grow suspicious of him. Tony believes that Tyler is attempting another school shooting when the school goes into lockdown: code red, and informs the Principal that Tyler had been looking at guns. Lockdown is lifted, revealed to be a practice drill that felt more real, Tony becomes alarmed at his mistake with Tyler who becomes angry. During his college interview, he admits to struggling but wanting to start over. He wants to study photography in an arts school and showcases his project on guns: which he explains are beautiful but deadly; wanting to get people to see and think why people feel attracted to guns but also fear them simultaneously. Tyler's attempt to help the police is halted by Clay and Tony who falsely believed that he was being set up to be arrested but save themselves from outing what Tyler almost did at Spring Fling. Clay and Tony apologize to Tyler and re-affirm their trust in him. Tyler attends Prom with Estela de la Cruz and begins dating her, and graduates Liberty High School.
Early Life
Very little is known about Tyler's past. What we do know comes from his own words in his goodbye video where he talks about hurting, feeling cut and bleeding everyday since he was 7 which has caused him to feel rejected, alone, and that his life is meaningless. This shows Tyler's been bullied and hurt by others for years which may have caused him to isolate himself in photography and yearbook which ended in him becoming anti social and others at Liberty to view him as a loner and a creep and was bullied often by other students, mostly jocks, only increasing his feelings of rejected.
Throughout the Series
Tyler's Mistake (Reason #4)

Tyler is Hannah's fourth reason of why she committed suicide.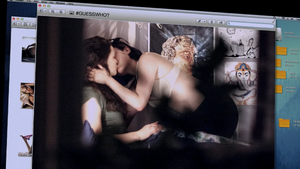 Tyler developed a crush on Hannah, however, he was too shy to tell her his feelings in person and he then decided to begin stalking her and taking photos of her without her consent, which completely frightened her. Eventually, Courtney volunteered to help Hannah catch her stalker and they were eventually able to catch Tyler in the act of taking pictures, causing him to flee the scene. However before this occurred he was able to get a photo of Hannah and Courtney kissing, evidence of Courtney being a lesbian.
Hannah personally confronted Tyler at school and demanded the photos he took and all the negatives, which he gave to her. Tyler attempted to ask Hannah out but she just laughed and left. Out of spite, Tyler spread the photograph of Hannah and Courtney to the entire school, causing Courtney to turn her back on Hannah for a time. Despite this, nobody at school figured out that it was Hannah and Courtney in the photo. Tyler's actions ultimately led to Courtney betraying Hannah and destroying her reputation in order to hide the fact that she was in the photo alongside Hannah after Montgomery confronted her about the photo.
Personality
Tyler is shown to a socially awkward, uncaring, spiteful and selfish person. Being a dedicated photographer, he appears to not care at all about people's privacy and constantly stalks people and takes pictures behind their backs and as such is despised by a majority of the people at Liberty High. He was shown to have a crush on Hannah Baker though was too shy to tell her this in person, when he first saw her, he asked to do a photoshoot with her, after she asked him to take a picture of her, seeing that he asked a group of girls and they harshly rejected him, she gave him a chance because no one else seemed to, after the picture of her got sent around the school, Tyler unknowingly and accidentally said the wrong thing, she rejected him and he resorted to stalking her for days just to get photographs of her which completely frightened her.
After being caught by Hannah and Courtney and giving up the photos he took of them at her request, he finally told Hannah of his feelings though due to his actions was coldly rejected by her and out of spite he cruelly spread the photo of Hannah and Courtney kissing to the whole school which not only further ruined Hannah's already damaged reputation, but also destroyed her friendship with Courtney and led Courtney to betray Hannah and destroy her reputation even further just to save herself.
Tyler appears to show little remorse for what he did to Hannah and no doubt wants the tapes to be kept a secret to protect himself from punishment. He is shown to be willing to resort to extreme measures to protect himself as it is he who suggests that he and the others on Hannah's list use Bryce as a scapegoat to minimize the damage on themselves as he views Bryce as being dangerous and that his actions are the worst, completely ignoring that he is guilty of crimes as well such as trespassing and invasion of a minor's privacy.
Due to his actions towards Hannah and Courtney, Tyler, like Hannah has become a victim of intense bullying and ridicule and as a result of Clay, humiliation on the same level as that suffered by Hannah. The others on Hannah's list even grant her request to throw rocks at his window for revenge on what he did, showing how much they hate him. By the end of the first season, Tyler is shown to have finally had enough of his torment and appears to be embarking on a violent, murderous path as he purchases an entire arsenal of weapons and also makes a hit list of all those on Hannah's tapes and those who have bullied him, possibly showing he wants to murder them all as revenge.
In the second season, Tyler appears to be regretful of his actions and appears to be trying to turn his life around. He tells the truth in court and helps Alex in his recovery. He even makes friends with other outcasts, most notably Cyrus. However, the majority of the school still ostracize him, as the jocks still dislike him and Chloe refuses to let him photograph cheerleading practice, which the principal tells him he is no longer allowed to do. He also appears to have developed violent tendencies, as he keeps the guns he had in the trunk to shoot cans and bottles, and later a bird invites Cyrus to do it with him and even admits that it is easier to do if one imagines the target as someone they hate. His change is shown when he starts listening to heavy metal music, courtesy of Cyrus. It also appears that he is fearful of consequences from his authority figures, as when his parents confront him overshooting guns, he claims it was Cyrus' BB gun, and when they find out he bullied Marcus, he claims it was Cyrus' idea. He also abandons Clay after taking him to shoot guns when the cops start to show up. When Cyrus confronts him over abandoning Mackenzie on their date, he claims it felt weird because it was Cyrus' sister.
Throughout the season, Tyler revenge pranks the people on Hannah's tapes with Cyrus' help depending on whether or not they tell the truth in court, but it is unclear whether he is doing this for Hannah or is simply releasing his frustrations on those he believes deserve to be bullied. This attitude of prioritizing himself eventually costs him his friendship with Cyrus, as he insults Mackenzie when she tries to console him over his premature ejaculation on their date, doing so to prevent Cyrus from finding out about it. After this, and others finding out about his date, he snaps and admits that he and Cyrus torched the field, by posting pictures of it on Facebook.
After coming back from a program to help him control his anger, Tyler appears to be fine. However, once Montgomery sodomizes him with a mop handle, he snaps and attempts to commit a school shooting, regardless of the consequences. However, Clay manages to talk him down, showing that Tyler is not completely gone yet.
In Season 3, we see Tyler to be completely traumatized by his rape by Monty as well as having almost committed a school shooting. He tries to recover with help from Clay and his friends and begins to take boxing lessons, which slowly begins to improve his confidence and mental health. He also begins taking steps to fully redeem himself for past wrongs. Though he eventually attempts to commit suicide, he decides not to once he sees Bryce's battered corpse, which results in him reporting Bryce's body to the police anonymously. He finds new purpose when he joins Jessica's support group and ally and eventually tells Clay and Jessica about his rape, as well as revealing his status as a victim.
Tyler has made mistakes and has gone through the most evolution of the Baker's dozen, asides from Justin and Zach. But he's a much different character than he used to be, and he seems to be recovering from the traumatic events of his past and moving on to live a better life.
In season 4, despite the pressure the boy has on his shoulders, Tyler seems to be getting better since the assault. He becomes friends with Winston, without knowing that he was Montgomery's ex-boyfriend. Winston asks Tyler what Monty did to him. Tyler is still uncomfortable but admits that he is no longer angry, and that he even felt pity for Monty.
Physical Appearance
Tyler is tall, lanky, and pale. He has curly brown hair and dresses very simply, normally wearing jeans, a shirt, and a jacket. He carries a camera with him everywhere because of his duties with the yearbook.
Relationships
Hannah is Tyler's former friend and crush. Tyler crushed on her after she was nice to him and he secretly started taking pictures of her at her house. He spread a kissing picture of her and Courtney around as revenge for rejecting him. Tyler is the fourth reason Hannah killed herself.
Clay is Tyler's friend. They didn't always like each other but they now have a stable relationship and are very good friends.
Alex is Tyler's friend. In the first two seasons, Alex was one of the few people who was nice to him. They developed a close friendship throughout the series.
Monty was Tyler's bully and rapist. Monty often bullied Tyler and at some point brutally raped him, leaving Tyler traumatized. After Tyler reported him and Monty was killed in jail, Tyler confessed that he doesn't hate him and feels bad.
Cyrus is Tyler's friend. They spent a lot of time together throughout the second season. Their friendship fell apart near the end of the season, but recovered in the third season.
Mackenzie is Tyler's friend and former crush. They had a crush on each other and went on a date. They stayed friends.
Estela is Tyler's girlfriend.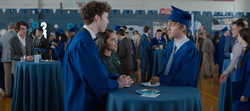 When the school was vandalized and 'Monty was framed' was written on the doors, Tyler and Estela were among the crowd looking at the graffiti. Tyler noticed Estela and grabbed his camera to take a picture of her, but she appeared confused and annoyed at him.
Tyler and Estela never talked until the school shooting drill, Estela was hiding in a bathroom and suddenly heard someone breathing heavily, on the verge of crying, and opened one of the toilet doors to see Tyler panicking. The trauma of the moment is doubled for Tyler because he's stuck in the bathroom, the place where he was assaulted. They started talking to comfort each other and Tyler opens his heart to her, not only about the assault, but about how he came close to committing a school shooting himself in the aftermath of it. He admits that he came very close to doing the same, but that his friends helped him to get better. Estela understands him. "I'm sorry for what my brother did to you" Estela says tearfully, before wondering out loud if Monty would ever have had a chance of getting better, had he lived. "He was lucky to have you for a sister" Tyler replies, "That means he had something good in his life.".
Estela and Tyler's relationship gets even better from there. After the drill, the two are seen standing together and watching Clay as he fights the police in anger and shock. Some time after, Tyler asks her to go to prom with him, to which she excitedly agrees. At prom, they are often seen dancing together, happily. After the date, they officially become a couple as Tyler refers to her as his "boo" in the last episode.
Appearances
Season 3
Season 4
Quotes
Trivia
Tyler has said on multiple occasions that he has some extremely sensitive photos of many popular people at school.
Tyler was preparing to commit a school shooting in "Tape 7, Side A", the last episode of the first season, evidence being his massive trunk containing several guns and large amounts of ammunition. In "Bye", the last episode of the second season he is pushed to the edge by a brutal sexual assault and attempts to commit a school shooting.
Tyler was the only person to admit in his deposition video that there are tapes that Hannah recorded.
Tyler is shown to be the most despised person on Hannah's list, more so than Bryce to a degree as they refuse to allow him to join in plans to silence Clay about the tapes and throw rocks at his window as Hannah told them to.
There is a strong argument regarding his presence in the tapes in the original novel of 13 Reasons Why as Hannah had speculated Tyler was stalking her instead of confronting him as opposed to the television series where he is Hannah's stalker.
In "Bye", Tyler is brutally sodomized by Montgomery. This makes both Bryce and Montgomery rapists.
The name of his Instagram is 'tylerdownphotography'.
Tyler possibly has OCD (Obsessive Compulsive Disorder). Cyrus stated "Tyler's kind of OCD. I mispelled 'Hypocrite' on Marcus's window and he freaked out".[19] In "Prom", Estela ask Tyler if he has OCD, Tyler responds yes with humor.
Tyler won a photography contest with a night vision photo of a dog urinating.[20]
He loves taking pictures.
Gallery
See also: Category:Images of Tyler Down
Playlist
References