This article is about the Netflix Series character. You may be looking for the book character.
"
I keep to myself mostly. I don't always tell people things. I'm not good with... like, drama. I learned pretty early on not to rock the boat. To stay in my lane. I try not to be a bully. I try not to be a victim. It's a tough line to walk.
"
— Zach in court, during the trial, in "The Smile at the End of the Dock"
Zachary "Zach" Shan-Yung Dempsey is a main character in Netflix's 13 Reasons Why. He is portrayed by Ross Butler.
Zach is the son of Karen Dempsey and George Dempsey, the brother of May Dempsey and the ex-boyfriend of Hannah Baker. He is the subject of the seventh tape on Hannah's list of reasons of why she killed herself.
Early Life
Zach lost his dad in the summer of 2017; he implied to having felt depressed and/or suicidal after his father's death.[1]
Throughout the Series
Zach's Mistake (Reason #7)
Zach is Hannah's seventh reason for why she committed suicide.
After being humiliated by Marcus on their Valentine's Date, Zach reached out to Hannah and tried to cheer her up. Hannah was actually appreciative of this. However, when Zach tried reaching out to her again at lunch and revealed that he wanted to be her Valentine's date, he unintentionally insulted Hannah and as such she insulted and rejected him in front of his friends. Out of revenge, Zach began stealing the positive notes from Hannah's compliment bag in their English class, notes she enjoyed getting. Hannah discovered it was Zach that was the thief and wrote him a note, however after reading the note he did not apologize and Hannah believed he just threw out the note (though he actually kept it). Hannah wrote another note which was read in front of the whole class though Zach still did nothing to help Hannah and let Skye take the fall for apparently writing the note.
Personality
"
Zach, you're just an entitled idiot who does cruel, stupid things even though you probably have a decent heart.
"
— Alex describing Zach[src]
Zach is shown to be a kind-hearted person and a good friend to those around him though he is also extremely cruel and uncaring to a degree. Like the other jocks at Liberty High he is somewhat shown to be a bully and disrespectful towards girls as he himself admits during his deposition that he said insulting things about Hannah. He is physically aggressive to as he threatened Tyler he would break his arm if he didn't leave him and the others on the tapes alone at lunch and is shown to have a temper as seen after Hannah rejected him and his help. Zach is also inconsiderate of how his actions effect others.
In spite of the other jocks, Zach appears to shown concern for the feelings of others as he tried to cheer Hannah up after Marcus humiliated her on their valentine's date though he himself insulted her while trying to tell her she was the valentine he himself hoped for and as result led him to cruelly torturing Hannah by stealing the positive notes that she strongly desired getting which ultimately broke her spirit. Zach is shown to be selfish like a majority of the others on Hannah's list and is willing to keep the tapes a secret to protect himself and even claims that Hannah was too much to deal with and that she screwed up her own life and even though he was well aware that Hannah was calling out for help after stealing her notes for weeks, he did nothing to help her. He is shown to be in agreement with the plans to keep Clay from ratting them all out to and participated in intimidating him along with Alex and Justin. However he is also one of the few people who is civil to Clay as after the latter took revenge against him after hearing his tape, he only forgave him and admitted the truth.
In spite of this Zach is not completely heartless and Alex even once says to him that he is simply an entitled idiot who does cruel stupid things while on the inside has a decent heart. He even kept the note that Hannah personally wrote to him (despite her belief that he threw it out) and during his deposition admits that Hannah was indeed bullied at school and that he took part in it as well, possibly showing he is willing to admit the truth.
Throughout the show, Zach changes into a very nice guy. He helps Alex with his books and physical therapy after he shot himself in the head. It is also revealed that he apologised to Hannah for stealing her notes and she forgave him. He breaks away from the other jocks when he walks off the field during a baseball game and gives Clay and Justin the box of polaroids. By season 3, Zach is an overall nice guy. He supported Chloe through her pregnancy when she had nobody else and formed a very close friendship with her. When all the other jocks bother Justin about his relationship with Jessica, Zach supports him saying if he loves her not to listen to anybody else and just take care of her. When Alex kisses him even though he doesn't feel the same he still supports Alex saying he cares about him always, no matter what.
Zach struggles with guilt a lot throughout the series. In season 2 after his testimony, he breaks down alone in the locker room feeling bad about Hannah. When he thought he killed Bryce he went to the cops right away because he wouldn't let Clay take the fall for it. During the school shooter drill, he admits he beat up Bryce and even though he didn't kill him he still feels like shit. He tells Winston to tell Mrs Walker he's sorry if he dies.
Zach is a pretty private person and doesn't usually tell people things. He tries not to get involved in drama and tries not to rock the boat. He reveals this in his testimony, this is likely because his mom constantly shuts down his feelings so he struggles to open up. You can see this again in season 4 when he breaks down in front of Chloe. He wants to tell her what's wrong but doesn't because other times he tried to open up he was shut down.
Physical Appearance
Zach is a tall and athletic Asian-American with short-cut dark hair and dark eyes. He is typically seen in sporty wear like varsity jackets, jeans, sneakers, and snapbacks. He is also often found in his basketball uniform.
Relationships
Hannah was Zach's ex-girlfriend.
Hannah first saw Zach at Kat's party. Kat told Hannah that she could date Zach, but Hannah wasn't interested and had eyes for Justin instead.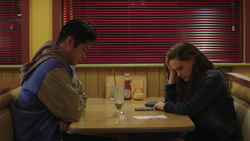 Zach was seen bullying Hannah, along with Marcus, after she was listed "best ass" on The List. When Hannah confronted Alex for putting her on the list in the boys' locker room, Zach told her that she can't be in there. Hannah then called him out for staring at her ass all day.
After communication class, Zach and Hannah were both checking their compliment bags. They talked about the compliments they got; Zach said he got nothing and it's kind of soul-crushing. Hannah wondered if he really needs compliments, as he's a popular athlete.
After Marcus used and attempted to assault Hannah on Valentine's Day, Zach tried to cheer her up. He apologized for Marcus and tried to show her a spoon trick, but Hannah ignored him. He then told her to take it easy and that she'll feel better the next day and left. On the tapes, Hannah described Zach as being sweet and kind that night.
The next day, he told her that he wished they had been on each other Dollar Valentine's list and said that he likes her for so much more than what other guys like her for. Hannah didn't believe him and thought he also wanted to use her. She got offended and yelled at him to leave her alone after asking him to do so twice. Zach told her that she some of the bad things that happened to her is her own fault and he was just trying to be nice and told her "fuck you".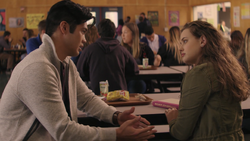 Zach started to steal notes with compliments that Hannah got. Hannah found out and wrote him a letter in which she opened up about how lonely she felt and that the compliments meant something to her.  She hoped he'd understand her once reading it, but didn't get a reaction and thought he threw it away. However, it's later revealed by Zach that he kept the letter and didn't know what to do because of the heavy subject. Hannah ran after him and loudly asked him "why me?", drawing attention to them. Zach walked away.
Zach and Marcus were seen laughing at Hannah's personal poem that Ryan published in a school magazine.
After Hannah's death, Zach wanted to keep the tapes a secret, along with most tape secrets. However, when the tape subjects were called for deposition, Zach said that he didn't know her well and admitted that he had said some unkind things about her.
Zach was called to testify about Hannah in the trial between the school and the Bakers. Here, Zach confirmed that he didn't tell anyone about Hannah's letter, the reason being that he didn't know how to. The school's lawyer, Sonya, started asking Zach about him having been in contact with Hannah over Summer.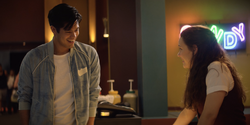 Flashbacks revealed that the Summer before Hannah died, Zach had frequently gone to the movie theatre just to see Hannah. One visit, Zach apologized for the things he said to her and for stealing her notes. Hannah thanked him for apologizing but also told him that he's an asshole.
After seeing a movie at the theatre, Zach asked Hannah if she'd like to see a movie at her house. Hannah agreed to it. When watching the movie, Hannah's mom came to the room, so Zach hid while Hannah pretended to sleep, both trying in to hold their laughter.
In present time, Zach admitted to not telling anyone about him and Hannah. Sonya started asking about the hundreds of texts that they sent each other, after which Zach admitted that he and Hannah were more than friends.
Flashbacks revealed that after Zach's dad died, Hannah reached out to Zach and comforted him. To Zach, Hannah was someone he could talk to and had things in common with. They started hanging out frequently. Hannah revealed to Zach that she's never had a boyfriend and asked what Zach had done. Zach and Hannah revealed that they're both virgins. They kissed. Hannah told Zach that she likes him and wants to lose her virginity to him.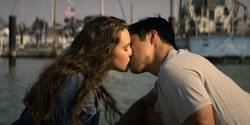 In Hannah's room, Zach and Hannah were about to have sex. When undressing, Hannah revealed that she hates her body; Zach told her that he thinks it's perfect. After doing it for the first time, they agreed to try it again. They starting hooking up all Summer and hung out all the time. They'd go on dates, hang out at the pier, hold hands and hang out at the movie theatre. Near the end of Summer, Zach revealed to Hannah that he doesn't want his friends to know about them. As he was going to the theatre with his friends and Monty started bullying Hannah, Zach didn't stand up for her. After his friends left, Zach apologized and asked if he could make it up, but Hannah proposed to end their relationship.
Zach was Bryce's former best friend. They considered each other brothers, but grew apart during the second season. In the third season, Bryce broke Zach's knee for "stealing" Chlöe and Zach beat Bryce up for ruining his future.
Alex is Zach's close friend. They became close throughout the second season when Zach helped Alex with the aftermath of his suicide attempt. They've shown to care a lot about each other. Alex once kissed Zach, but was rejected as Zach has no interest in guys.
Justin was Zach's best friend. They often hun out and helped each other throughout the seasons.
Zach and Justin were first seen in a flashback at Hannah's party. Kat introduced Hannah to the guys when they were play-fighting together. They were introduced to Hannah by Kat; Kat told Hannah that Justin was her boyfriend and she could date Zach. Kat then told the guys that they should leave because they were all wet.

Zach was about to drive Justin and two other jocks back to their homes, when Justin asked Hannah if they could give her a ride. When Hannah went to take the bus instead, Justin decided to go after her. Zach asked if he was serious about taking the bus; Justin pointed out that he'd rather be in a "bus with a hot girl than a car with idiots."

In present time, Zach and Justin are seen talking about Mr. Porter wanting to see Justin about Hannah. Zach told him that it's probably because of the Baker's lawsuit. In another flashback, Justin showed Bryce, Zach and some other jocks an upskirt picture of Hannah to make it seem like they had sex. Zach and the other jocks pushed Justin back so Bryce could send the picture around. Later in class, Zach showed Justin something on his phone (having to do with the picture) to which Justin got annoyed and slapped Zach's hand away.

Back in present time, Jessica asked Zach about where Justin was. Zach told her that he didn't know but that he was at basketball practice the night before. Jessica asked Zach to tell Justin that she needs to talk to him.

Zach and Marcus went to Bryce's house because they guessed that Justin was there. When finding Justin in the poolhouse, Zach asked if he was okay. Justin got annoyed, asking if he was "his bitch" now. Marcus and Zach asked him if he could calm down Jessica before she causes trouble. They spend some time at the poolhouse playing games, while Justin was smoking and drinking. When an angry Jessica arrived, Zach told Justin that he had to handle it himself.

Zach and Justin hung out with Bryce, Alex and Monty outside Blue Spot Liquer, when they brought Clay over for a drinking contest with Alex. Clay won, but also got drunk. Justin and Zach later talked about it while playing video games. Justin made fun of Clay for getting drunk after one beer; Zach defended him and said Clay could get them in a lot of trouble. Justin then told Zach that they would shut him down.

Justin, Zach and Alex decided to kidnap Clay in Alex's car to scare him off. They stopped him while he's riding his bike; Zach took the bike and Justin forced Clay to get in the car. Alex drove and kept speeding up even after Zach and Justin started to get scared. Alex stopped when the police drove behind them, and the boys found out that Alex's Dad his a cop. This made Justin and Zach burst out laughing and tell Clay that he can't do them any harm.

In a flashback, Justin and his friends witnessed Zach get rejected by Hannah. Justin asked him why he even attempted to ask Hannah out. Zach got annoyed by the guys' reactions and left.

Clay was giving a tour to some exchange students and saw Justin and Zach in the hallway. Clay called them the star players of Liberty High and asked where his bike is. The guys got visibly annoyed and watched as Clay started freaking out and saying that the truth will come out.

Justin, Zach, Courtney, Marcus, Alex and Jessica met up to talk about what they're going to do about Clay. Justin called Tony a "dick, prick and a cock", Zach pointed out that they're the same thing and denied Tony was any of those. When Justin came up with the idea to kill Clay, Zach told him to grow up. Justin asked if he's really the one to tell him to grow up since he's a "mama's boy", to which Zach replied "Yeah, I am.".

Zach and Justin were having lunch at school and watched Marcus confront Clay. When seeing Alex arrive, Justin went to talk to Alex about Clay. This led to an argument as Alex didn't think they should do anything to Clay while Justin thought Alex should help them. When they started pushing each other, Zach quickly ran to stop them. Alex left and Zach, Justin and Marcus continued to have a conversation about Clay.

Zach was having dinner with his family when his Mom said that she didn't understand why Justin is the basketball captain when Zach's the best player. Zach defended Justin by saying that captains aren't chosen based on who plays better and that Justin is going through some stuff. Zach then received several messages from Justin if Zach could please text him back as he needed a place to sleep. Zach ignored the messages.

Zach was hanging out at Bryce's pool house along with Bryce, Jessica, Monty and some other friends when Justin and Alex arrived. They were playing poker and things started to get tense between Justin and Jessica, which led to Justin dragging Jessica outside. As they were arguing, Zach told them that this did not need to happen. Justin told Jessica that Bryce had raped her and started trying to fight Bryce. Zach told him to stop and held Justin back, who started screaming to let him go.

The next day, Zach told the other tape subjects that Justin had revealed that Bryce did rape Jessica and everything Hannah said was true. When Alex pointed out that Justin was probably going to jail for what he did, Zach said that Justin is his best friend but right now Justin doesn't care about him. Justin later tried to call Zach when he got kicked out of his house by Seth, but Zach declined the call.
Justin was brought back to Evergreen by Clay and Tony, which Alex told Zach about. Zach asked if Alex knew where Justin was living or why he's back. Alex got annoyed because he felt like everything was always about Justin, so they changed the subject.

A flashback showed Zach and Justin hanging out in Bryce's pool. Zach asked advice about having sex as he and Hannah wanted to lose their virginities to each other. He didn't tell Justin that it was with Hannah, but with a girl from another school. Justin's advice to Zach was to find out what the girl likes.

Clay and Justin broke into the Clubhouse and were caught by Zach, who just left the baseball field in the middle of a game. Zach got angry, which made Justin tell him to back off. Zach commented "Or what, Justin? You're gonna come at me? I wasn't scared off you even before you fell apart." When Clay told Zach to do what he wants because he had already been beaten up this week, he warned Clay and Justin that it's going to keep happening. Zach gave them the box of Polaroids and revealed that he's the one who gave Clay the other Polaroids, before leaving the Clubhouse.

During a school fight in the hallways, Zach charged at Bryce when he saw him fighting with Justin.

After Justin was released from juvenile detention, he and Mrs. Jensen arrived at Monet's for Hannah's memorial. Zach excitedly ran towards Justin and hugged him. Justin laughed and told Zach that he was crushing him. Zach told Justin that they had to get him on a program as he had lost weight. Zach asked Justin if he wasn't mad that Bryce only got three months probation and Justin six, but Justin mentioned that he just wasn't surprised.

At the Spring Fling dance, Justin told Zach that he would've been good for Hannah. Zach replied that he would if he didn't mess it up like he messes up everything else. Justin joked that he didn't want to have that contest with him. He then said he was sorry that Zach wasn't able to talk to him. Clay then told Justin and Zach to come to the dance floor as, which they did after Clay threw a pillow at them.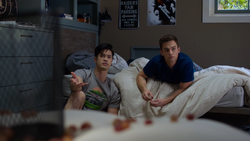 Zach and Justin went to summer school together. At the end of summer, Zach tried to convince Justin to get back to playing football because he thought it'd be good for him. Justin refused for the reason that he felt like he wasn't that kind of person anymore. Zach didn't give up, he kept trying to convince Justin until he eventually agreed.
Zach waited outside Justin's house to go to their first football game of the season and had to wake him up. During the bus ride, the football coaches announced that everyone would get drug tested, which worried Justin as he had been using. Justin messed up during the game which caused the opponent to score; Zach encouraged Justin by saying that he'll come back in the second half. Justin then revealed that he's not clean, which disappointed Zach. Zach told Justin that he can't help him, and Justin replied that he knows, he just wanted Zach to be the first person he told. After the game, Zach told Justin that he got him and he switched the tests. Justin tried to ask how he did it, but Zach told him to shut up and get clean.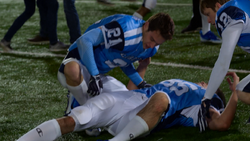 During the Homecoming Football Game Bryce broke Zach's knee. As Zach lied on the field, Justin ran to his side and called Charlie over to help.
Throughout the season, Zach and Justin are often seen together during football practices, in the locker rooms and during group meetings.
Zach lied to Clay that Justin hadn't been using as he passed the football coaches' drug tests. When Clay suggested that Zach was lying for Justin, Zach still denied it. He told Clay that Justin has been doing well and assured that he's healthy.
| | |
| --- | --- |
| | Note: This section is a stub. You can help 13 Reasons Why Wiki by expanding it. |
Clay is Zach's friend.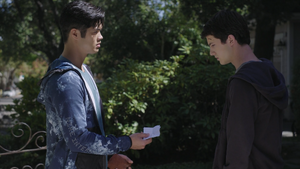 In the first season, Clay dislikes Zach because of his tape; he has daydreams of him beating up Zach during a basketball game and he carves the side of Zach's car. Zach, on his side, helps with threatening Clay to keep quiet. However, he wanted his Mother to forget about Clay carving his car and tried to explain himself to Clay about his tape.
In the second season, Zach gives Clay the Polaroids of girls getting sexually harassed in the Clubhouse because, according to Zach, he is a "coward" and Clay's not.
In the third season, Zach helps cover for Clay after he gets Tyler away from Spring Fling, though he refuses to participate in Tyler's recovery despite Clay asking him to. He is also surprised when Clay agreed with him about Justin rejoining the football team, and afterward, teased him by throwing grapes at him alongside Justin. Throughout the season Zach refused to believe Clay was guilty of murder despite others suggesting it (though he had his own reasons for this). He even lied about why he didn't tell the truth about Bryce breaking his leg at Homecoming. Eventually, after Clay was arrested for Bryce's murder, Zach felt guilty, and turned himself in, though Clay was not released due to this.
Karen is Zach's Mother.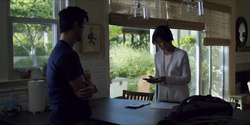 Zach and Karen aren't very close. Karen doesn't show or say how she feels after her husband's death, to Zach's frustration. She also doesn't seem to care about what Zach wants or about how he feels about things, but about what she wants for him. Karen usually seems to think her son is better than any other kid.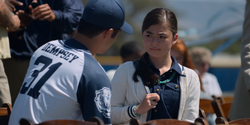 May is Zach's little sister. When the Dempsey family was having dinner, May told Zach that he's the best player of Liberty's basketball team. When Zach received his subpoena, May was worried that Zach would go to jail.
Zach found pictures of May in his locker that had been secretly taken at her school. This infuriated Zach and caused him to confront Tyler about it.
May and her mom Karen attended a baseball event for Zach, where Zach asked May if something happened at school. When Karen told Zach that he needs to stay at the event to support Bryce, Zach grabbed May's hand and left with her.
In the fourth season, Zach was seen having a drawing made by May in his locker.

Appearances
Season 3
Season 4
Quotes
Trivia
Zach seems to be the only person out of the group that seems to actually consider Hannah's feelings and tries to think twice before doing something stupid. Although this is proved controversial because Zach steals things out of Hannah's bag of what is supposed to be people saying nice things to her and takes them so that she doesn't find them, this is only after being verbally rejected by Hannah. What also makes this controversial is that Zach helped Bryce send Hannah's picture around and bullied her after she was listed as "best ass".
Zach kept the letter Hannah put in her own bag to see if he was doing what she thought he was, although Hannah stated on the tapes that he threw the letter away.
Zach is currently the only person on Hannah's list to actually prove that she lied about something on her tapes, in this case she accused him of throwing out the personal note she wrote to him after discovering he was stealing her positive notes out of revenge though in reality he kept it and still has it in his wallet.
Zach's mother mentions that he wants to become a marine biologist.

Zach's shown multiple times to find biology important, as he didn't want miss his biology classes and didn't want to drink before his biology test.

Zach and Hannah lost their virginities to each other the summer before she committed suicide.
Zach was the one sending Clay the incriminating Polaroids, two of Bryce raping an unconscious Chlöe, and multiples of other jocks sexually assaulting girls. Zach's explanation for doing this was because he is a coward but Clay isn't. This means that Clay has the ability to expose Bryce and the jocks and get justice for the girls who have been assaulted.
In The Smile at the End of the Dock, Zach reveals to his mother that, after his father's death, he felt the same way Hannah did.
According to a video posted on 13 Reasons Why's Instagram account his iPhone password is 4278.
The name of his official Instagram account is 'dempzee'.
Zach is allergic to strawberries.[23]
Zach is one of the main/recurring characters to have named siblings,the others being Jessica (Elijah & Cooper), Alex (Peter), Monty (Estela), Cyrus (Mackenzie), Chloe (Amelia) and Tony (Fernando, Marco, Raul and Graciella.)
Prior to quitting the baseball team, Zach played the catcher position. In football, he played receiver.
Gallery
See also: Category:Images of Zach Dempsey
Playlist
References
Community content is available under
CC-BY-SA
unless otherwise noted.